A Crowd-Pleasing Side Dish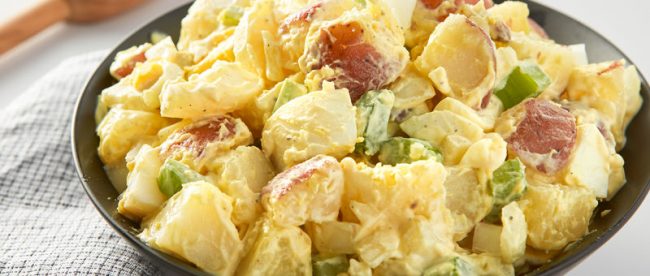 Kickstarter, founded in 2009, is a "crowdfunding" platform — it facilitates the process for people or organizations to raise money from their current fans or customers to make something new. Over Kickstarter's nearly decade-long history, it's been used in a number of high-profile ways. In 2012, a smartwatch company launched on Kickstarter, raising $10 million to make their prototype into a real consumer product. A year later, television producer and director Rob Thomas and actress Kristen Bell raised more than $5 million to fund the production of a Veronica Mars movie. And in 2014, LeVar Burton used the platform to generate a similar amount to reboot Reading Rainbow.
And in the midsts of this frenzy, a guy from Ohio named Zack Brown got hungry. Or maybe he just wanted to make a joke. Either way, on July 3, 2014, he launched a Kickstarter campaign to make some potato salad.
Yes, potato salad. Boiled potatoes, quartered. Mayo. Maybe some chunks of hard-boiled eggs. Mustard, celery seed, paprika, and/or some other spices to taste. Bacon or bacon bits if you're into it. Same with celery. Potato salad. It's not something you'd typically crowdfund because it's not something you'd typically need to raise money to make. Brown's fundraising goal was, therefore, not very ambitious — he was only hoping to get ten dollars (yes, $10) from the campaign.
He got a little more than that.
Within a couple of hours, Brown raised a bit more than $100. That doesn't sound like much, but it was ten times his goal and again, we're talking about potato salad. And that was enough to send it to the stratosphere. The alacrity by which others played along with the joke grabbed the attention of the tech press; at first, it was CNet, but soon, many more news outlets covered the campaign. As the joke's awareness grew, more and more people wanted in. By the end of the month, Brown raised $55,492 from 6,911 backers.
That's a lot of potato salad — enough for a big party. According to Columbus Monthly, Brown used the first $20,000 to fulfill the rewards due to his backers — lots of t-shirts and cookbooks — and another $2k to set up an LLC. He reserved $5,000 to make a YouTube channel and spent the other $28,492 on something called "PotatoStock," a music and potato festival. Thousands of people attended. There were potato sack races, Mr. Potato Head stations, and of course, lots of potato salad.
A crazy amount of money for potato salad wasn't just a cause for celebration, though — PotatoStock was a celebration with a cause. The success of the Kickstarter campaign attracted sponsors — the Idaho Potato Commission provided Brown with all the potatoes he'd need, and Hellman's similarly donated the requisite amount of mayonnaise. PotatoStock, free and open to the public, sold potato-based concessions, with proceeds going to help the homeless population of Central Ohio. The specific amount raised went unreported, but it was a lot more than the $10 Brown set out to raise — according to the Associated Press, "the account started with $20,000 in post-campaign corporate donations and will grow after proceeds from PotatoStock are added."
Not a bad outcome for a $10 joke.
Bonus fact: Brown's second attempt at Kickstarter glory didn't go so well. In the summer of 2015, he launched a campaign to make everyone an owner of a jet ski, but there was a catch — you'd not get an actual jet ski if you backed his campaign. Instead, Brown was going to buy a jet ski, grind it up, and give each of the backers a bit of jet ski powder. Kickstarter, per Mashable, ultimately rejected the campaign because backers weren't getting a jet ski as promised. Undeterred, Brown moved the project to another crowdfunding site, Indiegogo, seeking to raise $3,900 to buy the jet ski. It failed; backers pledged a total of only $856.
From the Archives: Regal Potatoes: How reverse psychology got some of us eating potatoes in the first place.