A Long Way to Save a Few Quid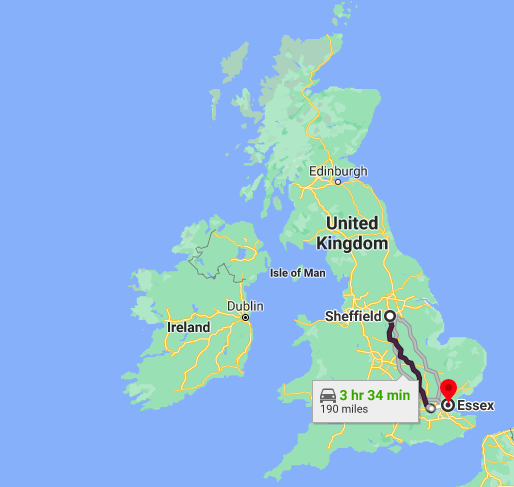 As seen above, the English city of Sheffield is in the center of the UK, a bit east of Manchester. The county of Essex is also in the UK, but on the coast of an inlet where the North Sea and the English Channel otherwise meet. As the crow flies, the two are about 275 km (170 miles) apart, but unless you're going to walk, the trip will take you about 300 km (185 miles) by car or train.
But if your goal isn't to get to Essex quickly, there's another way. It's not quite as fast as car or train ride, but it's still much faster than walking. And while it's not quite as cheap as walking (which, we'll presume, would be free), you'll save a few bucks. Or, at least, that's what an 18-year-old named Jordon Cox did in 2016. His went to Essex from Sheffield by plane — with a brief layover in Berlin. Yes, Berlin, the capital of Germany, and about 1,000 miles (620 km) away.
At the time, Cox was looking to make a name for himself as a bargain blogger. He spent his nights cataloging ways to save a few quid, be it clipping coupons, finding odd rebates, or collecting airline miles and other incentives. That's when he came across an offer that he couldn't refused — even though almost anyone else would have. Cox was giving a lecture in Sheffield on couponing and had to find his way back home to Essex, and upon looking up the train ticket prices, he had a little sticker shock — a one-way ticket cost £47 (or about $63). While perhaps not unreasonable, he — as extreme bargain hunters are wont to do — looked for an alternative. That's when he found a deal on discount airliner RyanAir: a flight from the East Midlands Airport in Derby (which isn't far from Sheffield) to Berlin for £11.83 and a flight from Berlin to London fo £9.54. Even including a train from Sheffield to the airport in Darby, a bus from London to his home in Essex, and even a quick train ride in and out of Berlin's city center to get lunch. His grand total saved was about £8 (or $11).
For most of us, that's probably not worth it — the trip, which normally takes about four hours, took Cox more than thirteen hours. He didn't mind, though; as he told the BBC, he had the day off anyway and "the scenery was also 10 times better than any train trip would have been" — he got to see Berlin, after all. Further, this stunt isn't something your everyday traveler could pull off so easily. As a super bargain-hunter, Cox knows his way around the red tape and hidden charges; per the Telegraph, Cox "warned it would take 'a bit of trial and error' so consumers needed to be wary about extra booking fees."
One final concern? The environmental impact. All those extra miles come with some extra carbon output, and in a world where climate change is a major concern, it may be irresponsible for Cox to save a few dollars in this way. Cox, though, wasn't all that concerned. He told the BBC that he made sure that each of his bus, train, and plane trips were near-fully booked and the trips would have happened anyway. And, per Cox, he could have — but didn't — buy carbon offsets for about £4, and still come out ahead.
Bonus fact: RyanAir, the airline Cox flew, is notorious for its (let's say) interesting ways to save customers on air travel, starting with a very no-frills approach. One extreme example that they didn't implement: a £1 fee to use the on-board toilets. Per Management Today, the CEO loved the idea, but "later admitted that the idea was unfeasible and went against EU regulations."
From the Archives: Pudding One Over: How to save money by buying lots and lots and lots and lots and lots of pudding.