Wonder Woman first graced the comic book world in December of 1941, when she appeared in DC Comic's All Star Comics #8. Since then, she's become probably the most recognizable female super hero. Aside from having super strength, she's typically armed with indestructible bracelets, a boomeranging tiara, and of course, her Lasso of Truth — a lasso which, when it ensnares a bad guy (or for that matter, a good guy), prevents the target from fibbing. But perhaps her coolest gadget isn't one she's always equipped with and, for that matter, is one she's never seen with. That's because it's invisible — the Invisible Jet.
The Invisible Jet wasn't just a method of super transportation. It was a symbol (albeit a hard to see one). Wikipedia states that the Jet "represented the 'invisible' feminine compliance that women of the Depression Era had to rely on in order to survive in the hostile male dominated work place. To demonstrate this, it was allegorized that the Invisible Plane would be undetected while moving quietly at super sonic speeds so that it would not be shot down by the guns of Man's World. The idea was avoidance of conflict rather than meeting hostility head on." But as the years ticked by, the Invisible Jet became less and less important in the Wonder Woman story line. By 2010, it was something of a joke.
Actually, that's an understatement. By 2010, it was, literally, a joke. Until it became real. But still invisible.
In July of 2010, San Diego hosted the 43rd annual Comic-Con, a gathering of comic book fans and those in the industry. Comic-Con 2010 set attendance records with more than 130,000 participants, and attracted people from around the world. Mattel, the toy licensee of Wonder Woman (and other DC Comics characters), decided to use her phantom plane as a promotional tool. A few months before Comic-Con, Mattel announced a new product on their Facebook page: a collectable Invisible Jet action figure, as seen below.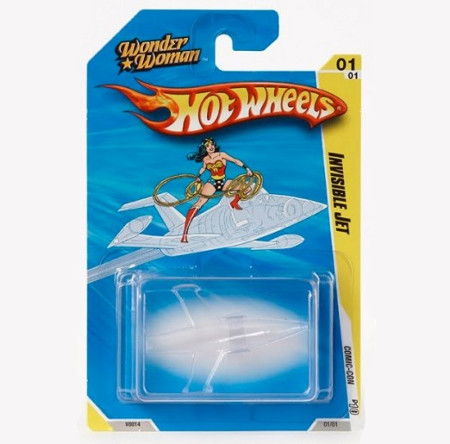 Most fans immediately saw through the announcement. The date of the Facebook announcement was April 1st, and the Invisible Jet was an April Fool's joke. But some collectors weren't willing to see the truth. They wanted the collectable plane and asked Mattel how to get one. Mattel seized the opportunity.
As the LA Times reported, "so many people asked the company where they could purchase the item that Mattel decided to make it a limited-edition collectible." Mattel ended up making the Invisible Jet, as pictured above (or, not quite pictured above), available for $5 — as an exclusive item sold only at Comic-Con. The "toy" was just packaging; the plastic mold inside the case contained an outline of a plane, helping to sell the joke.
And it sold pretty well, even though the packaging was empty. Today, the not-quite-real "Invisible" Jet is sought-after by collectors — one which often sells for over $100.
Bonus Fact: Wonder Woman's Invisible Jet is a lightning rod for April Fool's jokes. On April 1, 2013, Seattle's Museum of Flight announced that the Jet would be available for a limited, three-day engagement in its halls. The plane's entry on their website (which has since been removed but is available via Archive.org) noted that the plane was ahead of its time: its "technology demonstrated advanced stealth and speed capabilities more than 20 years before comparable human-built aircraft." (The pictures on the removed page no longer appear, but if you think about it, you're really not missing out on anything.)
From the Archives: Invisible Pink: A different type of invisible planes.
Related: The collectable Invisible Jet action figure. Be careful — once you open the packaging, you may not be able to find the item again.