Barbie's Secret Former Life as a, uh, Party Girl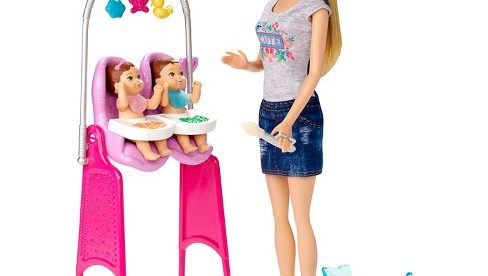 You know what the Barbie doll is — they're everywhere and have been there for a long time. It's iconic; so iconic that there are even songs about the doll's hypothetical love life.
For those who don't remember, in 1997, a band called Aqua released a dance track called Barbie Girl. The song was a smash hit in part because of the lyrics and concept behind the track. It purports to be a song by Barbie herself; she sings about how you can "touch my hair" and "undress me everywhere," among some more risque notes. A man's voice joins the song — that's Ken, who is Barbie's (the doll) long-time boyfriend — inviting Barbie to "go for a ride" and to "go party." AllMusic reviewer Stephen Thomas Erlewine summed up the song perfectly: it was an "inexplicable pop culture phenomenon — a bouncy, slightly warped Euro-dance song that simultaneously sends up femininity and Barbie dolls."
But the song wasn't appreciated by all. Mattel, the maker of the Barbie doll toys, saw the song as a violation of its intellectual property. And besides, they claimed, the song isn't an accurate representation of who Barbie, the doll, is. Barbie isn't a, let's say, a "party girl."
She's just based on one.
Barbie is the creation of a businesswoman named Ruth Handler. In the early 1950s, her pre-teen daughter, Barbara, would regularly play with paper dolls, dressing them every which way. Handler wondered if a plastic, adult-bodied doll would be better, and proposed the idea to her husband, Elliot, who was the co-founder of Mattel. But Elliot Handler and his co-founder, Harold Matson rejected the idea, believing that parents wouldn't want to purchase a curvaceous, overtly sexual toy for their kids.
But as luck would have it, Handler had evidence that her theory was right — she just didn't know it yet. In 1952, a cartoonist named Reinhard Beuthien was given the opportunity to pilot a comic in the German tabloid, Bild. Ultimately, Beuthien came up with a character named Lilli, an overly sexual starlet with revealing outfits, excessive makeup, and hair that probably belonged best in a 1980s rock video. (In one comic strip, she's stopped by a police officer for wearing a bikini in public. When told to desist, Lilli asks which piece of the bikini the officer suggests she take off.)
Nearly immediately, Lilli was very popular with readers. Bild decided to capitalize on that popularity making a plastic version of her, named the Bild Lilli doll. The doll came in many different versions, usually differentiated by its (removable) outfit or varied hair color. It wasn't for kids, though; the toy matched the characteristics of its ink-and-paper inspiration and was marketed toward men as a gag gift you give at a bachelor party or similar occasions. And it found some moderate success there, enough to keep it on shelves.
But despite the doll's PG-13 nature, it found fans among the pre-teen set, as young girls acted out G-rated scenes with their Bild Lillis. The manufacturer, capitalizing on this popularity, made accessories, furniture, and even dollhouses for the girl who wanted to give Lilli a perfect life. Sounds familiar? That's not an accident.
In 1956, on a family trip to Germany, Handler came across the Bild Lilli doll and, as TIME reported, she "brought three of the dolls home with her to California." This proof-of-concept in hand, Mattel went to work, making their own version. The original Barbie doll, which debuted in 1959, was quite similar to its German predecessor — Barbie has paler skin, less makeup, and had feet that were shaped like feet. (Lili's were shaped like she was wearing heels and were painted accordingly.) But by and large, the two were very similar.
The Lilli comic strip ended in 1961 and production of the doll, by then much less popular than Barbie, ceased by 1964. Barbie, on the other hand, is still running strong — according to the BBC (as of 2006), "three Barbie dolls are sold every second."
Bonus fact: Oh, the Barbie Girl court case? Mattel lost that one; Aqua's song, clearly a parody, was protected by the First Amendment. Aqua counter-sued, claiming that Mattel defamed them, but they lost their counterclaim. The appellate court judge who ruled in the case,  Alex Kozinski, concluded his decision by stating that "the parties are advised to chill."
From the Archives: Barbie's Diet Plan: Not a good idea.