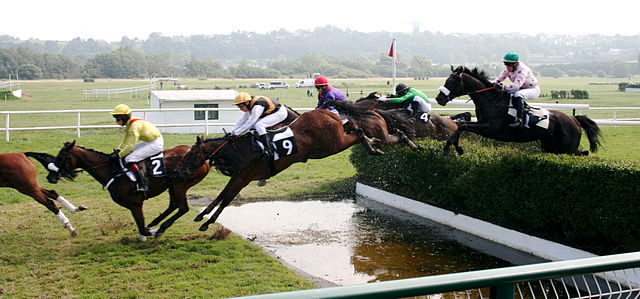 Horse racing is a big business. In 2004, a study funded by the Jockey Club and performed by Deloitte Consulting determined that horse racing added $10 billion to the gross domestic product of the United States and generated perhaps as many as 500 thousand jobs here. (But maybe take that with a grain of salt.) Some of those jobs went to jockeys, the people who mount the horse in hopes of guiding their steeds to victory on race day. Just over 90 years ago, a man named Frank Hayes dreamed of doing just that, and crossing the finish line a winner. He, mostly, succeeded in accomplishing that goal.
Mostly.
It's hard to become a jockey. Beyond the training, not everyone is cut out for the job. First, you have to be incredibly brave, as horses often throw riders to the ground, which can cause severe injuries. Second, you have to be willing to whip a very large animal repeatedly while holding on for dear life. But perhaps most importantly, you need to be small. Jockeys, typically, are no more than 5'5″ (1.65 meters) tall. And because horses can't carry more than 120 pounds while racing, jockeys need to be light — 110 pounds (50 kg), max, and ideally, closer to 100.
That last requirement is taken very seriously — and often, to the extreme. In 2011, the Toronto Star profiled some of the world's top jockeys, and cheekily suggested that if one wants to become a jockey, one of the first steps is to "drop 20 pounds." But there's a scary side to that joke. The Star asked Robbie King, a former jockey — one with 27 years of riding experience — what riders did to stay under weight. King's reply? Whatever it takes, perhaps: "They starve themselves, basically. They purge themselves, (use) diuretics, the sweat box, sweat suits. Some guys put garbage bags on and turn the heat on in their car in the summer."
While King's contemporaries raced during the latter part of the 20th century, it's likely that Hayes — a competitor in the early part of the 1900s — used similar tactics. On June 4, 1923, Hayes, then age 35, took the reins of a horse named Sweet Kiss in the steeplechase at Belmont Park in New York. According to the New York Times, this was Hayes' second race — he had failed to win his first — and he "spent the morning [before the race] on the road reducing his weight," the method of which the reader is left to imagine. The gambit was a success — Sweet Kiss, per some reports a 20:1 underdog — won the race. But it came at the cost of Hayes' life. At some point before Sweet Kiss crossed the finish line, Hayes died of an apparent heart attack, slumping over the horse, appearing to fix his stirrup.
According to Wikipedia, Hayes is the only jockey to win a race after death.
Bonus fact: In 1923, the winningest American jockey (by earnings) was a man named Earl Sande, who took home $569,394 that year, easily a record. Sande's one-year earnings mark would hold for twenty years, when a jockey named Johnny Longden earned $573,276. Today? Wikipedia has data going until 2008, and  that year, a jockey named Garrett Gomez earned $23,344,351. It was Gomez's third straight year topping the earnings chart and, similarly, his third straight year breaking $20 million in earnings.
From the Archives: Seeing Eye Mini-Horse: Exactly what it sounds like, with an awesome picture of one.
Related: "Horse Racing's Top 100 Moments" by Blood Horse Publications. 4.9 stars on 11 reviews, and a lot of photos within.