Christmas in August, Wisconsin Edition
Over the next few weeks, college students around America will make their way back to campus. For the incoming first-year students, that's an experience all to its own — you find yourself in a brand new world, meeting people you've never met, and living in a dorm in a town you may have only visited twice before. But for returning students, the experience may be less hectic, especially if you have off-campus housing. In many areas, you can lease a house with some friends during the summer before your sophomore year and carry that lease forward through the rest of your college career. And even if you end up moving, that's also not a big deal — sure, it's a pain to have to lug a couch and all your clothes, but you probably have friends who will help.
But not if you're in Madison, Wisconsin. Your friends can't help you move — because chances are, they're moving, too. And even worse, you may not have anywhere to move to — at least, not immediately.
Madison, the state capital, is home to the flagship campus of the University of Wisconsin system. The university has more than 35,000 undergraduate students enrolled and another 10,000 or so graduate students, making Madison a college town — only about 270,000 people live in the city altogether. When something affects the student body, all of Madison is impacted. And that's how this happens: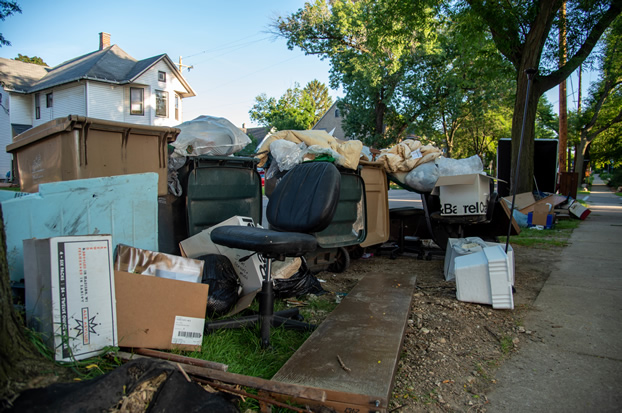 That photo comes from the City of Madison's official website, on a page talking about "Moving Days." As the page explains, "around August 15 each year, most leases in the student moving area in downtown Madison expire." Why that happens is anyone's guess, but the result is clear: thousands and thousands of students all are moving out of their old houses at the same time — and therefore, chaos. For a week or two before moving day, students bring more than a million pounds of trash to the curb. It can be a huge mess. Both the city and the university have taken steps to make the process more sustainable; the city works with Goodwill and other organizations to encourage and facilitate donations, while the school does the same and promotes recycling whatever can be recycled.
But for treasure hunters — including many students — the day is also a holiday of sorts. As the university's alumni magazine website explains, "Many of the just-off-campus apartment buildings end leases in the afternoon of August 14 and start the new ones in the afternoon of August 15. The property-management companies use those 24 hours to clean and repair (though former apartment dwellers may be saying "mm-hmm…"), sending in- and outgoing tenants into a day of homelessness." They're not permanently unhoused, of course — these students have a place to sleep starting the next day — so the day becomes an odd celebration. On Wisconsin, the alumni magazine, explained in 2012 that "some handle this juggling act by filling up cars or renting moving trucks, and then settling in with their belongings for the night. Nearby Bethel Lutheran Church offers students free parking and a place to sleep indoors overnight, along with breakfast and access to its air hockey and foosball tables." And during waking hours, the city becomes a massive Dumpster diving spree — per On Wisconsin, "the avalanche of stuff spills onto sidewalks and out of Dumpsters, prompting a free yard sale for those who refer to the two-day event as 'Hippie Christmas.'
But while some of the students (and other residents) may enjoy the scavenger hunt holiday, the city definitely does not. Earlier this summer, Madison-area publication The Cap Times spoke with Bryan Johnson, who runs the city's recycling program, and he flatly said that he doesn't call the event by its December-themed moniker: "We don't call it those two words mostly because we don't want to encourage people to paw through the stuff at the curb. It makes what is already a pretty prodigious mess downtown worse. We don't want stuff getting scattered around because our folks pick that up, and we have to do a lot of it by hand. [ . . . ] You also hear about these 'great scores' that some people may have accidentally taken from somebody who didn't mean to leave that out. They maybe caught somebody mid-move. It happens, so just don't [take other people's trash]. Just leave it there."
Bonus fact: According to the Social Security Administration, "Madison" was one of the ten most popular first names for newborn girls from 1997 through 2014. But that popularity came, kind of, out of nowhere — if you look at Wikipedia's list of notable women named "Madison," there are only three who were born before 1984. The reason for that may be a joke. In the 1984 movie "Spalsh," Daryl Hannah plays a mermaid who is a literal fish (or fish-person) out of water — and doesn't have a human name. She's walking down the street in Manhattan with Tom Hanks' character, and as they cross Madison Avenue, she decides to adopt "Madison" as her name. (You can watch a low-quality version of the scene here.) Hanks notes that "Madison isn't a name" but begrudgingly accepts her decision. According to Yahoo! Entertainment in 2014, the scene "led to a surge in popularity of the female baby name 'Madison,' a trend that quietly gained steam in the years immediately following the film's release before skyrocketing to the top of baby name lists in more recent years."
From the Archives: On the Move: A similar thing to Hippie Christmas used to happen in New York City.