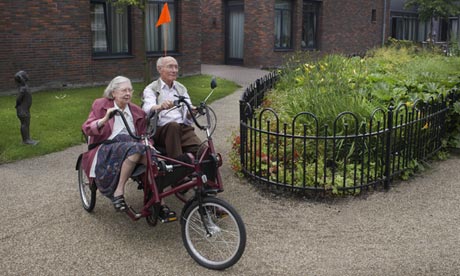 According to Alzheimer's Disease International, roughly 36 million people worldwide suffer from dementia (see page 5 of this .pdf) and, as populations get older, that number is expected to nearly double in two decades. Caring for those with dementia is taxing and emotional. There are innovative new drugs and therapies, coping strategies for families and loved ones, and elder care facilities, each of which has advantages and disadvantages. With the number of dementia patients rapidly increasing — and, per the same source, the annual, aggregate cost of disease nearing 1% of global GDP — creative solutions to managing the lives of those suffering with the affliction are being explored around the world.
One such idea? In the Netherlands, there's a village made up, entirely, of elderly people with dementia.
About a half-hour drive from Amsterdam is the town of Weesp, a town of about 17,000 people. About 150 of them live in a 23-unit gated complex called Hogewey. All of them suffer from Alzheimer's or similar conditions. But unlike the typical elder care facility, Hogewey does not try to get its residents to adjust to a new reality. Rather, Hogewey crafts a reality around their residents' delusions. As the Guardian reports, one of Hogewey's goals is to create "an almost-normal home where people are surrounded by things they recognise and by other people with backgrounds, interests and values similar to their own." While typical dementia patients find every aspect of their news lives restricted and their former activities, by and large, reduced to a fleeting memory, Hogewey wants its residents to continue on with their "regular" lives. Again per the Guardian, Hogewey "encourages residents to keep up the day-to-day tasks they have always done: gardening, shopping, peeling potatoes, shelling the peas, doing the washing, folding the laundry, going to the hairdresser, popping to the cafe."
In fact, Hogewey is designed like a regular village, complete with ordinary amenities such as "a small supermarket, a theater and a restaurant and cafe " as recounted by the New York Times. Roughly 250 paid healthcare professionals (as well as an unknown number of additional volunteers) assist the residents with most aspects of their lives, but they aren't in traditional lab coats or scrubs, but in regular street clothes. But of course, the cognitive abilities of those who live at Hogewey, in the end, define the community. As Spiegel notes, "Residents venture outside without coats in the winter and wear two in the summer. They feel the rain on their skin and leave their umbrellas at home. They drink coffee before bed and eat chocolate for breakfast. They cross the street in a rage and sing to themselves down hallways."
Bonus fact: While many of us often call the Netherlands "Holland" as if the two terms can be used interchangeably, the two are not one in the same. As CGP Grey explains in this 4:00 video, the Netherlands is the entire country, consisting of roughly 16 million inhabitants; Holland is only two western provinces (North Holland and South Holland) within the country of the Netherlands, with roughly 6 million people therein. But don't feel too bad if you keep erring here. Except for non-Hollander Dutch, it is a pretty common mistake; in fact, the official website of the Netherlands Board of Tourism and Conventions isn't TheNetherlands.com but Holland.com.
From the Archives: Scrambled City: A village in the Netherlands in Belgium.
Related: "The 36-Hour Day: A Family Guide to Caring for People Who Have Alzheimer Disease, Related Dementias, and Memory Loss" by Nancy Mace and Peter Vabins. 4.9 stars on 87 reviews. Available on Kindle.