Dirty Deeds, Done For $250,000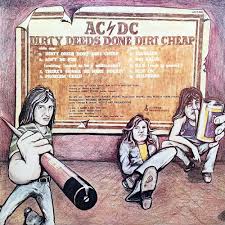 If you haven't heard of Australian rock band AC/DC, you're in for a treat — for more than 45 years, the band founded by brothers Malcolm and Angus Young have been topping charts around the world. With more than sixteen studio albums recorded to date and nearly 30 top-100 mainstream rock songs in the U.S. alone, you have a lot of listening to do. You may want to start with "Dirty Deeds, Done Dirt Cheap," the band's first song to hit that chart. And if you're already familiar with the band's work and that song, give it another listen anyway. You can find it on YouTube, here; give it a listen for at least the first minute and then come back.
Back? Good.
Sometimes, AC/DC's lyrics are a bit hard to discern. This song is rather clear, though — it tells the story of a hitman advertising his services. Here's how the song opens (and warning, it's PG-13, but what would you expect from a rock song about murder-for-hire?):
If you're havin' trouble with the high school head
He's givin' you the blues
You want to graduate but not in 'is bed
Here's what you gotta do
Pick up the phone
I'm always home
Call me any time
Just ring
36 24 36 hey
I lead a life of crime
There's one obvious problem with the song lyrics — you can't "ring" (which is to say, call on the telephone) the hitman if you dial "36 24 36." That's a reference to bust, waist, and hip measurements (in inches) for a woman (and that particular set of measurements is often used to describe the measurements of a so-called ideal woman). That three-number-combo definitely is not a reference to a phone number, and particularly not to one in the United States, as U.S. phone numbers (excluding the country code and area code) have seven digits. (And besides, the song was originally released in Australia and makes no reference to America.) If you want to hire this man, dialing 36-24-46 is not going to work.
But: this is a song. You don't read the lyrics — you hear them. And like many songs, it's common to mishear lyrics.  To start, the "36 24 36" part is said "three six two four three six," not " thirty-six, twenty-four, thirty-six." That's still only six digits, but many fans interpreted the subsequent "hey" as "8," resulting in "362-4368." That looks like a phone number — and it's one that many fans called. Many, many fans.
We know that because in parts of Illinois at least, the people at 362-4368 weren't happy about all the phone calls. Norman and Marilyn White, then of Libertyville, Illinois, complained of hundreds of prankers ringing their phone at all times, day and night. They tried to wait it out but, per UPI, the calls were just too many, too often. Mrs. White told the press that "at first, it was sort of humorous but it's just gotten out of hand. I'm just a normal person — at least I'm trying to be. It's been like a nightmare with these phone calls at all hours." And many of the calls were rather lewd and salacious.
So, they sued. The Whites, alleging invasion of privacy, demanded that the band re-record the song using a different number and asked the court to prevent them from allowing any radio airplay of the original song — and they asked for monetary damages in the amount of $250,000.
But as we already know, the band didn't re-record the song. That's because, unfortunately for the Whites, the judge found that accidentally (or even intentionally) using someone's phone number (in a non-harassing way, at least) is protected by the First Amendment. The band's attorney told the Chicago Tribune that "you can't help the fact that there are always going to be practical jokers" — prank calls, after all, are easy, and it's just too tempting to do such a dirty deed when it's doable, dirt cheap.
The Whites, unable to get relief from the courts, fixed the problem another way. They ended up changing their phone number.
Bonus fact: It's not easy to prank call Queen Elizabeth II, but two people figured out how to pull one over on her. They had an inside track, though — they were her grandsons. Princes William and Harry, according to UPI, were helping their grandmother with a new answering machine (apparently even royals have the younger generations deal with newfangled technology) and the boys reportedly took advantage of the situation by coming up with a fun outgoing message: "Hey wassup! This is Liz. Sorry I'm away from the throne. For a hotline to Philip, press one. For Charles, press two. And for the corgis, press three." The Queen took the prank in stride; per UPI, she "was very upset at first but later saw the humor in the prank while thinking about who may have heard the message."
From the Archives: 8-6-7-5-3-0-My-y-ine: The battle over the phone number made famous by the music Tommy Tutone.