Frosty, The Snowman Reaction
Building a snowman is a winter tradition. All you need is a good amount of wet, packable snow; some good, waterproof gloves; and probably some sticks and rocks and carrots or the like. A scarf and hat you don't particularly care about are also good additions, and if you can find yourself a corn-cob pipe, that's a nice touch, too. With patience, dedication, and a good tolerance for the cold, you can make something that will last a lifetime — or, at least until the weather warms up or it rains. And it won't take more than a few hours to make.
At least, if you want to make a standard snowman. If you want to make Snowzilla, you'll need more time. And maybe a lawyer.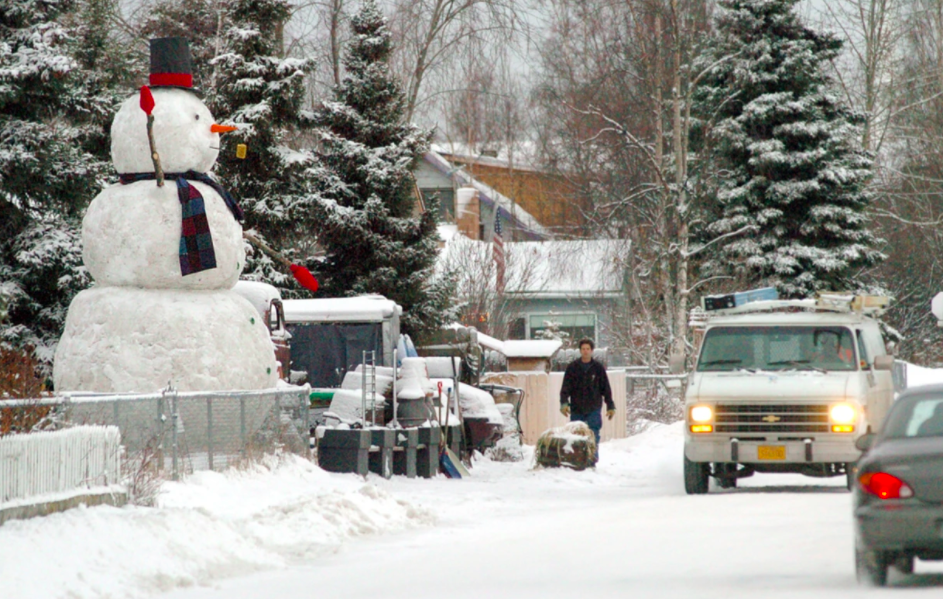 That's Snowzilla, or, at least, the 2005 version of him. And as you can see, he's a bit bigger than most snowmen — the passerby in the photo doesn't even reach his waist. Created in 2005 by an Anchorage, Alaska man named Billy Ray Powers (with an assist from his children and neighbors), Snowzilla was "a 16-foot-tall handpacked snow sculpture" that took more than a month to build, and was probably ultimately more ice than snow — Powers told the Associated Press that he "put the arms in with my power drill." It has all the accouterments of a traditional, Frosty-like snowman — the scarf, the top hat, the carrot nose, and corn-cob pipe. (The eyes aren't coal; Powers used beer bottles because he needed something large enough to see.) While not the eighth wonder of the world, the snowman created a stir in the otherwise-quiet Anchorage neighborhood; as Powers' neighbor Darrell Estes told the AP, "people stop by, and they're just flabbergasted. They walk up and knock on it to make sure it's real snow, not Styrofoam." Snowzilla, as the large snowman was quickly dubbed, became the talk of the town.
But being a snowman, Snowzilla didn't last forever. His fame, though, persevered through the summer months and into the next winter, and in 2006, Powers and team rebuilt him — and then some. As the Anchorage Daily News reported, this version came in at 22 feet high — a whole person taller than its predecessor. Powers, per the Daily News, predicted that it would be at least as popular as version 1.0: "[he] suspects the wintertime icon has staying power. It made people happy — and it's a universal symbol of the season, something everyone can relate to."
He was wrong. Weeks after Snowzilla the Second emerged in Anchorage in 2006, neighbors got salty. The problem: traffic. In a follow-up report, the Associated Press quoted spoke to another resident who "[could] see Snowzilla from his front window." And that neighbor was one of many who weren't pleased: "When you get 20 people out there in their cars, now the whole street comes to a stop and nobody can get through. They just stand out there, in the middle of road, talking about a snowman." Other neighbors echoed the sentiment, with one wondering if Snowzilla would have been better suited in a public park than in a residential zone.
And while Snowzilla came back in 2007, the following year wasn't so kind to the iceman. A few weeks before Christmas 2008, while Snowzilla was in construction — Powers had built the base, and had started on the torso — the Anchorage government stepped in. Per the AP, "city officials deemed Snowzilla a public nuisance and safety hazard. [. . . ] Code enforcers left red signs at Snowzilla's bottom body ball telling its builders to cease and desist. The city also tacked a public notice on the door of the Powers home." Workers reduced Snowzilla 2008 to icy rubble and Powers told the AP that he did not intend to rebuild the joyful ice monster.
Snowzilla's three-year run seemed to be over, but then, a Christmas miracle happened. Just two days before the holiday, a 25-foot version of Snowzilla appeared on the Powers' property. Per yet another AP report, it still had the pipe and hat but wasn't quite the same as in years past — it was "clear the snowman was built quickly: It looks a little lumpier and broader in the hips than it did in previous incarnations." Powers claimed that he wasn't behind the creation, telling reporters that "there must have been some magic in that big silk hat" Super-Frosty wore, and Anchorage decided not to pursue any legal action until at least after the holidays. (The city did, however, issue a press release, noting this wasn't the first time Powers and the powers-that-be clashed; per the AP, "according to officials, the city has a lien against his property for $118,000, the amount of money Powers owes in a court judgment for ignoring repeated orders to clean up the yard.")
The brief holiday pause gave Snowzilla supporters enough time to stage a protest of their own. As the Anchorage Daily News reported, a "group of snowman protesters — apparently rallying in support of the towering Anchorage outlaw — appeared on Christmas Day in front of City Hall. They carried signs that read 'Snowzilla needs a bailout' and 'Snowmen have rights too.'" (Powers claimed to have no involvement in the stunt.) The town quickly demonstrated its disagreement with the second point, bulldozing the frozen demonstrators and tossing their signs into a dumpster. Officials did, however, express some interest in coming to an agreement with Powers — but Powers wasn't interested. He told the Daily News that he wasn't looking to negotiate and that the town "ought to pass an anti-snowman law if it wants to get rid of Snowzilla."
The 2008 Snowzilla didn't come down, at least not until the weather took over. But alas, the trouble — and threat of legal action — was probably more than Powers had signed up for. Snowzilla hasn't been seen in Anchorage since.
Bonus fact: No, Snowzilla isn't the world's largest snowman. That honor goes to Olympia, a snowwoman constructed in Bethel, Maine, in January and February of 2008. At an inch over122 feet tall (37.21 meters), Olympia was "only a few feet shorter than the Statue of Liberty" according to Guinness World Records. She featured 13 million pounds of snow, skis for eyelashes, 30-foot spruce trees for arms, and three small trucks for buttons — but no corn-cob pipe.
From the Archives: Do You Want to Burn a Snowman?: Okay, fry. (Nah, it's an open flame, but that doesn't match the song lyrics.)