Going out to dinner can be a pricey experience — a few dollars for an appetizer, another ten or more per entree, and maybe even dessert. The only good news for your wallet is that at most restaurants will give you a glass of tap water for free. That's tradition, at least, and customers are used to it. But if you're the restaurant — or if you're a not-free beverage-maker — you'd prefer they choose otherwise.
Which is how Coke and Olive Garden got into a little bit of hot water about a decade or so ago.
The story begins in the late 1990s. The soft drink giant and the restaurant chain teamed up to create and implement something called "H2NO." (Clever, right?) H2NO was an "education kit" for Olive Garden's waitstaff training them in "beverage suggestive selling techniques" — in short, it taught waiters and waitresses how to get a customer off of the free tap water and into a more lucrative, paid-for drink choice. A screen shot of some of the plan's details can be seen below, and a larger, more legible version can be found here.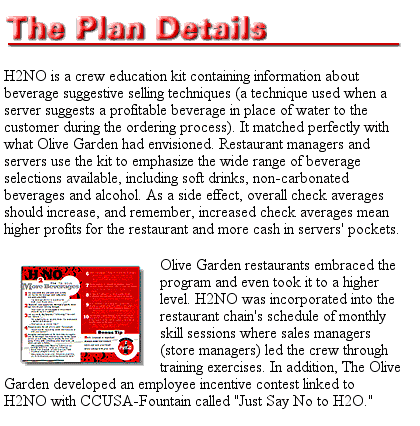 That screenshot, though, should have never made the light of day. In the summer of 2001, a guy named Rob Cockerham was doing some web surfing (as was the parlance of the time) and stumbled across the document — which, at the time, was on Coca-Cola's corporate site. It was titled "Success Stories: The Olive Garden Targets Water & WINS," was housed within a section of Coke's corporate site built for restaurants and other partners. That is, it wasn't intended to reach consumers.
But the Internet was a poorly-understood wilderness at the time and the document was accessible by anyone who had the page's URL. Unfortunately for Coke, Cockerham had a website of his own, Cockeyed.com (which is still up and is still true to that era of the Internet's development), and he knew how to take screenshots. Cockerham posted the images to his website with links back to the original pages, proving their legitimacy. (Those images are now gone, but you can see an archived version of them here.)
Cockerham's post went viral and the next day, Coke pulled the page from the site. It was too late, however; twice in August, the New York Times reported on the H2NO campaign — first to note Cockerham's discovery, and a few weeks later, to detail Coke's war on water. And, as the Times pointed out in the second article, Coca-Cola didn't have a problem with tap water — they even sold it, under the brand name Dasani. "To create Dasani, Coca-Cola bottlers start with the local water supply," the Times explained, "which is then filtered for purity using a state-of-the-art process called reverse osmosis. The purified water is then enhanced with a special blend of minerals for a pure, fresh taste" and, of course, sold for a dollar or more per bottle.
Bonus Fact: For years, New York City restaurants were prohibited by law from serving customers free tap water unless the customer specifically requested it. The reason, according to the New York Times, was an "arcane" rule dating back at least to 1991, when the city was facing a severe drought. But the rule was not very well known, was almost never enforced, and may not have helped save much water anyway. The city repealed the law effective the end of February of 2014.
From the Archives: Why Diet Coke Loves Mentos: The science behind the reaction.
Related: "Drinking Water: A History." 4.7 stars on 15 reviews.