Let's say you were an incoming freshman at Harvard University. You'd get your dorm assignment, pick your classes, buy your books, and set up a meal plan. A lot of those things require — or at least, are facilitated by — an official ID card. Harvard's online campus service center has instructions as to how to obtain your card, and, on that page, informs the student that his or her Harvard ID card "provides access to housing, dining halls, libraries, Crimson Cash [a University-wide debit system], and more."
More, including Cooper.
This is Cooper, at his birthday party, from his official blog: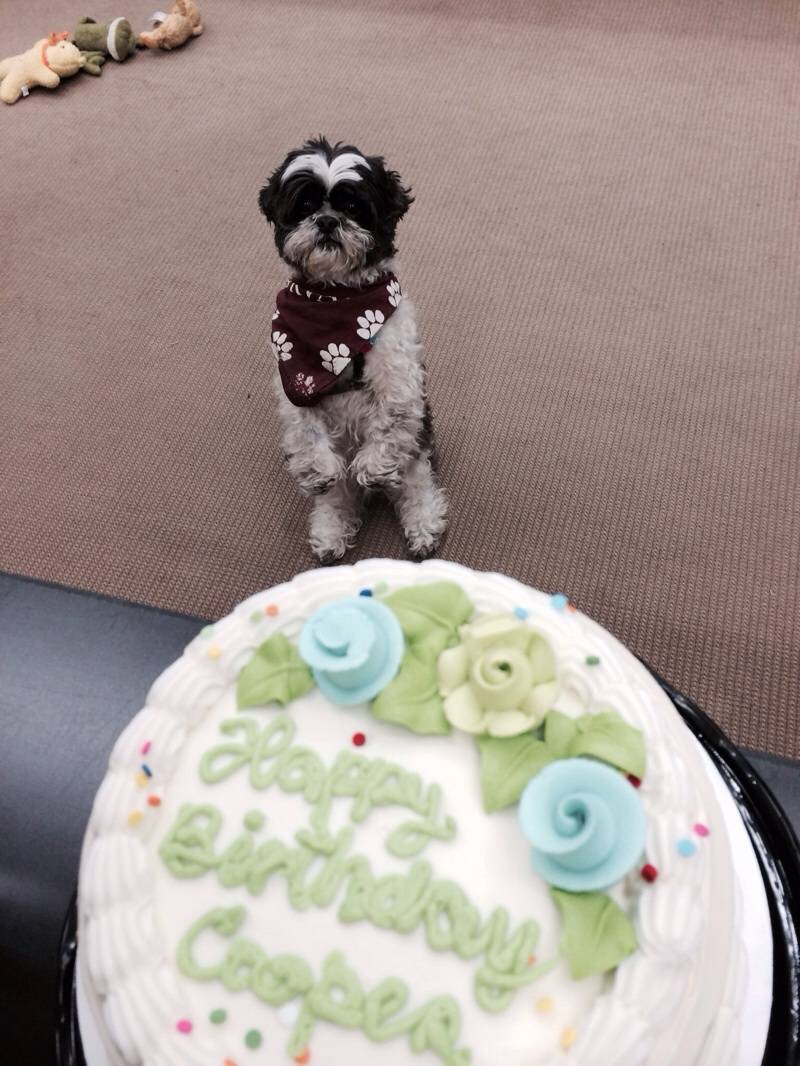 Yep, he's a dog.
Cooper Anderson, better known as Crimson Cooper, is a therapy dog. Wikipedia defines therapy dogs as dogs which are "trained to provide affection and comfort to people in hospitals, retirement homes, nursing homes, schools, hospices, disaster areas, and to people with learning difficulties," and that's exactly what Cooper is there for.
"There" is the Countway Library of Medicine at Harvard Medical School. While Cooper's regular job is what one would expect from a therapy dog — visiting hospitals and rehab centers, etc. — in this case, he provides a different service. As Countway's official website points out, two days a week, he's available to students and faculty for a playdate. All you need is about a half and hour of free time and, as seen in the poster below (via WBUR), the aforementioned Harvard ID.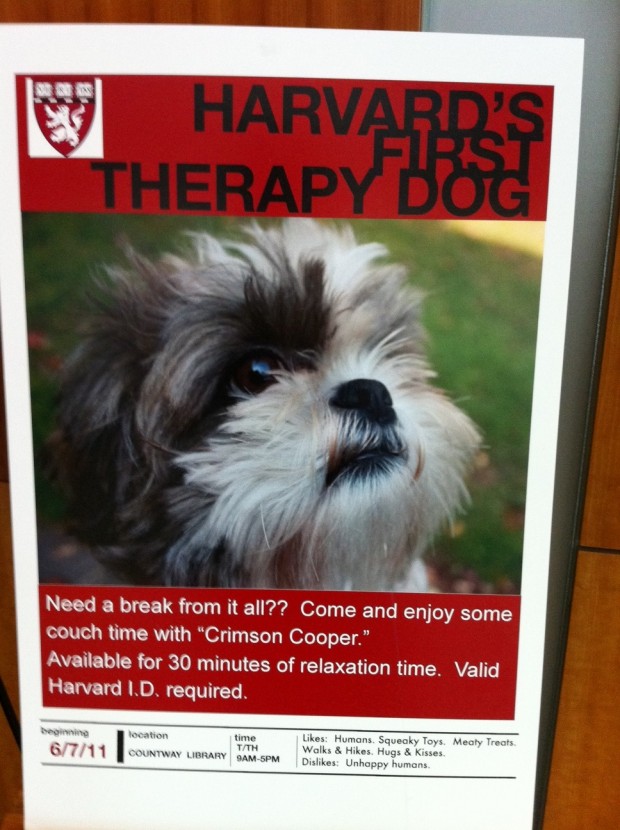 He even has an entry in HOLLIS, Harvard's online directory of library assets.
Why have a therapy dog in the library? As the Harvard Gazette reported, Cooper's there for stress relief, providing a bit of reprieve from the sometimes high-intensity of academia. He's "an unusually calm dog" who is "content to wrestle with a toy or cuddle on the library desk's worn, brown couch." Cooper-rental is one of many stress-releasing services provided by the library, although yoga and massage services are a little more mainstream.
Cooper is available Tuesday and Thursdays, 9 AM to 5 PM, at the library. You can't check him out though — visits have to be in the building itself.


Bonus Fact: Harvard's libraries feature something else — something hardly cute, and, to be blunt, incredibly gross: a book bound in human skin.
From the Archives: Endal: He's, also, a dog.
Related: A book purporting to teach you how to make your dog into a therapy dog. I have no idea if it works, but it has 4.5 stars on 36 reviews. It is, regardless, unlikely to help you get your dog into Harvard.