Home Sweet Apartment Building
When it's cold outside, many of us would like to find an excuse to stay indoors instead of braving the temperatures. But for most of us, that's not typically an option — our schools, jobs, neighborhood stores, and typically everything else requires us to leave our hopefully comfortable homes.
But that's because most of us don't live in the tiny town of Whittier, Alaska, population 220 (as of the most recent census). If we did, we'd most likely live in the building pictured below.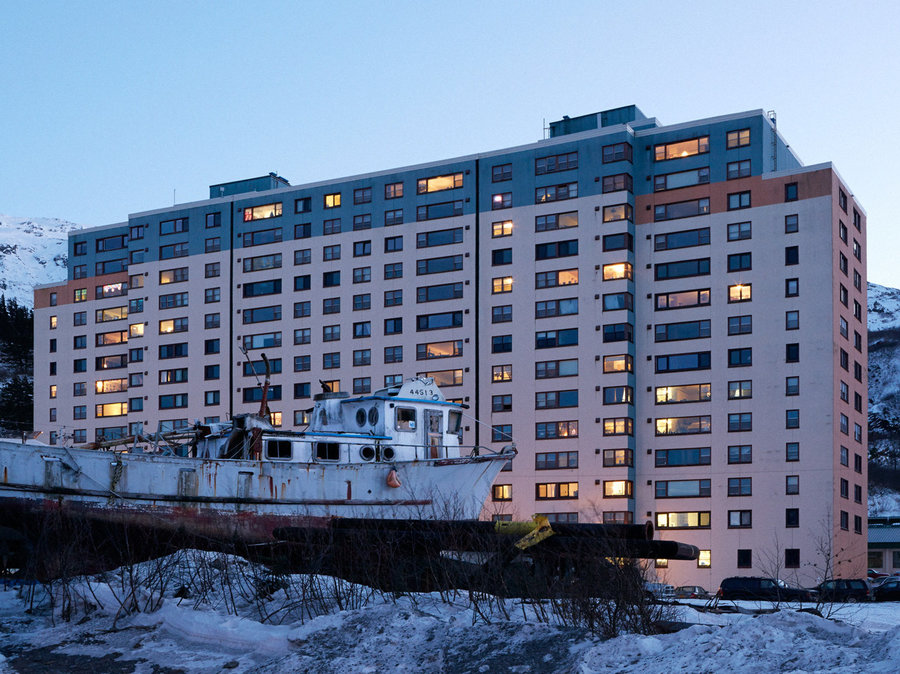 That building is called Begich Towers. It's a 14-story structure originally built in the 1950s as an army barracks; today, the military no longer operates it. The building contains 196 condominiums; the town's entire population can live there. And, they mostly do — more than 75% of Whittier's residents called Begich Towers home.
And they rarely leave — because they rarely have to, or have anywhere else to go.
Whittier is a rather isolated town, even by Alaskan standards. It's not remote, per se; it's only about sixty miles from Anchorage. It's accessible by ship, sitting on the coast of the Gulf of Alaska's Prince William Sound. But by car? The only way in and out of Whittier is through a one-way tunnel which shifts directions at regular intervals and which is closed at night. Oh, and then there's the weather — it's Alaska, so it's already cold, and to make matters worse, winds can hit 60 miles per hour.
So if you're in Whittier, you aren't going anywhere.
The good news: you don't have anywhere to go, anyway — at least, not if you live in Begich Towers. As NPR reports, "residents inside Begich Towers have everything they need under one roof." The mayor has his office in the building, and the police department is based there, too. Begich Towers has a post office, general store, grocery store, laundromat, restaurant, and a health clinic. Oh, and there's a small church, a similarly small hotel, a conference room, and even an indoor pool. (An outside one would be colossally stupid.) Really, there's everything — to a degree — except for school. And that, per NPR, is "directly behind the tower, connected by an underground tunnel."
Want to see for yourself? The trip isn't an easy one, but it's often worth it — the surrounding areas are majestic and Whittier has 22-hour days in the summer. But it's far and expensive, so if photos will suffice: an album of the community colloquially known as "the town under one roof" can be found here.
Bonus fact: Alaska is the largest state by area; Rhode Island is the smallest by the same measure. But it's hard to understate the difference in size. Here's a good way to think about it: Anchorage, Alaska, is 1,961.1 square miles (5,079.2 km2); the entire state of Rhode Island is only about 1,212 square miles (3,140 km2).
From the Archives: Unmixed: Why the Gulf of Alaska has two different types of water (kind of).
Related: "The Strangest Town in Alaska: The History of Whittier Alaska and the Portage Valley" by Alan Taylor. Mixed reviews, though.