How a Failed Surgical Instrument Brought Santa Inside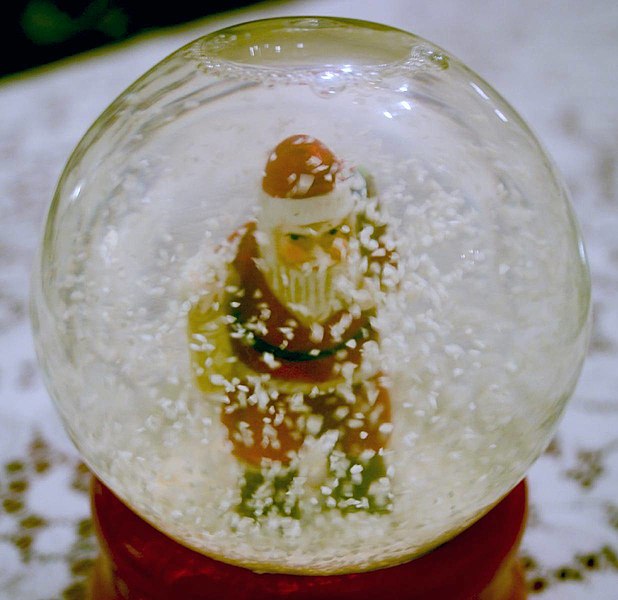 Pictured above is a snow globe, this one — as the title suggests — with Santa inside. Snow globes are decorative toys that are commonly found in December, particularly in the United States and Europe. Typically, they all follow the same general formula: take some water, some sort of statue, and a lot of white flakes and trap them under a see-through sphere made of glass or plastic. They're fun, they're pretty, and they're not very utilitarian.
But that wasn't what was supposed to happen. Snow globes were meant to be very utilitarian. In fact, they were originally designed to save lives.
It just didn't quite work out.
The snow globe's history began in 1880 when Thomas Edison obtained a patent for the incandescent lightbulb. He began to commercialize his invention that same year and within a decade or so, lightbulbs were basically everywhere in the Western world. Workers of all types looked for ways to take these newfound light sources and make them even better, and one industry — shoe making — came up with a simple innovation: a "shoemakers' lamp." As Atlas Obscura explains, the invention didn't actually involve a lightbulb itself — it was just "a glass globe filled with water that, when placed in front of the lightbulb, amplified and focused the light on the work area."
In 1900, a surgeon approached Erwin Perzy, a mechanic who created surgical instruments, with the hopes that lightbulbs could also make medical procedures similarly more effective. As Mental Floss notes, "although the surgeon had electric light bulbs installed in his operating theater, the newly invented product didn't cast great light. He wanted to know if Perzy could improve on the dim bulbs and make them brighter." Perzy did his homework and learned about the shoemakers' lamps and tried to use the same idea for operating rooms, but it didn't work that well. So Perzy tinkered a bit more, at one point deciding that the light needed something to bounce off of. His grandson, Erwin Perzy III, explained to the BBC what happened next: "One day he found a white powder, semolina, used for baby food. And he poured it into the glass globe, and it got soaked by the water and floated very slowly to the base of the globe. This effect reminded him of snowfall."
The elder Perzy, inspired by the encased snowscape he created, decided to add a miniature church inside his new invention, and the idea proved popular with his family and community. He and his brother Ludwig opened up a shop that sold snow globes, providing them first to local families and businesses in Vienna and the surrounding areas. Over the subsequent decades, these ornaments have become part and parcel of many cultures. The Perzys' shop, called "The Original Snow Globe Company," is still open today and a worldwide customer base. Erwin Perzy's invention made a notable impact on the world, despite never finding success in operating rooms.
Bonus fact: The iconic snow globe in Citizen Kane (seen here) is a Perzy creation. According to the above-linked Atlas Obscura article, "a journalist approached Erwin Perzy III telling him that it was a Perzy snow globe in Citizen Kane, though no records can be found confirming the original manufacturer." Perzy III determined that a studio executive saw a Perzy snow globe at a trade show and wanted one for the movie, but needed a black-and-white one to ensure it would look good on screen (for a black-and-white film). The Perzys created a one-of-a-kind black-and-white version just for the film, although there have been many replicas made since.
From the Archives: Watermelon Snow: Watch out where the huskies go, I guess.