How a Good Breakfast Helped Create a Sneaker Empire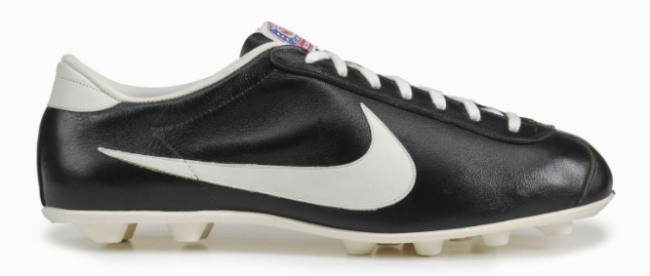 With a market cap (as of this writing) of about $85 billion, Nike is a behemoth in the sportswear and apparel industry. It's best known for its sneakers and it's famous logo, the swoosh. (The swoosh even has its own Wikipedia entry.) But like any other company, Nike didn't start out as an iconic, multi-billion dollar brand. It started as an idea and, in this case, breakfast.
In 1964, a University of Oregon track athlete named Phil Knight and his track coach, Bill Bowerman, founded a show company then called Blue Ribbon Sports. Knight struck a deal with a Japanese sneaker company named Onitsuka Tiger (a predecessor to ASICS), making Knight (and Blue Ribbon) an authorized retailer of their footwear. But this wasn't a grand foray into the retail space; hardly. Knight was selling the sneakers at Oregon athletic events, using the trunk of his car as both the showroom and warehouse. Nevertheless, the business kept growing, and by the end of the century, Blue Ribbon Sports had actual storefronts dotting the American landscape.
But in 1971, the relationship between Blue Ribbon and Onitsuka Tiger came to a close. This wasn't a terrible situation for Blue Ribbon, but an opportunity. Knight had previously espoused an interest in creating a new brand of kicks, and doing so suited Bowerman well; he was something of a tinkerer, always looking for ways to help his athletes improve. They came up with a shoe they called the Nike, a soccer cleat, seen below. The sneaker, per Nike's official website, wasn't very popular — "it cost $16.95 [about $100 in today's dollars], didn't hold up well in cold and wet weather and soon fell by the wayside as Nike focused on running, tennis and basketball footwear." But they sold enough to remain in business, barely.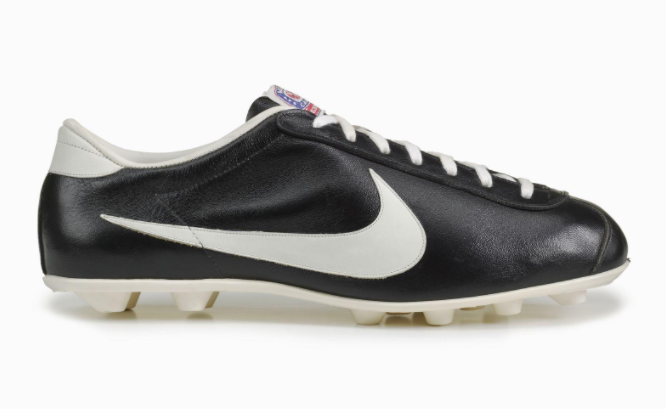 Nike (as it'd soon become known) was treading water — they hadn't innovated in the space, making it difficult to differentiate themselves. They really needed to bring a new, better product to the market. And as luck would have it, Bowerman's other job was about to intervene in a strange way. Bowerman remained as Oregon's track coach — Nike wasn't large enough to warrant him making this a full gig — and the university had just installed a new track made of urethane, a plastic-ish substance. The traditional metal spikes from running cleats were tearing up the expensive new track, and Bowerman needed a solution. Popular Mechanics shares the story of his struggle to find one:
Bowerman went searching for alternatives, like a softer spike that wouldn't destroy their new track and could work on other surfaces, like dirt, grass, and bark chips. Years later, Bill's wife Barbara would describe her husband as obsessed with this problem and unable to think of anything else—"just the urethane track."
And then, Barbara made waffles. Yes, waffles — the breakfast food with all the little squares. To most, they'd be just a tasty morning option; to urethane track-obsessed Bill Bowerman, they were an epiphany. Bowerman immediately realized that the waffles — inverted, at least — looked a lot like cleats.
He loaded the waffle iron up with some rubber, expecting to have cleats, but forgot to spray non-stick stuff on the waffle iron beforehand, so all he did was ruin a perfectly good waffle iron. But that was easily solved by buying a new waffle iron. Bowerman's subsequent attempts worked and by 1974, Nike had their first major product — the Waffle Trainer. The product was loved by athletes of all stripes and captured itself and the company into the public spotlight. A vintage (1979) trainer is now on display in the Smithsonian, at the National Museum of American History, and can be seen at that link.
Bonus fact: So, what happened to the destroyed waffle iron? As it was broken and not yet historically important, Barbara Bowerman threw it out after Bill ruined it, and everyone thought it was gone forever. It wasn't. Decades later, as the above-linked Poplar Mechanics article recounts, their children were renovating the old family home and ended excavating part of the backyard. There, they came across the ruined waffle iron. The Bowermans didn't have a municipal garbage pickup in the early- and mid-1970s; Barbara would, instead, throw the trash in a hole in the yard; the waffle iron (and a ton of other stuff I'd rather not think about) lay idle there for years.
From the Archives: The Birth of a Shoe Company: Not Nike — Kenneth Cole.
Related: Nike waffle trainers.