How a Little Bit of Dishonesty Can Get You Free Tacos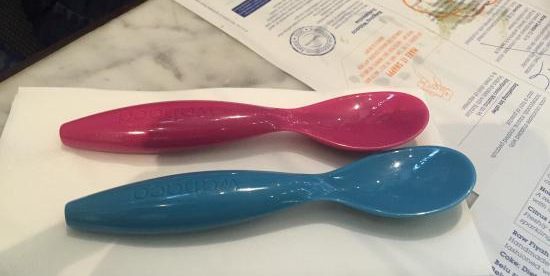 In 1990, the BBC debuted a competitive cooking show called MasterChef. It aired for more than a decade, running until 2001, and its popularity continued after its cancellation. Fans of the show wanted it to come back, and in 2005, the BBC agreed to their demands, rebooting the show with a new season of cooking competitions. That year, a chef named Thomasina Miers took the season's title, giving her the launching pad she needed to start a restaurant chain of her own.
In 2007, she did just that, drawing on her culinary experience to start a Mexican street food chain. It's called Wahaca, named for the phonetic spelling of the Mexican state of Oaxaca, and like MasterChef, it too proved popular. As of this writing, there are approximately 25 locations throughout the greater London area.
Here's a link to Wahaca's menu if you're interested in what they serve. For us, though, how they serve that food is a lot more important. Specifically, let's take a look at their spoons.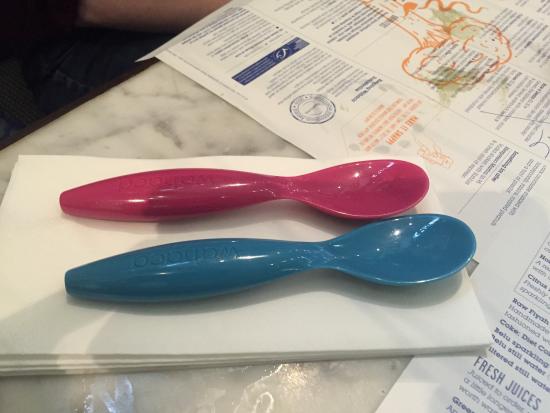 Those are some pretty cool spoons, right? They're Wahaca's calling card — the funky spoons became a brand touchstone, becoming synonymous with the chain itself. And these spoons would probably make a good addition to your kitchen at home. But you're not supposed to do that — take them home, that is. Just like your plates, cups, and other utensils, you're supposed to leave the spoons on the table, waiting until someone clears them and returns them to the kitchen for washing.
But temptation proved otherwise for many people. Many, many people. During the first five years of Wahaca's existence, a ridiculous 20,000 of their spoons went missing.
Wahaca wanted to curtail these thefts and, more to the point, they wanted to get these spoons back.  That seemed impossible — petty theft like this is difficult at best to enforce, and what kind of spoon thief is going to return a stolen spoon back to the restaurant? But then, Wahaca had an idea: turn the whole thing into a marketing campaign. And in 2012, the restaurant held its first-ever spoon amnesty.
The rules were simple: in January of that year, diners were invited to bring back their pocketed spoons, no questions asked. No punishment whatsoever. Instead, they'd actually get a reward — a free plate of tacos, a small plate which today retails for about £5 (or about $6.50). As you'd expect, the local press couldn't resist what looked like a once-in-a-lifetime opportunity to soothe the spoon-stealer's soul and fill his belly — and neither could many of the spoon thieves. Hundreds of customers returned their spoons and ate their free tacos.
Wahaca was so happy with the results that their Spoon Amnesty has become an annual campaign; every January, you're invited to start the year with a clean moral slate and a taco-filled plate. And while this would obviously incentivize more spoon theft, the company has found ways for non-thieves to also benefit. Honest diners also could get some free tacos that month by partaking in a simple task. For example, in 2012, per the company's announcement, if you were "one of the few people never tempted to pocket a spoon," you could earn yourself a reward by "becoming an informant" — all you had to do was take a picture of your friend trying to steal a spoon and post it to the company's Facebook page. In 2016, diners were asked to draw "spoon cartoons" to earn their £5 prize, with the winning cartoon receiving a whole year of free tacos.
Come February, though, the amnesty ends and the rules go back to normal. If you forget and accidentally return a spoon? The bad news is that there will be no free tacos, but on the plus side, they probably won't have you arrested for utensil theft regardless.
Bonus fact: You eat soup with a spoon, but if you have a mustache, how do you do so without making a mess of your facial hair? In England during the 1800s and into the early 1900s, this was a real problem for many men, especially when dining in a formal setting. The solution? A mustache spoon, seen here, designed with a mustache guard attached to the spoon itself. As Gizmodo explains, "this incredible piece of craftsmanship had a perfectly placed, mustache-shaped cutout to protect a man's pride and joy from all sorts of offending soups, stews, and otherwise 'stache-staining dishes."
From the Archives: The Kitchen Utensil that Woofed: How dogs powered kitchens of the 1500s.