How a Texas Farm Helps Explore Space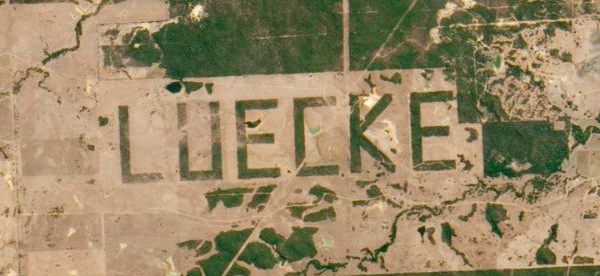 Smithville, Texas is located on the outskirts of Austin and is home to about 3,000 people. In December of 2006, it joined the annals of history when the townspeople got together to make Smitty, a 20-foot long, 1,300-pound gingerbread man which, at the time, was the world's largest per Guinness World Records. It's a good example of how things are done in Smithville — they go big.
And no one knows that better than a guy named Jimmie Luecke. Except, maybe, for NASA.
In the 1980s, Mr. Luecke — a former state trooper — tried his hand as an oil speculating and made himself a small fortune. He parlayed his success into a new investment, cattle ranching, and acquired a huge tract of brushland. One of the first steps was to clear the space, but Jimmie Luecke didn't just clear out the whole footprint. He wanted to make a name for himself — literally. Luecke left standing acres and acres of trees so that people flying between Houston and Austin could see his name from their windows. As seen below, it worked. And then some.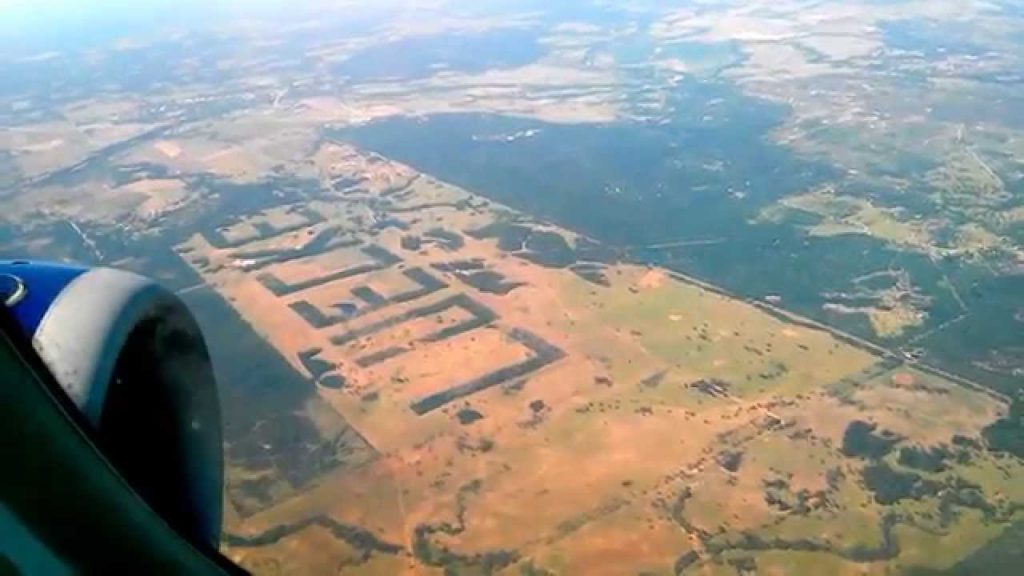 Luecke's efforts, according to Altas Obscura, resulted in him having the world's largest signature. Each letter extends thousands of feet, per Conde Nast Traveler, and the entire name spans more than 2.5 miles from the L to the second E. It's so large that not only are the letters visible from a plane — they're also visible from much higher distances.
And that paid some unexpected dividends — for all of us.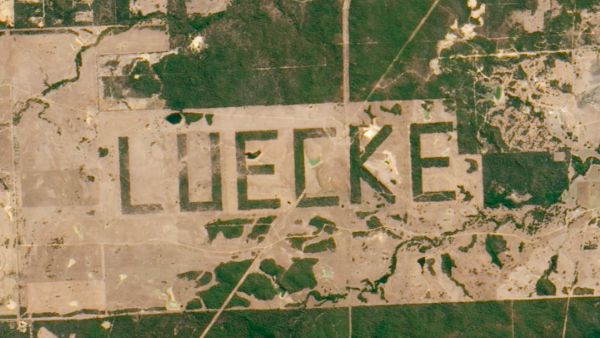 Hop over to Google Maps' satellite view, here, and the letters are easily visible (but oriented running north to south). But let's make it easy. Here's a picture, rotated, above. If you're orbiting the Earth, you can see Luecke's big signature, and clearly at that.
For those of us stuck on the planet, that's fun, but not all that practical. For NASA, however, the letters have proved accidentally valuable. As the agency noted in a 2004 paper, Luecke's signature is "also useful for evaluating spatial resolution of astronaut photographs." Because the size of the letters is specifically defined, it acts as a frame of reference, and, per another NASA source, astronauts can use it to "estimate the maximum resolution of cameras aboard the Space Shuttle."
All in all, the tree sign was one small ego trip for man, one giant frame of reference for mankind.
Bonus fact: Luecke's signature is probably the world's largest, and probably was the world's largest when he first created it. But for a while, it was in second place. In 2009, Sheikh Hamad bin Hamdan Al Nahyan, a billionaire member of Abu Dhabi's ruling family, began carving his name ("Hamad") into the beaches of a private island he purchased, using canals to draw the visible-from-space lines. That project, seen here, lasted a few years, but the canals have since been filled back in.
From the Archives: Welcome to Temporary Anxiety: Another sign for above.