How To Get Rid of Lots of Old Books
Hi!
Two weeks ago, I asked for your help: I had a lot of books I wanted to give away, and couldn't figure out how to get rid of them (without throwing them away). Thanks to all of you, I found a solution! It was a small adventure, though.
Today, I'm going to share that adventure with you. But I also wanted to share all of your great advice. So I summarized it on my never-used personal blog. If you're interested: How To Get Rid of Lots of Old Books.
But now, my story.
After reading through your suggestions, I learned about Better World Books, an online used book retailer. They have donation bins across the northeast, and there happens to be one at a library about 15 minutes from me. A week ago Tuesday, I called up that library to ask if the donation bin was there, and it was! My problem was solved…
… except that the bin was full and hadn't been emptied in a while, and they didn't know when, or if, it would be next.
The librarian there told me to try another library, one about 15 to 20 minutes further away. The librarian heard a rumor (librarian rumor mills are something else) that they were taking used book donations. She also suggested I call her back on Friday; the bins, when emptied, are often emptied on Friday, and maybe I'd get lucky.
Not wanting to take a 30 minute trip to the other library to donate the books, I decided to just wait until Friday — a week ago today. I called them again and there was good news and bad news. The bad news was that the bin wasn't emptied yet. The good news is that Better World had told them that it probably would be emptied on Friday — despite the fact that it was now 4 PM. I decided to chance it. My plan was to go to the drop box on Saturday.
Saturday morning, my son and I loaded the books — two boxes and two big bags full — into the car. I had to drive him to meet some friends 20 minutes in the wrong direction, but whatever, I had the time. I dropped him off and, on the way back, saw that I was right next to a library. So I pulled into the parking lot and went in to ask if the library would take my books. But before I even got out of the car, I saw the sign below: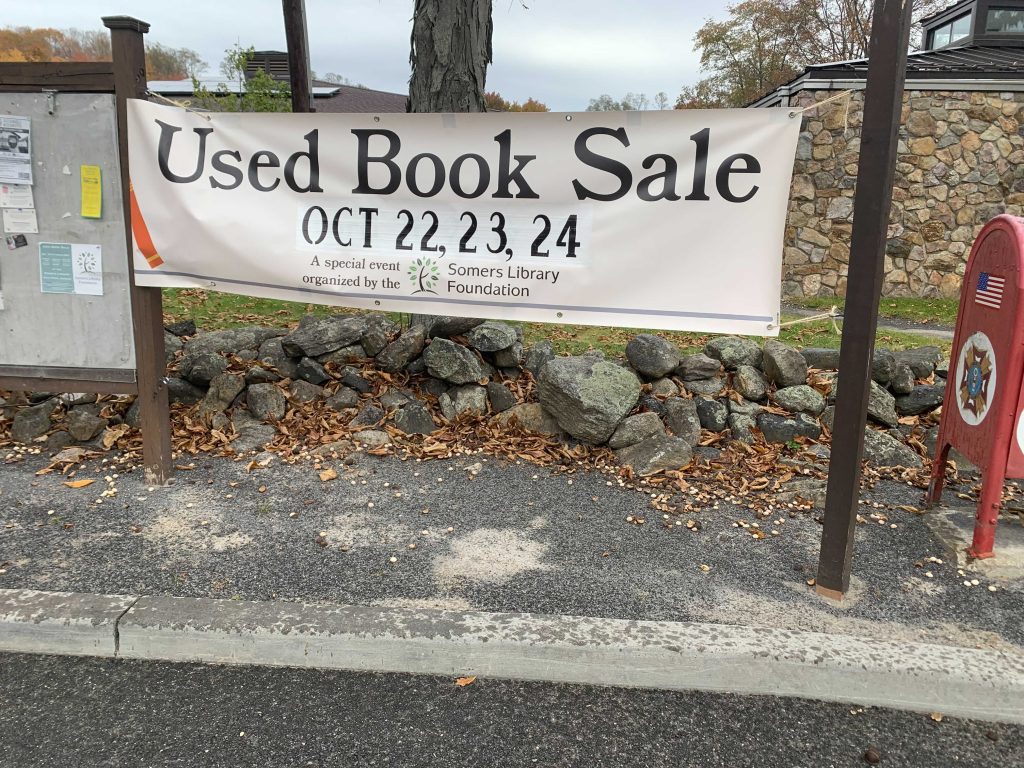 Jackpot!
I walked in and when the nice lady at the desk asked me if I was there for the used book sale, I said, well, no, not really — I happen to have a car full of used books that I'm looking to get rid of, and I'm hoping to donate them to your used book sale that I just happen to pass by.
They wouldn't take the books.
The book sale, after all, is designed to get rid of books the library no longer wants or needs; it's not just a fundraiser. And all of the books were already sorted and categorized; I would be adding chaos into their order. So, alas, it was back to plan A: find the book drop. Unfortunately, I ran out of time on Saturday, so I had to wait until Sunday. It didn't go well.
Sunday morning, I get back into the car and drive to the drop box. And when I arrive, I can't get there. The town is having its annual Italian Heritage Festival, and all the streets leading up to the library are closed. I'm almost ready to give up, but I figure I will call the other library — the one 20 minutes further away — and go there first. But when I call, the recording tells me that the library is closed on Sundays for the summer. I try to tell the recording that it is October, and summer is long past, but the recording doesn't care.
The books are destined for the recycling.
That night, as I'm taking out the garbage — and we had a lot, because our purge of unwanted stuff wasn't limited to just books — my wife asks me to pick up my daughter. Before the books can make it to the curb, I get in the car to get her, plugging the address into the GPS as it's a new destination for me. I get there and turn right into the parking lot. I pick her up without incident. But for some reason, when I leave, the GPS doesn't have me turn left out of the parking lot, backtracking my original route. Instead, it has me turn right. And a few minutes later, I see a huge red-white-and-green sign. It's promoting the Italian Heritage Festival. The same one that blocked my from donating the books. The world is playing a cruel joke on me.
And then I realize what I'm actually looking at. The sign is on the library I was trying to get to hours earlier. And the festival is over, so I can pull into the parking lot. And when I do, I see this.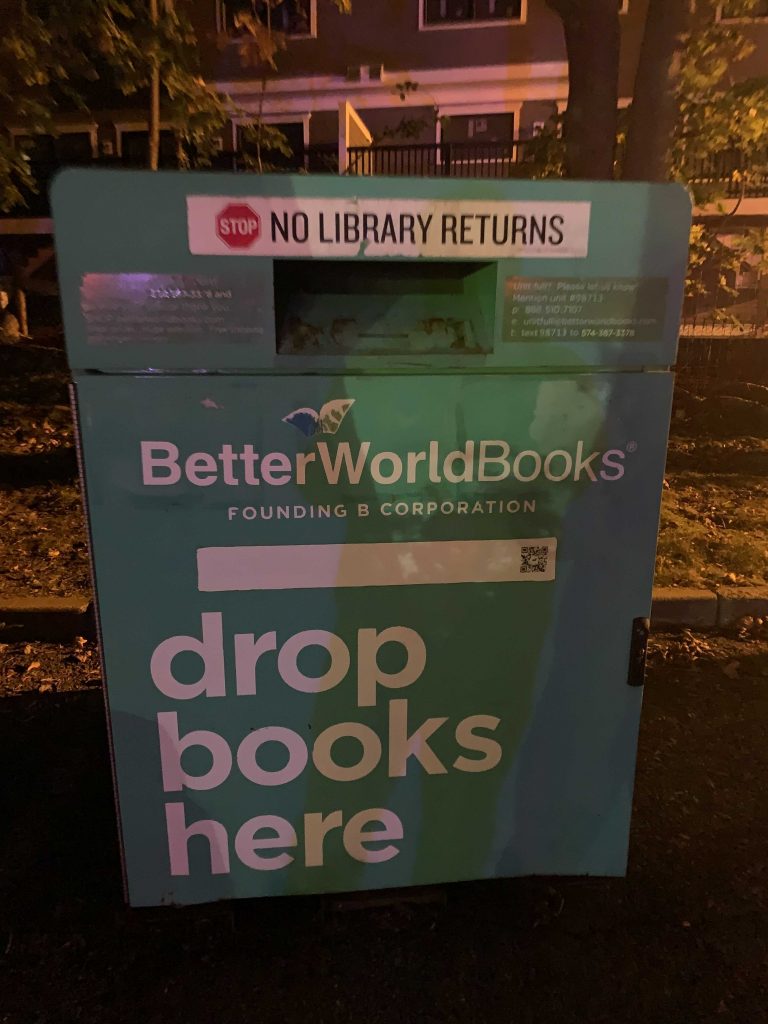 It's the drop box. And it's huge. And more importantly, it's empty.
In a matter of minutes, I empty all the books into it.
My daughter and I arrived home a few minutes later. My wife tells me that it turns out I probably didn't have to go and get my daughter; she had another ride home, but she didn't know that until a couple of minutes ago. I told her I didn't mind — it all worked out in the end.
The Now I Know Week in Review
And some other things you should check out:
Some long reads for the weekend.
1) "The man in the iron lung" (The Guardian, 22 minutes, May 2020), The story of one of the last people alive in an iron lung.
2) "See How the Dixie Fire Created Its Own Weather" (The New York Times, 8 minutes, October 2021). The subhead: "This year's largest blaze generated powerful storm clouds. We show you in 3-D."
3) "A Long Walk's End" (SB Nation, 37 minutes, July 2015). The subhead is great: "When fugitive James T. Hammes went on the run, he went for a hike." This is the story of a conman who ends up running from the law by hiding in the Appalachian trail, and for six years, succeeded.
Have a great weekend!
Dan