How to Scare a Polar Bear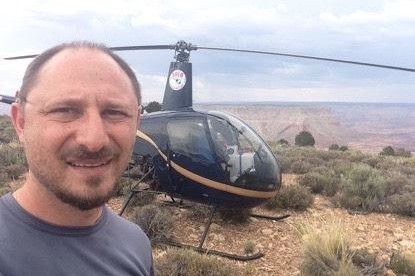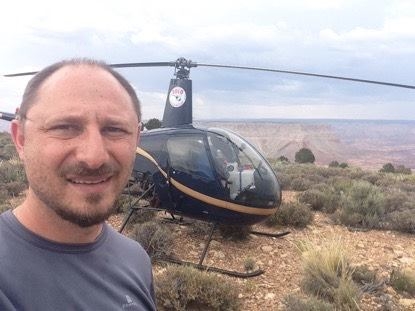 Don't try this at home. Any of it. It probably won't work for you, because you aren't Sergey Ananov.
In June of 2015, Ananov, pictured above (via his Facebook page), left Moscow in a small helicopter. He was trying to become the first person to circumnavigate the world, solo, in a helicopter weighing less than one ton. The trip went well for a few days — he had crossed over Russia and the United States, and had made it to Iqaluit, Canada, without difficulty. But the next step of the trip, a 500-mile flight from Iqaluit to Greenland, bested the pilot. As he'd later tell CBC News, "the belt that transfers the power from the engine to the gear was broken and the machine lost its power" and a valve had broken, requiring him to make a forced landing. Unfortunately, there isn't a lot of land on that 500-mile leg of Ananov's itinerary, so his helicopter ended up at the bottom of the Davis Strait. Ananov escaped the aircraft before it met its watery doom, only to find himself stranded on an ice floe.
That, to say the least, was bad news — no one knew where Ananov was, at least not precisely, and Ananov had no way of calling for help aside from some flares. And to make matters worse, there aren't any people who live in the Davis Strait (which makes sense given that it's a body of water) — but there are a lot of polar bears who call it home. And at least one of them found the pilot.
So what do you do to make the polar bears go away? Well, here's what Ananov did, as he told NPR:
About four hours later [after he was forced to land], I was lying covered by the life raft and suddenly I heard the loud breathing of a bear approaching me. And I just was caught by surprise and I decided to catch him by surprise in reverse. So I jumped out of my life raft and frightened him.

[. . . ]

I just rushed at him and I was angry. I was angry with myself, with the situation, with the idea that it's the final moment of my life because I was quite sure that he will eat me.

[ . . . ]

It was ridiculous because, you know, I acted when you pretend to be a monster with the children. I chased after him. And the bear, he run to the edge of my ice and jumped to another ice. I couldn't follow him because I am not the ice jumper, you know? And he started walking slowly away.
The bear avoided, Ananov managed to outlast the fog, using his final flare to alert a rescue vehicle — a Canadian helicopter — to his whereabouts. Roughly 37 hours after he crashed, Ananov was safe yet again.
Bonus Fact: Rescues by helicopter require a skilled pilot — so how about Star Wars' Han Solo? Or, at least, Harrison Ford, the actor who portrays the man behind the controls of the Millenium Falcon? You're in luck, because Ford happens to have some experience there. In 2000, Ford piloted a helicopter which rescued a dehydrated hiker in Idaho. Per CNN, the actor, a part-time resident of the area, often "offers his flying skills and helicopter for rescue missions" to the local sheriff's office.
From the Archives: Manslaughter in Moriusaq: A murder in a small town in Greenland.
Take the Quiz: Where are Greenland's immigrants from? There aren't a lot of them.
Related: An RC helicopter. 4.2 stars on more than 4,000 reviews.