How to Turn Donuts into Dough?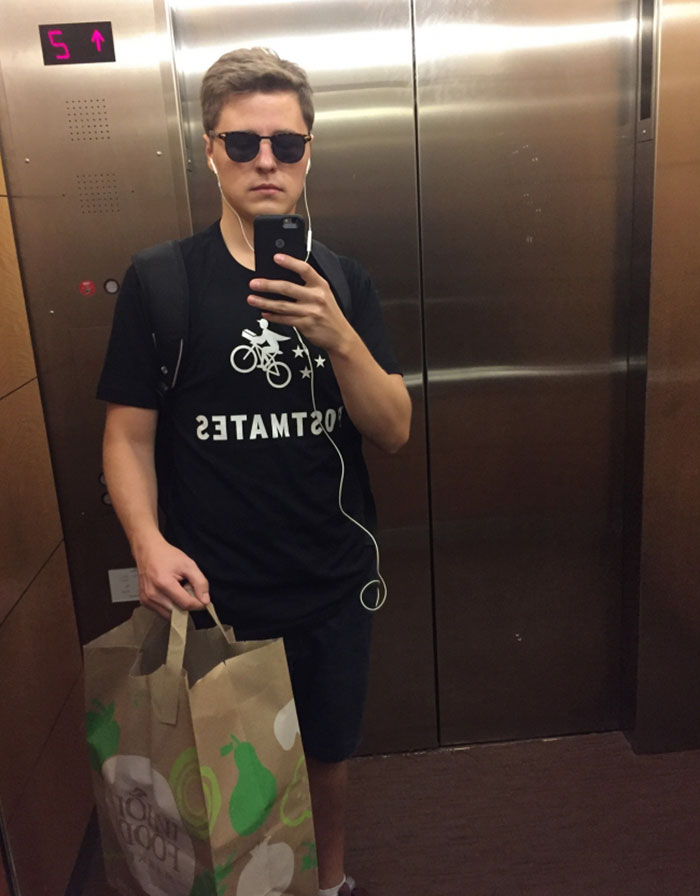 If you want to be a marketing professional you'll need a few different skills. First, you need to be able to identify your audience — you'll need to know who you want to connect with, and why. Then, you'll have to craft a compelling story, one that resonates with that audience and helps you reach your goals. And finally, you'll need to actually reach that audience; a great story isn't worth much if the people you hope to connect with never hear it.
If you're a job seeker of any type, you probably need similar skills. You definitely need to know who is hiring or likely to hire for the kind of roles you're looking for. You'll want to put together something that tells people who you are — a resume, for example. But getting your resume to the right person, that's always a trick. If you have a connection, that's great; perhaps as many as 75% of successful job applicants had a personal or professional connection that helped get them through the door.
Or, you can just bring some doughnuts.
Before 2016, Lukas Yla was living in Lithuania, where he successfully started a career for himself in marketing. But he dreamed of finding employment in the United States, and specifically, in the San Francisco Bay area. That summer, he came to San Francisco with a simple goal: he wanted a job at one of San Francisco's many consumer technology startups. But coming from Lithuania, Yla had an understandable concern: as he told the local ABC News affiliate, "I knew that I might be written off just because I didn't graduate university here, or I don't have work experience in the United States." And to make matters worse, his professional network may have been strong in Lithuania, but it wasn't very much help in the United States. Knowing few people and having no track record in the U.S., Yla decided to get creative instead.
Yla was looking for a job in marketing, and (in a pre-pandemic world especially) the hiring managers he needed to connect with probably worked in offices. And people in offices like doughnuts. (I don't have a citation for that, but do I really need one?) There was, therefore, a rather easy way to get his resume in front of those hiring managers — all he needed was some doughnuts.
Okay, it was a bit more than that.
Yla printed himself a t-shirt that implied he was a delivery person, working with an app-based delivery service called Postmates, as seen in the elevator selfie above. He then went to the offices of his job prospects with a box of doughnuts in tow. When he arrived at the target's office, he just claimed to be delivering doughnuts — he certainly looked the part — and more often than not, he was permitted to enter the building and find the "customer" who was expecting his or her delivery of tasty treats. Of course, no one had actually ordered any doughnuts, so when Yla arrived, there was some immediate trepidation; as he told the ABC News affiliate, "Most of the time they were shocked, They're like, how did you get into the building?"
Once the executives got past the obvious flaws in their security, though, they were in a good place — they had free doughnuts, after all. And these doughnuts came with an explanation, as seen below.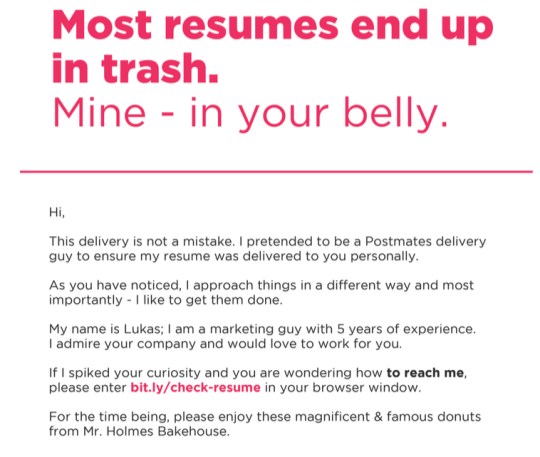 The stunt seemed to work, too. Per Insider, within a few weeks, Yla "delivered more than 40 boxes of doughnuts to companies like Lyft, Uber, Instacart, and [others]" and "landed more than 10 interviews with tech companies and ad agencies" in the area. Even the founder of Postmates took notice, praising the approach on Twitter; Yla replied via that platform and landed himself a coffee conversation as a result. Ultimately, he landed himself a job, too, in marketing at a ride-sharing startup.
And with that, the doughnut deliveries came to an end.
Bonus fact: Most doughnuts come with powdered sugar, glaze, sprinkles, or something dessert-y like that. But in the Portland, Oregon, area, there's a chain called Voodoo Doughnut that pushes the envelope — they have roughly 100 varieties, including ones covered in Capt'n Crunch cereal and maple-glazed bacon. But what you won't find there are doughnuts with over-the-counter medication layered on them, although that's not for a lack of trying. As Fast Company reports, at one point, Voodoo offered "a Pepto Bismol doughnut–a chalky pink donut that was actually dipped in Pepto and sprinkled with Tums," which "was conceived as a digestif for Voodoo's late-night drunks." (As the owner told Believer Magazine, "I honestly thought if you had that shot of tequila you shouldn't have at 2:00 a.m., and then you got sugar, bread, Pepto, and Tums, you'd either feel better or puke your ass off and then feel better because you got it out of your system. So it was a win-win either way.) And to help you sleep it off, Voodoo came up with a NyQuil Glazed donut, too. If you go to their stores today, though, you'll find neither; health authorities told them that adding (legal) drugs to doughnuts is not okay.
From the Archives: Why Do Bakers Have Bigger Dozens?: A story that isn't really about doughnuts, but could be.