Peggielene Bartels was born in Cape Coast, Ghana, in 1953. She moved to the United States in the 1970s and soon gained American citizenship. She still has two significant ties to her home country, though. First, she's a secretary at Ghana's embassy to the United States, a job she's held for over thirty years. Second, at least once a year, she travels to a small fishing village in Ghana called Otuam.
She has to. She's Otuam's nana, or king.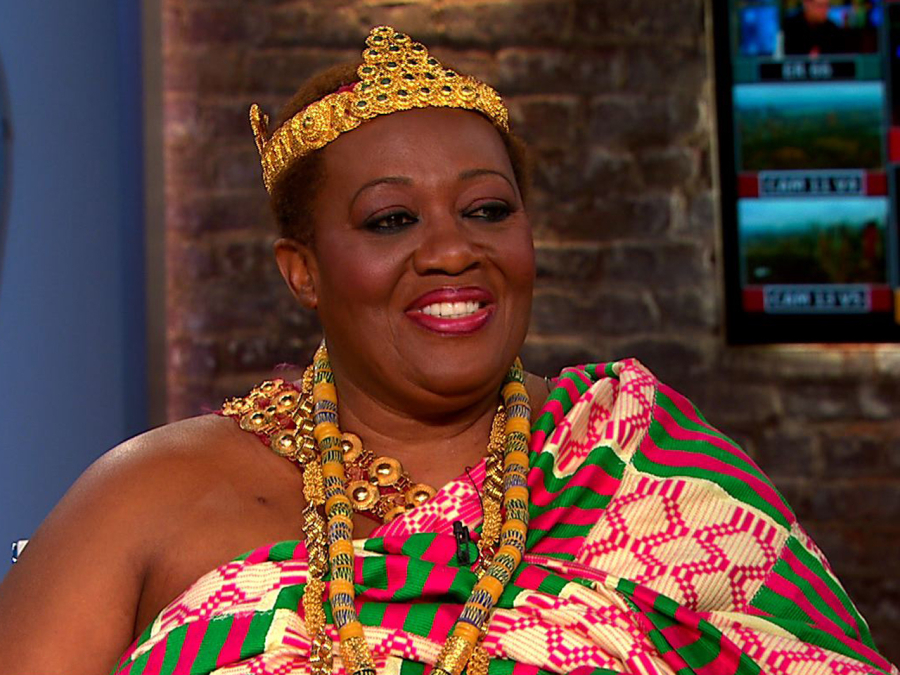 Like many villages in Ghana, Otuam's political structure is centered upon a monarch, in this case one selected by village elders based on the advice of the outgoing (i.e. recently deceased) royal and the results of religious rituals. Bartels' uncle, the former king, passed away in 2008, and suggested his niece was the next successor-for-life. Many protested — the village never had a female king before — but as one relative told her (via an NPR report), "when [the elders] poured libation and did the rituals, as soon as [they] mentioned [her] name, it started vaporing and [they] were surprised." They repeated the ritual three times with similar results. Peggielene Bartels (above) was to be the next king, becoming one of the first dozen female village chiefs in the entire nation, as well as Otuam's first.
Even though she still lives outside of Washington D.C., she is the chief executive of the Ghanaian village over 5,000 miles away — with significant job duties. She does most of her work from afar, delegating authority to a handful of trusted advisors who she speaks with at least daily, while using her position to raise money for her village by donors in the States. She not an absentee ruler, though; she makes a point of going back to her palace — an eight-room home situated on a 1,000 acre plot of land — for several weeks a year.
Bartels, by most accounts, is a successful king, too. Unfortunately, poverty is still the status quo in Otuam. There is no garbage pickup; trash is burned instead. There isn't a lot of trash, though, because Otuam's citizens are so across-the-board poor that items are used and reused until every last moment of usefulness is drawn from it. Otuam has no doctors, only nurse practitioners. Through the fall of 2011, the village still lacks a high school, meaning that children must leave their families if they wish to continue their educations. At $500 a year in tuition, room, and board, this is an unlikely prospect.
Bartels has been working toward funding one by speaking about Ghanaian culture in the U.S. and fundraising drives held by churches in the Maryland/D.C. area. Advancements are coming, albeit slowly, as evidenced in part by the establishment of a community bank designed for investing in local agriculture. Further, as of 2008, the village lacked running water and most wells had run dry. By 2011, under Bartels' leadership, the village installed three wells with more on the way.
But her main successes have been in battling against a tide of corruption. Before her investiture in September, village elders were pocketing government fees and rents for years, leaving the treasury nearly empty. She replaced those leaders with younger members of the community, and, as reported by the Washington Post, took a dramatic approach to those who robbed the village of its future. At a council meeting soon after her installment as nana, she offered them a one-time clemency deal: "If people confess their crimes, I will be merciful. But if I they don't, I will squeeze their balls so hard their eyes pop out. Then I will put them in jail and let them rot there; I don't care how old they are. My mercy depends on your confessions," she told the gathered crowd.
Bonus Fact: December 6, 1974 until July 13, 1976, the U.S. Ambassador to Ghana was a household name throughout the United States. The office was held by Shirley Temple, the world-famous child star from the 1930s. Ms. Temple was later appointed the U.S. Ambassador to Czechoslovakia, too. These weren't the only evidence of her political ambitions, either. In 1967, she ran for Congress in California — and, despite her incredible fame and name recognition, lost in the primaries.
From the Archives: The Chief's Fleet: King Peggy's story isn't unique.
Related: King Peggy's autobiography.