The Weekender, December 11, 2020
Hi!
Today's Weekender is a bit different. No, it's a lot different.
A few weeks back, I mentioned that for my birthday, I wanted to raise some money for a non-profit. We've done it before with crazy success; let's do it again. Well, my birthday is this weekend and I don't publish on the weekends, so, today's going to have to do.
First off, thank you to everyone who wrote in to suggest a cause to support. There were dozens if not hundreds of great suggestions, including one I was personally very surprised (and delighted) to see as my family and I support them already, but I didn't think anyone really knew about. I'll highlight some of those, including that one, in the future.
The one I chose for today, though, is Kiva, which at least a half-dozen people recommended. If you want to get right to the giving, instructions are immediately below. If you want to learn more, I'll get to that right after the instructions.
To give:
Step 1) Sign up for Kiva, here, if you don't have an account already.
Step 2) Join the Now I Know team, here.
This may be a bit buggy — the donation I made this morning isn't showing on the page yet — but I'm hopeful it will appear once the project I backed hits its funding goal. If it doesn't, no big deal; your gift will still reach the people you want to help.
Step 3) Make a donation to the Fatou Faty Group, here.
Whatever you feel comfortable with is great. If you're able to add on to your loan by making a donation to Kiva itself, that's great, too.
That's it! You've helped. But there's more.
Kiva isn't a traditional non-profit. The money that you donate to these groups is actually a loan, typically to help them get a business off the ground, increase their education, etc. When they pay back their loans, the principal (and, if there's any interest, that too) gets added back into your Kiva portfolio; you can then find another person or group to support. (No, you can't withdraw the interest for yourself.) Not only are you helping someone become financially stable, but you're also helping them help the next person. It's a virtuous cycle with no risk to the borrower; if they default on their loan, that's not great, but there's no real penalty. Here's a screenshot from Kiva's website showing the process.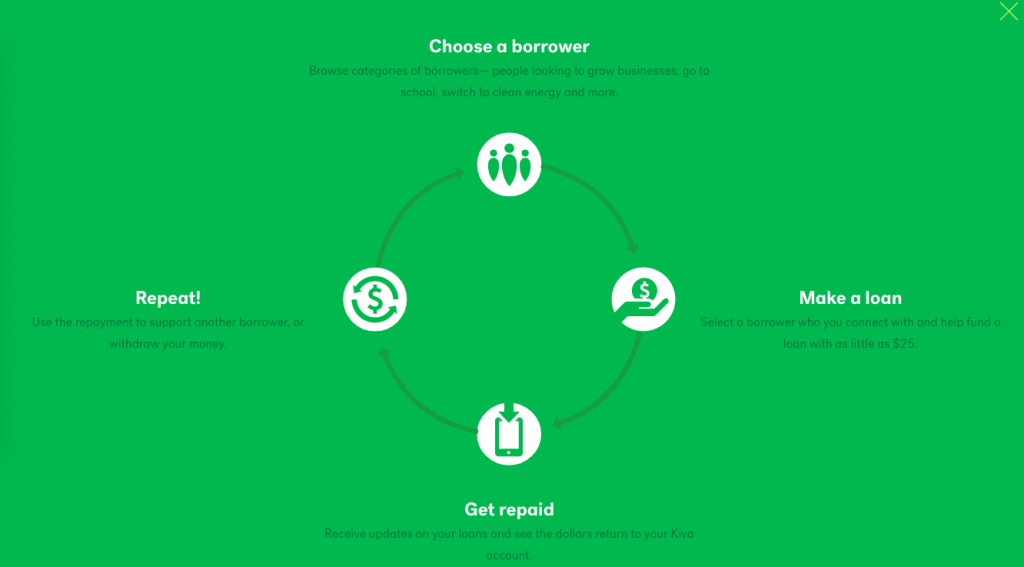 The group I chose for us to support is a collection of a few dozen women in the same village in Senegal. The lead person — a 60-year-old sugar and tea reseller — needs funding for inventory. Like many other entrepreneurs on Kiva, she and her team are vetted by a local non-profit in their home country; in this case, Kiva also rates them as a rather low risk to default on the loan. They're looking for $4,775 total, about twice the average annual income in Senegal. I think we can get them there.
As of this writing, including my donation, they are 8% funded with $4,375.00 to go. Let's fund this project — and then more and more.
Thanks!
(Oh, one other thing: if you want to back a different project on Kiva, please do! There are so, so many to choose from.)
Have a great weekend,
Dan