Let's Help a Child Turn Bad Luck into Hope
Hi!
As long-time readers know, on Fridays — like, you know, today — I do a week-in-review type of thing. Today, I'm doing something different: I'm asking you to help a kid in my town turn some bad luck into hope.
In June, a friend of my daughter's was diagnosed with Rhabdomyosarcoma, a form of cancer that is rare in children. The girl, Emily, is 11 years old, and she's currently undergoing 10 months of chemo and radiation. She can't do much else during that time period, so she's using the time to help others in her and similar situations. She's fundraising for Memorial Sloan Kettering by creating and selling inspirational bracelets like the ones below.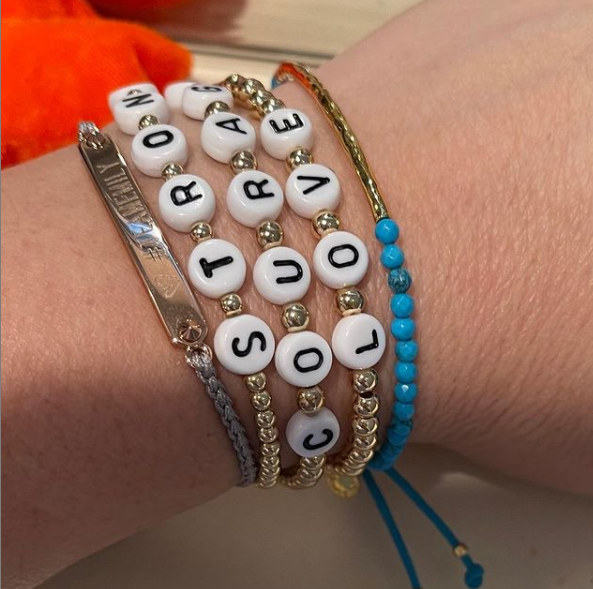 Her goal is to raise $10,000 for cancer research, one $10 bracelet at a time. I'm asking you to help her reach her goal.
If you're interested in a bracelet, her family set up an order form here. It's a Google Form and doesn't take down payment information; as this is very much a homemade endeavor, they're keeping it as simple as they can and asking that you send them the $10 (plus $2 for shipping) to a Venmo address.
For those who want to support Emily's cause here but don't want a bracelet (or don't want to Venmo a stranger, I get it), you can also donate directly to Memorial Sloan Kettering here. If you do so, and want to send a gift notification to Emily, you can via that form; use Now I Know's PO Box and I'll bring them to her family.
Now I Know
P.O. Box 536
Mt. Kisco, NY 10549-9998
That said, part of her family's goal here is to help a young girl find some purpose during an ordeal that none of us should have to go through, so if you feel comfortable ordering a bracelet, please do so instead.
Either way, thank you for helping.
The Now I Know Week in Review
Monday: Where'd the R in Mrs. Come From?: The question itself is simple but the backstory surprised me.

Tuesday: When The Robber Hits the Road: The title I didn't use was "Literally Highway Robbery."

Wednesday: The Chimera: When the DNA evidence tells the wrong story.

Thursday: Las Vegas' Real-Life Bat Signal: It has it's own little ecosystem!
And some other things you should check out:
Some long reads for the weekend.
1) "The Prince, the Flash, and the Forger" (Vanity Fair, 28 minutes, April 2020). I have a soft spot for the great art forgery stories, and this is one of them: "The paintings turned out to be more of a liability than an asset. Last November, in a front-page story that touched off a royal scandal, the Mail on Sunday reported that 4 of the 17 paintings were fakes. According to the paper, the works by Picasso, Dalí, Monet, and Chagall—insured by the Prince's Foundation for 104 million pounds—were actually cheap imitations by Tony Tetro, a California artist known as "the world's greatest living art forger." Citing their display at Dumfries House, which seemed to confer a royal seal of approval, Stunt had valued the paintings at 217 million pounds and had tried to use them to secure massive loans to pay off his equally massive debts. Prince Charles, it appeared, had been scammed."
2) "How Extortion Scams and Review Bombing Trolls Turned Goodreads Into Many Authors' Worst Nightmare" (Time, 9 minutes, August 2021). I've written three books and yet I've never really used Goodreads. But I do have a deep understanding into the culture and benefits (and pitfalls) of social media platforms. This story didn't surprise me as a result — but it was still shocking.
3) A history of the Segway (Slate, 41 minutes, August 2021). The actual title is "This is Going to Change the World" but that doesn't tell you anything. The subhead is better: "As the new millennium dawned, a mysterious invention from a charismatic millionaire became a viral sensation—then went down in flames. Ever since, I've wondered: Was it all my fault?" In any event, if you lived through the hype around the Segway before its unveiling — and the collective yawn around it afterward — this is the story about how that happened (maybe). If you don't even know what a Segway is, then you'll arguably appreciate this story even more.
Have a great weekend!
Dan