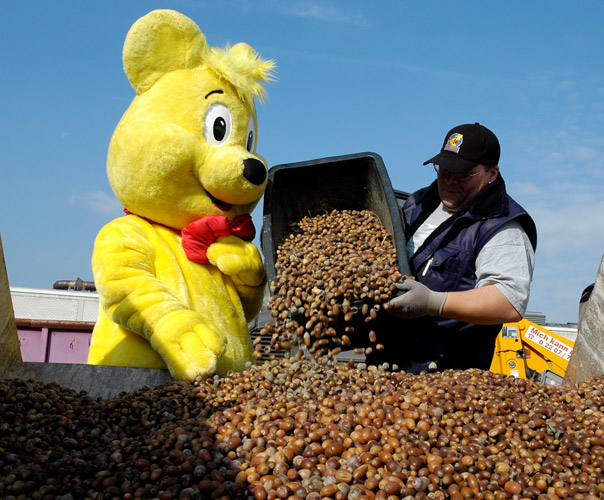 Pictured above is a man dumping chestnuts and acorns from a large bin into a much larger bin. He's doing a job that probably isn't all that odd. You could imagine all sorts of reasons why workers would trek out into the woods, harvest all the chestnuts they can find, and return them to a central processing station. And there, you'd need to have someone whose job it is to take all of those nuts and dump them into a truck or something for transport to wherever the nuts will ultimately go. 
Of course, that doesn't explain the person in the bright yellow bear costume.
That's Goldbear, the mascot of Haribo, the candy company. Based in Bonn, Germany, the company has been around since 1922, and its been making treats for children in Germany since (and now, around the world). But in the 1930s, the Great Depression hit, and gummi bears cost money. For many kids and families, candy was a luxury they couldn't afford. Chesnuts, on the other hand — they're free. At least, if you're willing to put in the work to collect them. The nuts are common throughout Southern Europe and into Germany, growing in the wild for anyone to find and eat. If you live in the right area, you don't need to be rich to enjoy some roasted chestnuts — you just need to pick them up off the ground.
That gave Haribo's founder, Hans Riegel, an idea. While he had little need for chestnuts (and acorns), he wanted to ensure that the children in the community had treats for the fall season. In October of 1936, just a few days before Halloween, Riegel instituted a new program: a chestnuts-for-candy exchange. The details of the original giveaway are hazy, but the basic idea is clear: if children showed up at the Haribo factory with bags and bins of chestnuts and acorns, the candy company would take them off their hands and give them gummi bears in return.
As one would expect, news of the promotion sparked children and families to go off into their neighborhoods and nearby forests, collecting as many such nuts as they could carry. And this story, which had all the makings of a giveaway that put an otherwise-strong company out of business, actually has a very happy ending. Riegel and the Haribo company were so pleased with the success that they've made the exchange into an annual tradition (with a brief pause in 2020 due to the pandemic).
Today, it's an extravaganza. The exchange is a generous one: the company will give you up 5 kg (11 pounds) [!] of candy, at a rate of 10 kg of chestnuts or 5 kg of acorns per 1 kg of sugary bears. Per Haribo (or, at least, this official-looking presentation I found), more than 15,000 families line up over two days to make the swap. The lines, as seen here from 2018, can easily extend beyond comprehension.
As for all of those chestnuts and acorns, they also become treats — but not for people. Haribo returns them to nearby forests, feeding wild animals throughout the winter.
Bonus fact: Because of "The Christmas Song" ("Chestnuts roasting over an open fire"), written by Mel Torme and popularized by Nat King Cole, chestnuts are a Christmas tradition in the United States. But you buy some, you'll almost certainly find that they're being imported from outside the US. In the first half of the 20th century, a chestnut blight hit the United States, effectively wiping out all of the chestnut trees. (That may change: efforts to make blight-resistant chestnut trees are ongoing.)
From the Archives: The Man Who Dropped Candy From the Skies: Another story of free candy.