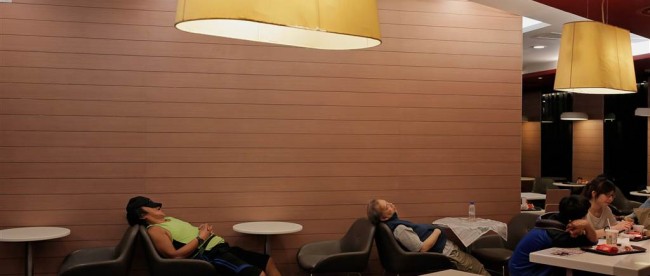 Hong Kong is home to more than seven million people and is one of the wealthiest places in the world — if it were a country in its own right, the autonomous city would rank in the top ten in per capita GDP. But there's a darker side — rampant poverty. According to CNN, nearly 20% of the nation lives in poverty. And like anywhere else, many of the worst-off are homeless, and the problem is increasing — according to e South China Morning Post report, homeless has tripled over the last decade (albeit only to about 1,600 people).
Of those homeless, some have found temporary lodging, but not at a homeless shelter.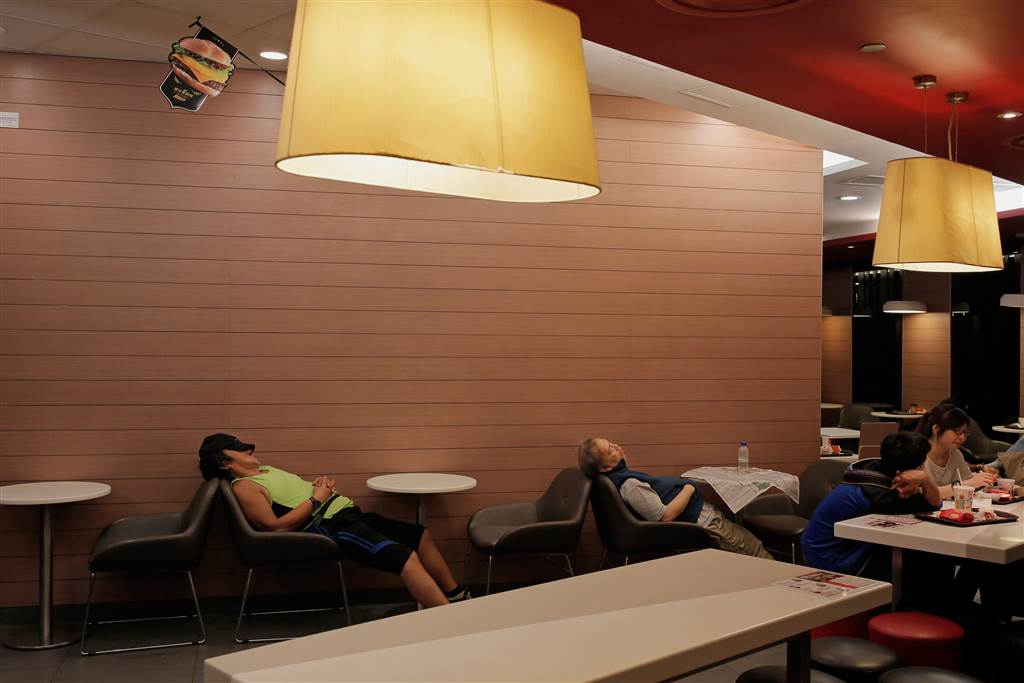 For those without a place to sleep, affordable late-night accommodations can be hard to come by. But in Hong Kong, there are more than 100 free options — if you're willing to fall asleep in full view of random passersby and don't mind the smell of hamburgers. As seen above, it's not uncommon to see customers asleep in one of Hong Kong's McDonald's. That's because the Mickey D's are open at all hours — according to the Associated Press, approximately half of the 253 McDonald's in Hong Kong are open around the clock.
And as a result, many of Hong Kong's poor make their way to McDonald's — not for a meal, but for a good night's sleep. As the BBC reported, "as night falls, the fast-food restaurant becomes a temporary hostel, attracting dozens of the city's poorest people." In the U.S., those non-customers would typically be kicked out, but in Hong Kong, the opposite is true: McDonald's Hong Kong told the AP that "we welcome all walks of life to visit our restaurants any time" and aims to be "'accommodating and caring' to customers who stay a long time in restaurants 'for their own respective reasons.'"
Unfortunately, the limits of such accommodations at times lead to tragic results. In late 2015, a 56-year-old woman went to sleep one night at a Hong Kong McDonald's and, the next day, was discovered to have died overnight. That is, however, rare. For many sleepers — not all of whom are homeless — the open-door policy of the hamburger joints has added a sense of community where there is otherwise isolation and squalor; some just prefer the company and the relative spaciousness of this temporary lodging. One such man — who has a tiny apartment near the McDonald's he often crashes at — told the BBC that the restaurant "is a familiar place, with familiar faces. These people are all wanderers. Some come for a short while, others a long time. Most of them don't have a home. They have nowhere else to go."
Photo galleries of the people colloquially referred to as McRefugees can be seen NBC News (the source of the image above) or the above-linked AP story.
Bonus fact: Japan has a similar phenomenon — the "net cafe refugee." Twenty-four-hour Internet cafes are relatively common in Japan, and many have expanded to provide food and even showers, hoping to cater to commuters who have missed the last train, per Wikipedia. But the relatively cheap cost to rent an Internet booth for a night — the equivalent of about $20 — has proven attractive to those who can't afford rent or a cheap hotel room. Per the above-linked Wikipedia article, as of 2007, more than 5,000 people were spending more than half of a week sleeping at Internet cafes.
From the Archives: McBarge: The McDonald's that was a boat. Well, it still is a boat; it just isn't a McDonald's anymore.
Related: "Grinding It Out: The Making of McDonald's" by Ray Kroc, the entrepreneur that turned a tiny hamburger joint into a global fast food giant. 4.5 stars on 120 reviews.