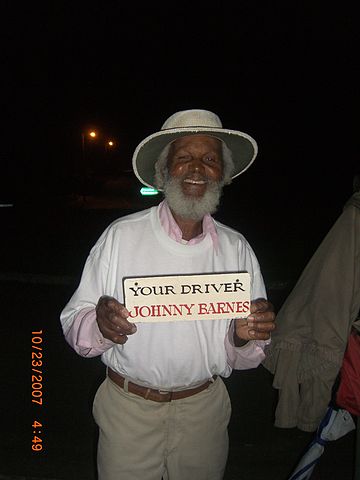 The man pictured above is named Johnny Barnes. He's a 90-year-old former electrician and bus driver who lives in Bermuda. He didn't win the lottery and isn't a scion or anything of the sort. But visit the Bermuda Underwater Exploration Institute and walk a few dozen meters east, and you'll see something rare for a former bus driver/electrician. There's a statue, pictured below, erected in his honor.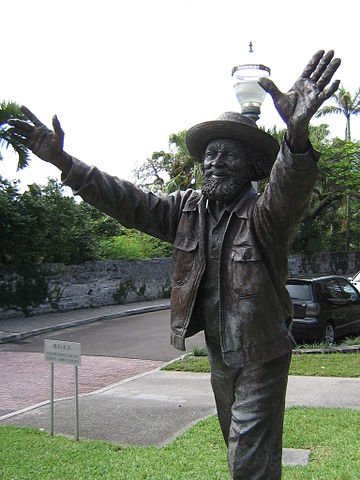 And all Johnny Barnes had to do was be a welcoming smile for commuters — every morning for well over a decade.
Barnes was born in 1923 and, at an early age, worked as an electrician for the Bermuda Railroad. When it closed in 1948, he found employment driving buses, a job he'd hold for nearly forty years. He developed a reputation in the small nation of about 60,000 as being extraordinarily friendly, but not simply because he greeted people with a smile as they entered his bus. Barnes had a habit of waving to pedestrians and other drivers while on his route. And then he expanded his friendliness. He would often take breaks by going out on foot and doing the same thing, often at a key traffic circle (here's a map — it's the one south of the bus terminal where Crow Lane becomes Trimingham Road) which links most of the east-west thoroughfares on the island.
In or around 1986, Barnes apparently retired as a bus driver and made greeting commuters his full-time job. His ritual — which started in the 1940s — has him starting as early as 3:45 AM, Monday through Friday. Barnes arrives at the Crow Lane traffic circle wearing a straw hat and armed with a backpack and radio. He spends the next six hours walking around, waving, smiling, and greeting commuters with messages such as "good morning!" and "I love you!," and no, no one pays him. He takes photos and chats with passersby who wish one or the other, too. He's become such a well-known institution that when he doesn't show up for "work," local officials and radio stations get inundated with inquiries as to his health and whereabouts.
In 1998, local businesses unveiled the statue in his honor, and in 2011 an American film maker made a ten-minute documentary about his life titled "Mr. Happy Man" (watch it here). But the most significant token of appreciation for Barnes' affable personality came a year after that. One day in 2012 while out brightening the lives of others, Barnes fell, injuring himself slightly. Soon after, fans of his installed a bench for his use at the Crow Lane traffic circle.
On June 23, 2013, Barnes celebrated his 90th birthday. As reported by the Royal Gazette, he did so like he did any other weekday — he went to his new bench and said hi to everyone who came by. The only difference? That day, he was joined by dozens of others, all wishing him well for a change.
Bonus Fact: If Mr. Barnes wanted to save himself all that work and just put up a "Have a Nice Day!" billboard, he probably couldn't have. In 1911, Bermuda promulgated the "Advertisements Regulation Act" (pdf here) which dramatically restricts the opportunities for outdoor advertising. As the Consulate General of the United States in Bermuda states on its website, "billboards and public advertisements are illegal in Bermuda with very few exceptions."
From the Archives: The San Francisco Bushman: Another man with a curious hobby which has made him part and parcel of his local town.
Related: A "have a nice day!" balloon.