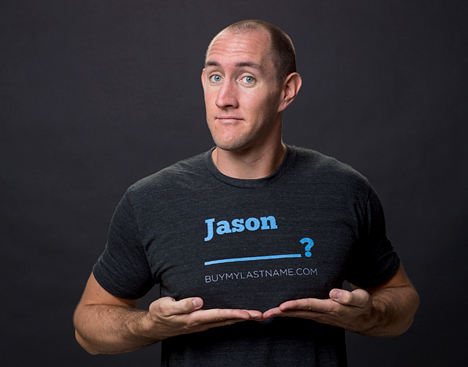 If you're looking to save a few bucks and don't really care too much about your wardrobe, t-shirts are a good way to go. They're typically rather inexpensive and, in some cases, can be entirely free. Many companies hand out t-shirts with their logo on them at events and other functions, turning would-be wearers into walking advertisements. In fact, the companies may even pay you to do it.
That's what a Florida man named Jason Sadler (pictured) realized in 2008, when he created one of the world's strangest advertising companies, called "I Wear Your Shirt." For as low as a dollar, Sadler would don a sponsor's tee for a day, no matter where he went (even to weddings), and promote your company via his social media channels (including live-streaming video) for that 24-hour period. In 2009, he made an estimated $83,000 as a human billboard, and of course earned a ton of publicity as well, as most everyone wanted to talk to the guy who wore t-shirts for a living.
Soon after, things got really weird.
In 2010 through 2012, Sadler continued on his t-shirt wearer-for-hire biz and even expanded, hiring four other t-shirt wearers to expand his advertising-slash-apparel footprint. But the novelty of the promotion, while awesome, wore out over time. At the end of 2012, I Wear Your Shirt was hanging by a thread (sorry, couldn't resist). And Sadler, its founder, ceased to exist — kind of.
Sadler's mother and step-father, whose last name he had taken, were divorcing, and Sadler saw the opportunity for a clean break there, too. Further, Sadler decided that wearing someone's shirt wasn't cool enough anymore. What would be cooler, he surmised, would be to auction off something he couldn't take off — his last name. In December of 2012, he started an auction at BuyMyLastName.com — $0 and no reserve price — vowing to change his last name to that of the company which bid the most. A few weeks and 33 bids later, Headsets.com emerged victorious, at the price of $45,500. Sadler went to the judge and legally became Jason Headsetsdotcom, a name he'll keep for all of 2013.
For 2014, though, he won't revert back to Sadler. The auction was an incredible success, with Headsets.com (the company) reporting a $250,000 bump in sales, per an email from the former Mr. Sadler, and again, everyone wanted to talk to the guy who once wore t-shirts for a living. Sadler — er, Headsetsdotcom — is repeating the experiment this year, hoping to lend his good name to another worthy company.
Bonus Fact: In May of 2012, a British man named Tim Price also legally changed his last name, but no, not to Headsetsdotcom. Price just added a lot of Ps at the front of his name, becoming Tim P-P-P-P-P-P-P-P-P-Price. (That's ten Ps, including the original one.) As reported by Metro UK, Mr. 10p Price, as he now calls himself, believes that the name change reduce the number of telemarketers who call him. His theory is that all those extra Ps will act as a reason for cold callers to skip his name on their list, given that they'll have no idea how to pronounce his name.
From the Archives: Buy This Town: A whole town, up for auction.
Related: A five-pack of t-shirts. Under $25, doesn't come with a $60k+ salary, though.