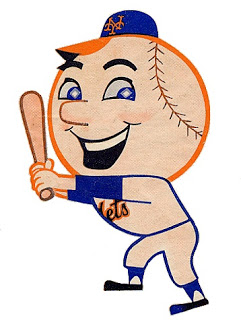 In 1984, husband and wife duo Ira Kaplan and Georgia Hubley formed a musical group called Yo La Tengo. In the nearly thirty years since, the indie rock band has had five other members join (and in most cases, leave) the group. Yo La Tengo has released more than a dozen albums and is critically acclaimed for their expansive ability to cover songs live in concert.
While Yo La Tengo has been a success since inception, the band's name comes from the opposite — utter disaster from day one. Specifically, Yo La Tengo claims that their name comes from the peak of incompetence from the most incompetent team in baseball history, the 1962 New York Mets. That season was the Mets' inaugural year, and their roster was made up of has-beens and never-weres. Starting pitcher Roger Craig lead the team with 10 wins — and with 24 losses. The team scored 617 runs, second worst in the National League, somehow beating the Houston Colt 45s (a fellow expansion team) by 25. And the Mets gave up 948 runs, easily the worst in the Majors — the second-worst team, the (then-Kansas City) A's, gave up "only" 837 runs. The team lost three-quarters of its games, a record of ineptitude which has stood since. But the numbers could not describe just how bad this team was. Yo La Tengo, on the other hand, summed it up perfectly.
The Mets shortstop that year was a 25 year-old named Elio Chacon. Chacon, a native of Venezuela, spoke very little English — he was a native Spanish speaker. Meanwhile, Richie Ashburn, the Mets center fielder, only spoke English. Short fly balls between the two of them turned into an adventure, as Ashburn would scream "I got it!" to call off Chacon, but Chacon couldn't understand him. The two would collide often and have countless more near misses, so, according to a video on the band's official site, another teammate taught Ashburn a Spanish phrase: "Yo la tengo," Spanish for "I got it." That's where the band got its name, and what kept Ashburn and Chacon from making future blooper reels.
Unfortunately, more bloopers were on the horizon — just not ones involving Chacon directly, but rather, first baseman Frank Thomas. Thomas was playing left field that day and wasn't in on Ashburn and Chacon's arrangement, having missed the team meeting in which the idea was discussed. A short fly ball between the three of them did him in. Ashburn, dutifully, yelled "yo la tengo!" and succeeded in calling off Chacon — but not Thomas. According to the book "Richie Ashburn Remembered," the much larger Thomas plowed into the future Hall of Fame center fielder, knocking him down and causing yet another error.
When Ashburn got up, Thomas asked, "What the heck is a yellow tango?"
Bonus fact: Dropping the ball isn't that big of a deal compared to what former journeyman baseball player Steve Lyons'  dropped on the field in 1990. In a game played before nearly 15,000 fans at Detroit's Tiger Stadium (and thousands of others watching at home), Lyons slid into first base and was called safe. He stood up to dust off his pants and, inexplicably, decided to dust off his underpants as well. After briefly showing everyone his boxer briefs, he realized his poor timing and sheepishly pulled his pants back up. (Here's a video, but it's pretty low quality.)
From the Archives: Swing and a Miss: The 17 year-old girl who struck out Hall of Famers Babe Ruth and Lou Gehrig.
Related: "Richie Ashburn Remembered" by Fran Zimniuch. 4.5 stars on 11 reviews.