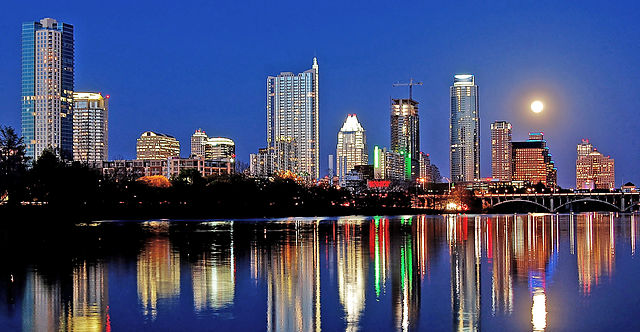 Over the last few decades, few American cities have seen a population explosion quite like that of Austin, Texas. In 1980, Austin was home to roughly 345,000 people, according to the U.S. census taken that year. That made it the 42nd most populous American city at the time — and smaller than Toledo, Ohio. By 2012, though, population had doubled and then some. Recent estimates put Austin's population at roughly 842,000, making it the 11th largest city in the nation. With all these people comes a lot of garbage, and all that garbage requires some sort of sanitation system. That, plus new ways that society handles waste — reduce, reuse, recycle — meant that these sanitation systems have also gone through a lot of changes over the decades.
In 2011, Austin's Solid Waste Services Department wanted to update to reflect these changing times, and a good place to start was with their name. And the city decided to ask its residents for help choosing a new name via an online poll. Some of the entries were creative — "FLOATER," or "The Department of Filth, Litter, Outreach, Abatement, Trimmings, Education, and Recycling," for example, picked up 100 or so votes. Others more straight forward, such as "The Department of Neat and Clean," which did very well, coming in second place while registering just over 2,000. And of course, there were a few joke entries — suggestions like "Hufflepuff" (a Harry Potter reference) and "Texas A&M," a potshot at a rival of the University of Texas at Austin — but neither of them cracked four digits.
And then there was the big winner, with well over 25,000 votes: "Fred Durst Society of the Humanity and Arts."
Durst, born in Jacksonville, Florida, has no obvious connection to Austin. But as the lead vocalist of the "nu metal" band Limp Bizkit, he apparently had a large following of non-fans in the area. NPR observed (with a spoonful of snark) that Austinites apparently "[thought] the band's music shares a lot in common with solid waste."  That's certainly what a man named Kyle Hentges thought of Durst's music. Hentges, described by Austinist.com as "a transient student who had settled in Austin upon being fired from a call center in Mankato, Minn. because of insubordination," was the one who came up with the idea in the first place. His reasoning was folksy with a dash of pseudo-depth to it: "In a way we all work for the sanitation department. We're all cleaning up each other's [solid waste] every day, and I thought naming the department after [Fred] Durst would surround the unflattering service with some humor. We're picking up garbage and he's been producing it for 20 years, it made sense."
Durst, surprisingly, agreed. On Twitter, he told a fan that he loved the idea and the next day even shilled for some more votes. Unfortunately, it was all for naught. A city spokesperson told various media outlets that the poll was a suggestion, not an election, and the government wasn't required to use the winning entry. Ultimately, the city settled on the ennui-inducing name "Austin Resource Recovery."
Bonus Fact: In 2007, "The Education of Charlie Banks," a 100-minute coming of age drama, made its debut at the Tribeca Film Festival in New York City. The film won the award for "Best New York Narrative," given to the best narrative film made in New York. The director, making his debut in that role? Fred Durst.
From the Archives: One's Trash, Another's Treasure: Cardboard. It's both!
Related: The Limp Bizkit collection.