One of These Things Just Isn't the Same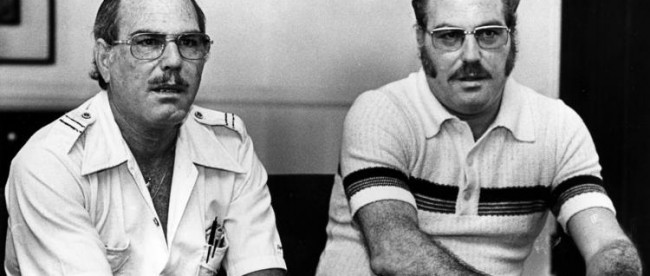 Sometime in the summer of 1933, a couple in Trinidad — it's unclear if they were ever married — went through a particularly nasty breakup. The woman, Caroline, believed her partner to be less-than-faithful; his reputation for philandering and carousing was more than she could handle, especially given that she had just given birth to twin boys six months prior. Caroline decided to return to Germany, where she — a practicing Roman Catholic — had grown up. Her partner Joseph stayed behind. Caroline took her older daughter and one of the twins, Oskar, with her to Germany. The other twin, Jack, stayed in Trinidad with Joseph.
Years later, the brothers, Jack Yufe and Oskar Stohr, would meet again. But the meeting did not go well — mostly because the two were too idiosyncratically similar for either to handle — and the two were estranged for another two decades. They reconnected again in 1979, as part of a University of Minnesota study on the lives of separated twins. The Washington Post recounted some of the too-strange-to-be-coincidences they again experienced:
The revelations began when they met at the Minneapolis-St. Paul airport. As it so happens, both were wearing the same outfit: a white sports jacket, shirt and wire-rimmed glasses.

"I said, 'Oskar, you are wearing the same shirt and same glasses. Why?'" Yufe recalled in a 1999 BBC documentary. "He said to me, 'Why are you wearing the same thing that I am?'"

The similarities soon piled on, with startling specificity: both read books from back to front, sneezed loudly in elevators, wrapped rubber bands around their wrists, flushed toilets before and after using them and wore tight bathing suits.

[ . . . ]

In later years, their wives noticed that they walked, and even tripped, in a similar fashion.
But Jack and Oskar's story isn't one about incredibly similar twins who were separated shortly after birth. It's a story about incredibly different ones.
It turned out that the boys' father, Joseph, was Jewish — and Jack was raised similarly. At age 15, he moved in with an aunt in Venezuela who had survived the Dachau concentration camp, as the Los Angeles Times noted. On her urging, Jack went to Israel, where he eventually did a short stint in the Israeli army before emigrating to the United States (where his father had since moved).
But Oskar was being raised in Germany during the 1930s and 1940s, and that was a particularly bad time and place to be Jewish. His maternal grandmother warned him to keep his paternal heritage a secret. Per the LA Times, "as an act of survival, Oskar joined the Hitler Youth movement." Over time, per the Washington Post, Oskar became an "enthusiastic member" of the junior Nazi brigade.
The chasm was too much for the pair to handle; as the Times noted, Oskar would later tell the press that "he had dreamed that he shot down his twin in an aerial dogfight" and that Jack "had a similar nightmare about killing Oskar with a bayonet." The two argued about issues ranging from World War II to the Israeli/Palestinian conflict, with each twin bringing a very different worldview to the discussion.
All told, the creepiness of their similarities and the depth of their differences meant that the twin brothers never had much of a relationship. Oskar died in 1997, from cancer (likely caused by having worked in a mine for many years); Jack passed away in late 2015, also of cancer.
Bonus Fact: Wearing rubber bands around one's wrist may be a fashion statement, but if you're a lobster, it's a bit more than that. Lobsters — waiting in the tank to be purchased and boiled — often have what looks like rubber bands around their claws. The Gulf of Maine Research Institute explains why: "Captive lobsters become especially cannibalistic, which is why they must be banded in a lobster pound or separated in individual compartments in a lobster hatchery." (In the wild, lobsters don't eat other lobsters.)
From the Archives: Three of a Kind: Triplets, but not of the same age.
Take the Quiz: Name the twin primes between 1 and 100. (Twin primes are pairs of primes which differ by two.)
Related: Twins.