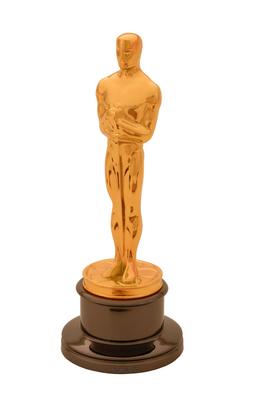 This year, Daniel Day-Lewis (there's a hyphen) became the first person to win the Academy Award for Best Actor three times. He joined Katharine Hepburn (who won four Oscars), Ingrid Bergman, Jack Nicholson, Walter Brennan, and Meryl Streep as the only actors, to date, to take home three or more of the statuettes.
Unfortunately, he or his heirs may have to return the little golden men one day — if they try to sell them.
Each year, the Academy of Motion Picture Arts and Sciences ("AMPAS") gives out Oscar statuettes — officially called the Academy Award of Merit — in a variety of categories, now numbering 24. AMPAS has been giving out Oscars since the 1929, and while there are not a lot of statuettes out there, there are certainly enough where a shrewd collector could find someone willing to sell one. And there have been many instances of such sales, as evidenced by the fair number of Oscars in the hands of non-winners; for example, magician David Copperfield reportedly purchased the 1943 Best Director Oscar, awarded to Casablanca, for nearly a quarter of a million dollars. (The award was later placed up for auction, by a subsequent owner, at a price near $3 million.)
But AMPAS, most likely in an effort to keep the winners' circle (and accompanying statuette) exclusive, has put a wrench in such transactions. Since 1950, Academy Award winners must agree to give AMPAS first right of refusal if the honoree (or his or her heirs) ever try to sell their Oscar(s) to a third party. If they do so agree, AMPAS's repurchase price is $1 — yes, one dollar. And if the honoree refuses to sign that contract, AMPAS similarly refuses to give them the Oscar they otherwise earned.
Enforcement of the clause isn't unheard of, either. As Quartz reported, actress Mary Pickford won an Oscar in 1929 and another (an honorary one) in 1975. The 1929 award was not encumbered by the clause but the 1975 one was, and when her heirs tried to sell the former, AMPAS argued — successfully — that when Pickford accepted the latter statuette, she agreed retroactively to bind her first award to the $1 terms. On the other hand, in 2011, CNN reported that Orson Welles' heirs put his award for Best Original Screenplay from 1941 on the auction block. AMPAS couldn't prevent the sale, as Welles hadn't signed the (at that point non-existent) agreement.
Whether the clause should be enforceable is a matter of debate by legal scholars and, practically speaking, enforcement is a difficult call to order regardless. Forbes estimates that roughly 150 Oscars have been sold since AMPAS began awarding them in 1929, and about half of them are "gray-market sales involving post 1950-statuettes".
Bonus fact: Among the purchasers of statuettes are two multi-Oscar winners in their own right: Steven Spielberg and Kevin Spacey. Combined, the pair paid over $700,000 for the statuettes. But as Forbes reports, neither Spielberg nor Spacey purchased the Oscars for their own use. Rather, both donated the purchased awards to AMPAS, which now keeps them in a vault. AMPAS does not put repurchased or returned Oscars on display.

From the Archives: And the Oscar Doesn't Go To…: How those involved with some movies avoid the "fame" that comes with it.
Related: A 12-pack of fake looking fake Oscars.