Protecting Your Green from the Greens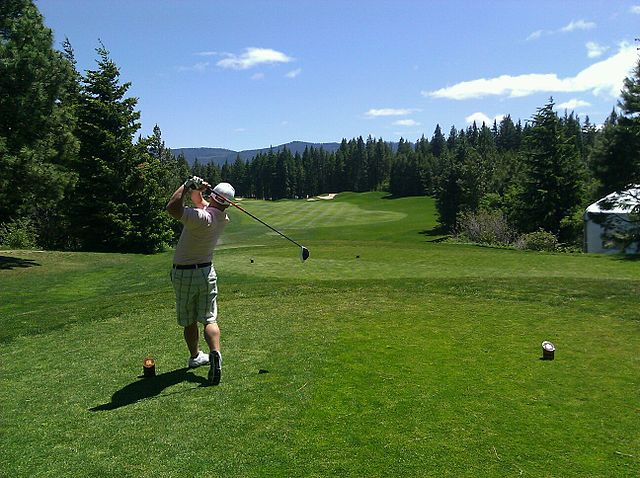 One of the most impressive solo sports achievements is the hole-in-one. A golfer takes to the course, tees off, and sinks the ball in the cup on his first swing. For a pro, a hole-in-one is a memorable and rare moment; for an amateur, it's the story of a lifetime. More luck than skill (once one hits a certain level of golfing ability, that is), those who accomplish this feat are expected to share their good fortune with others. In the U.S. and in many places elsewhere, it is traditional for the apparently-charmed golfer to spread the wealth, and buy a round of drinks for all the other golfers back at the clubhouse.
But that can be pricey. Say $5 a beer, a few dozen people in the clubhouse, maybe add a round or two, and you're at a few hundred dollars. Suddenly, a once-in-a-lifetime event is a financial nightmare. You better buy insurance.
Yes, really. There's such thing as hole-in-one insurance.
As the New York Times explored, it's likely that the origins of the insurance custom (yes, a custom to counter a custom) began as an informal collection plate, where golfers would each donate a few dollars so that a future golfer didn't go broke due to a stroke of luck. Many golf clubs adopted that custom as their own internal rule; the Times cites a Washington state club where "members pay $10 annually and then get a $100 pro shop credit and $100 food and beverage credit if they hit a hole in one" (so it's kind of a prize, too) and a club in South Carolina where the purpose is more explicit:
Members can chose to pay $10 to sign up for the "Hole in One Insurance program." If they hit a hole in one, the fund will cover the costs of buying drinks for whomever is at the bar, according to Bob O'Neil, golf shop manager. When the fund drops below $200, all program members are billed $5 to replenish it.
And there are plenty of other examples as well — here is one Massachusetts, here's one in upstate New York, and here's another in Virginia. Each of these are informal "insurance" policies, of course. But more recently, third-party insurance has cropped up. Two British companies, Golfcare and Golfshield, both offer some sort of protection against your brilliant-yet-accidental golf skills. Golfcare offers four different insurance packages, only one of which applies outside Europe; it costs 70 British pounds a year and will pay out up to a 200 pound bar tab. (If that price seems really high, that's because the policy also covers other things, such as if your equipment is stolen, a trophy is stolen, and even if you require golf-related dental care.) Golfshield will pay out up to 300 pounds, but it's unclear if that's for holes-in-one outside of the United Kingdom. And in Japan, where there are reports of holes-in-one costing the golfer as much as $10,000, Tokio Marine & Fire Insurance sells a policy which, among other things, pays out up to $4,200 in case of a hole-in-one. So — insurance aside — before you tee off in Japan, you may want to aim for a hole-in-two.
Bonus fact: There's another type of hole-in-one insurance, one which protects contest-runners against successful entrants. Golfers take to the tee and if any sink their shot, the organizers are on the hook for a massive cash reward. The National Hole-in-One Association (yes, there is such a thing) offers $100,000 of coverage for about $1,000 to $2,000, depending on the length to the hole, the number of competitors, and the date and location of the event. Contest insurance isn't all that rare, either: it is pretty easy to find policies for "get your NCAA bracket 100% correct, win a $1 million" contests, half-court basketball shots, and other similar things. (Here's one example.)
Double bonus!: According to official North Korean state media outlets (as ABC News later "reported"), Kim Il-Jong once had 11 holes-in-one during one day on the links. According to everyone else, official North Korean state media outlets are full of you-know-what.
From the Archives: The Game Must Go On: How to play golf when the Nazis are bombing your city.
Related: A pretty cool looking hole-in-one trophy.