Putting Your Vacation on Ice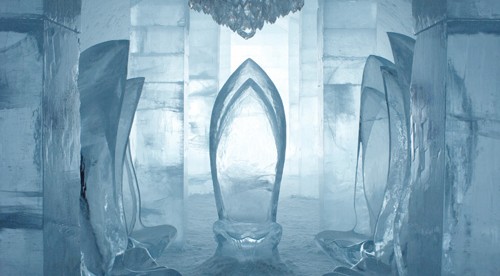 At 67°51′ North latitude, the Swedish town of Jukkasjärvi is located within the Arctic Circle, which should give you an idea for how remote it is. Its Wikipedia entry spends more words explaining the origin of the town's name than it does the town's attractions, which is to say that there aren't very many of the latter. From April through November, probably the most interesting building in the town of about 500 people is an old wooden church dating back to the early 1600s, which Wikipeda notes "is well known for its wooden carved altarpiece triptych [a three-paneled mural]" by a famous Swedish artist.
But from December until April, there's something much, much cooler — literally. There's this: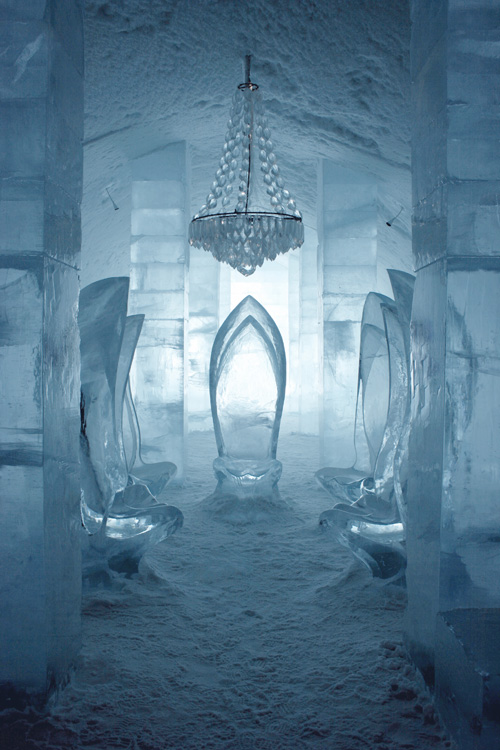 That's a room from the Icehotel — a hotel made entirely of ice.
The hotel dates back to 1991, but it doesn't exist to house tourists who are there to visit the church. The hotel itself is the attraction, and its origins are in art, not in hospitality. In 1989, a group of Japanese artists visited the area and used it as a sculpture garden for their icy creations. The next year, a French artist held an exhibition in Jukkasjärvi as well, inside an igloo of his own making. The igloo, perhaps unintentionally, ended up serving a second purpose — the exhibition served popular enough that there were too many guests for the town to accommodate, so some visitors asked to sleep in the igloo. The artist agreed and the idea for an annually-built ice hotel was born.
Each year, artists come to the site, take ice from the nearby Torne River, and gets to work. Because the hotel melts during the spring and summer months, it's a new experience each time; the image above comes from 2007. Even in any given year, things are eclectic: each room is created by a different designer. But some things are pretty consistent: there's always a church, the 2007 version of which is pictured below; a bar (which is often sponsored by Absolut Vodka); and a restaurant. (The bar is one of the few places you can get a vodka in the rocks — and yes, that's "in" and not a typo. The vodka glasses aren't made of glass but, rather, ice.)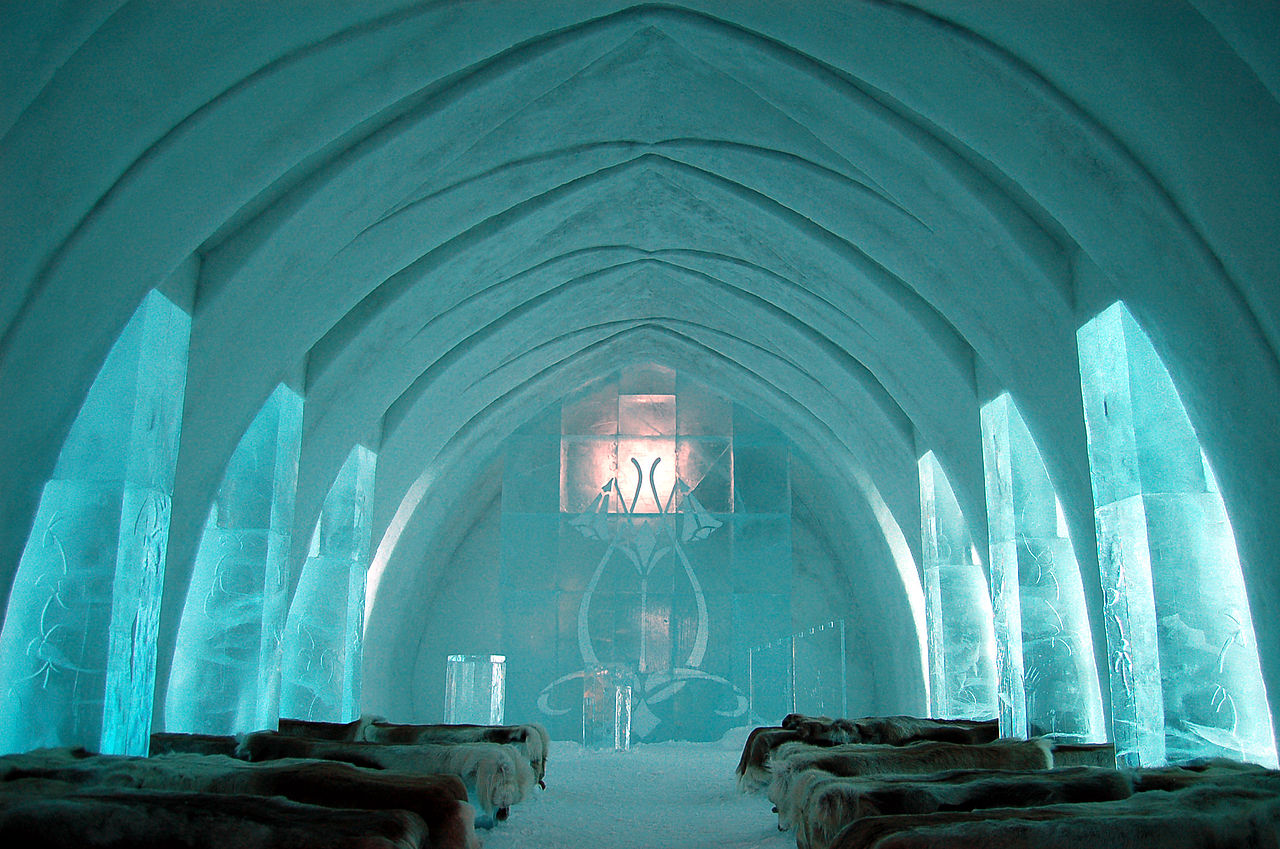 As for sleeping accommodations, the Icehotel typically has about 100 rooms, with beds and sofas made of carved ice (with wood frames) and adorned with reindeer fur and an optional electric blanket, as seen below. Because the internal temperature of the hotel never gets above 23°F/-5°C, guests are also provided with special sleeping bags which are tested to make sure the person using it won't turn into a human Popsicle overnight.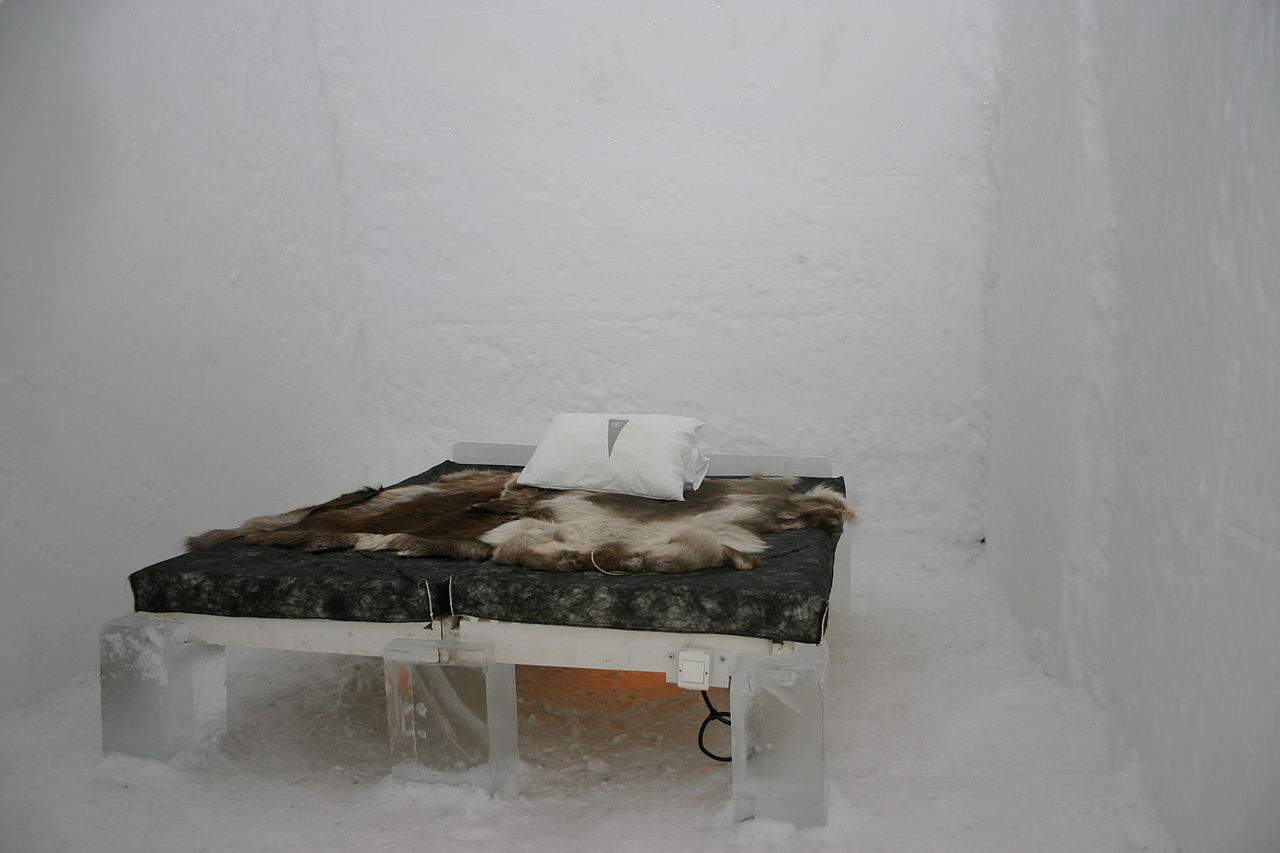 The bedrooms aren't all bland, despite what the image above suggests. Those are "warm rooms" (ergo the electric blanket), but you can opt for the more ornate "cold room" for a night or two as well. This year, there's a crystal-themed room called the "Eye Suite" (pictured here) and an "Elephant in the Room" room (see the last picture here).
A stay at the Icehotel isn't cheap; CNN says it starts at about $1,500, and that's before airfare and whatever else one needs to take to get there. But it's generally seen as a vacation to remember. More than 1,000 visitors have rated the Icehotel on TripAdvisor and collectively have given it a 90% approval rating, with many calling it "magical," a "once in a lifetime experience," and of course, "cool." Some warn, though, that "you are there for the ice" and to expect "zero frills." After all, you can only do so much with frozen water.
Can't afford to go or you can't stand the cold? Don't worry: the hotel has a gallery of rooms up on its website, here.
Bonus Fact: One unexpected feature of the Icehotel? It has a smoke detector. During its 2013 season, authorities insisted that the hotel have one to meet regulations, which seems ridiculous. Even more ridiculous, though? As the Independent reported, the alarm went off shortly after it was installed, "by a guest smoking in a cleaning closet."
From the Archives: Let's Sweep the Ice!: How curling works.
Take the Quiz: Name these terms that end in "ice."
Related: "Icehotel: The Definitive Book." Whether it truly is definitive is anyone's guess, but it features lots of photographs.