The party has everything — expensive flowers, a four piece string quartet when you enter, an open bar, and there are a half-dozen gold-plated fountains spouting what seems to be an endless supply of champagne. There are 300 or so guests, so the host puts up a elaborate tent in the expansive backyard and hires a caterer. No expense is spared. Everything is perfect except for one thing — with so many guests, you need more than the three bathrooms that your house has. And the Porta Potties below aren't going to give that high-class feeling to the guest who needs to answer the call of nature.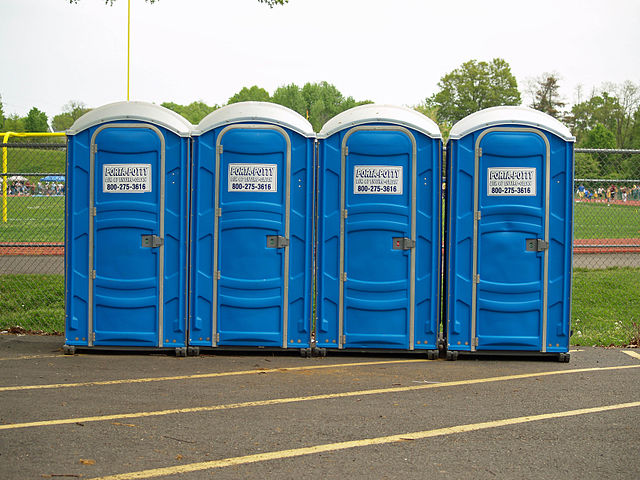 A terrible predicament, but alas, an unavoidable one.
Unless you're in Toronto and have an extra $5,000 in your party budget, that is. Because someone has seized this obvious (?) business opportunity — the high-end outdoor toilet rental. 
The company is called It's My Potty (of course) and was founded by a man named Paul Kenyon in 1997 in Toronto. Kenyon noticed that there was an expanding TV and film industry there (as Slate notes, Toronto can be an effective double for New York City, and it's cheaper to film there), and, according to the organization's official history, anticipated the need for bathrooms at remote on-location shoots. But instead of the stuff above, they went with the stuff below.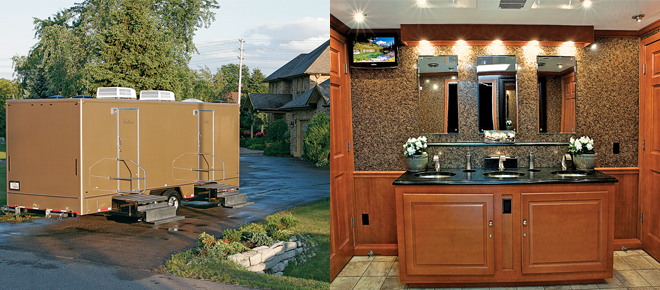 From the outside, the bathrooms look a lot like movie trailers — an upgrade from the blue boxes above, but hardly anything special. Inside, though, they're super-clean bathrooms outfitted with flowers and even a TV monitor. A quick success in the movie industry, It's My Potty expanded to the party sector soon thereafter, providing a super-clean, high end solution to anyone who wanted to flush their money down that drain.
But they're no laughing matter. One party goer who had the occasion to use a It's My Potty potty told Macleans that the bathrooms were "nicer than [her ones] at home." The list of amenities explains why: per Macleans, these porta-johns come outfitted with "two full-length mirrors, hot water, special lighting, linen hand towels and even an attendant standing out front, ready to hold your drink and refill the baskets of lotions/tampons/mints/deodorant inside." The deluxe version, called the "Royal Flush" (the 32′ long variety), can handle about 2,000 flushes, which is enough for your 300 party guests to have a party of their own inside the facilities. And yes, it can cost as much as $5,000 for a day.
Unfortunately, most of us won't be able to use it for another reason. For now, It's My Potty only services loo-going party-goers in the greater Toronto area. For the rest of us, we'll have to admire these photos of their fantastic portable washrooms — or you can just ask Google for ones in your area.
Bonus fact: If you use a public toilet in Singapore, be sure to flush — because you can get fined for not doing so. According to one source, the fine can run up to S$500 (about $400 USD).
From the Archives: Flushed with Love: In some parts of India, a luxury toilet is out of the question, but a regular toilet is a pre-requisite to something surprising.
Related: For some reason, Amazon has a incredibly large selection of portable toilets.