The Man Who Rocked at His Job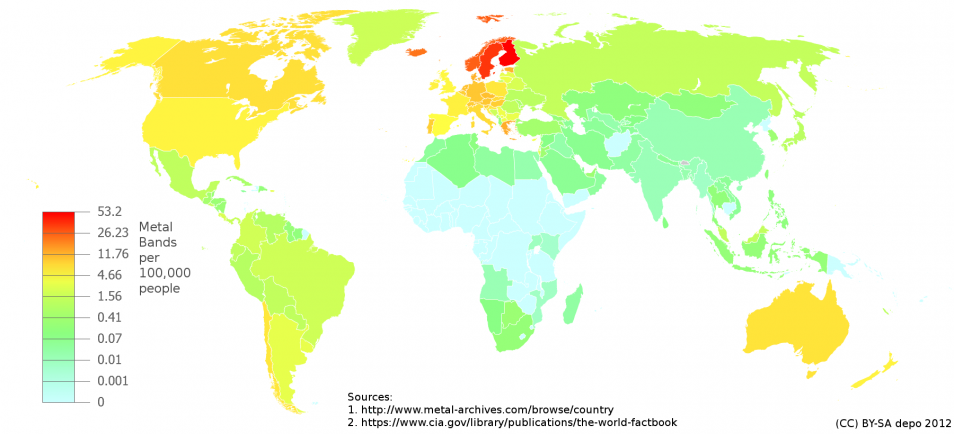 When looking for a job, especially when the employment market is tough, it generally makes sense for a male job candidate to show up clean-shaven and neatly dressed, preferably in a suit and tie. There are of course many exceptions to this, but conformity — at least in your choice of outfits and appearance — is probably a good idea. For example, let's say you spend your evenings and weekends going to heavy metal concerts, dressed as one would be for such an event. It probably isn't the best idea to take that same look with you into a job interview the next day — you may find yourself unable to find a job.
Which is why one Swedish man got himself a doctor's note.
In 2007, Roger Tullgren, a then-42-year old man from the Swedish town of Hassleholm, landed a job as a part-time dishwasher at a local restaurant. If you visited him at work, you may think he was lost. His boss allows him to "dress how he wants and play heavy metal music while washing dishes," according to the Global Post — all because Tullgren has a disability. He is, officially, addicted to heavy metal.
Sweden's English-language news portal The Local described Tullgren as having "long black hair, a collection of tattoos and wears skull and crossbones jewelry." He attends roughly 300 heavy metal concerts each year and himself is an amateur performer — he's a bass guitarist for two bands. For most of his life, his love of heavy metal music has been all-encompassing to the point that he had a hard time holding down a job, and as such, he often received welfare payments. So he pushed the government to classify his apparently overwhelming interest in bands such as Black Sabbath and Iron Maiden as a disability. It took about a decade (and multiple visits to multiple psychologists, of course), but in 2007, Sweden finally agreed.
That means two things: first, he's entitled to government disability benefits. Second, Tullgren can't be discriminated against by potential or actual employers. So he can wear what he wants, listen to his music at work, and is afforded a flexible schedule that allows him to attend concerts. And he doesn't have to dress up for interviews, either; he simply hands them a copy of a form officially noting his addiction and the limitations it causes him.
Bonus fact: As strange as Tullgren's alleged addiction is, the map above may help explain some of it. It's a density map — the number of heavy metal bands per 100,000 people. (Here's a larger version.) As you can see, Sweden (and Finland) have an extraordinary number of metal bands relative to their populations.
From the Archives: The Swedish Solar System: How Sweden turned itself into a scale model of our small piece of the galaxy.
Related: Swedish Hitz Goes Metal. Amazon describes it as a "2011 collection of songs originally written by Swedish artists such as Abba, Roxette, Ace Of Base and others performed by Hard Rock/Melodic Metal musician Tommy ReinXeed, who has been called one of the most talented musician/vocalists in Sweden." (Your guess is as good as mine.)