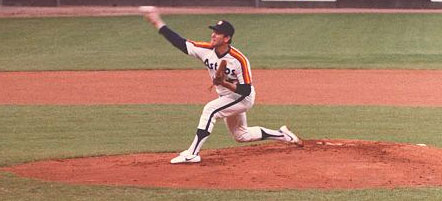 Ron Luciano was a Major League umpire from 1969 to 1979. He was best known for his dealings with the Orioles' Hall of Fame manager Earl Weaver. Weaver, known for his fiery temper, was ejected at least 90 times during his 17 year career as an MLB manager, and Luciano tossed him at least six of those times. On August 15, 1975, Luciano tossed Weaver for arguing over a call at first base during the first game of a doubleheader. And when Weaver picked up the argument again when the teams exchanged lineup cards for the second game, Luciano tossed him again. 
Weaver probably thought that Luciano needed to get his eyes checked — that half-joke is commonly tossed at umpires by fans, and probably players and managers too. But in Luciano's case, it was probably wrong. Because in 1972, after seeing weird things happen on the field, Luciano went right to his optometrist, and was told he was okay. It was his brain that was having trouble.
Luciano's umpiring career kept him in the American League throughout, and before the 1972 season, the Mets traded Nolan Ryan to the Angels. Luciano had heard that Ryan's fastball was special, but until that season, hadn't witnessed it for himself. As he'd attest in a Sports Illustrated article he wrote in 1982, even seeing wasn't believing. The story may be apocryphal — a review of box scores of August 1972 doesn't show any games where Luciano was behind the plate during one of Ryan's starts, but there were two when he was on a short-staffed (three umpire) crew. (Most likely, though, Luciano was just remembering some details incorrectly, and actually did go to the doctor.)  Luciano recounts calling balls and strikes that month with Ryan on the mound — or, trying to, but failing: 
I was immediately impressed, but not overwhelmed, not until the fourth inning. In that inning he went into his fluid wind-up, reared back and fired. Until the pitch reached home plate it looked like a very good, but normal, rising fastball. Then, suddenly, it exploded! A million specks of shiny white cover blinded me. I closed my eyes to protect myself. I waited for the roar of the crowd. 

Nobody else noticed it.

I blinked, tried to shake the flash out of my eyes, and called it a strike. Must have been my imagination, I thought, and put it out of my mind. But a few innings later, bam! The same thing happened. The baseball actually exploded.
Luciano, worried, made an appointment to see a top Manhattan eye doctor the next time he was in town. And the doctor told him that his eyes were fine. He was a victim, like many batters, of the deceptiveness inherent to Ryan's fastball. Like anything else, baseballs appear to get larger as they get closer, and typically do so at a predictable rate. Unfortunately for Luciano, his brain couldn't predict the outcome in this case — something which was perfectly normal, albeit rare. Ryan, on occasion, was simply bringing too much heat for Luciano's brain to process properly. He explained: "my eyes simply couldn't make the adjustment fast enough, so it remained golf-ball size until it got to the plate, then popped, or exploded, into a full-sized baseball."
Luciano's eyes figured Ryan out before hitters did, though. On July 15, 1973, less than a year after his visit to the eye doctor, the umpire found himself behind the plate for another Nolan Ryan start. Ryan amassed 17 strikeouts that day, getting each of the Tigers' nine batters to whiff at least once, en route to his second career no-hitter. 
Bonus fact: Baseball icon Yogi Berra used to say that you can't hit and think at the same time — and, unlike most of his muddled words of "wisdom," this one may be right. The time it takes for a 90 mile per hour fastball to go from the pitcher's hand to home plate is only about half a second, which shouldn't be enough time for the brain to figure out what to do and then do it. According to a recent study, our brains compensate by "perceiv[ing] speeding objects as further along in their trajectory than seen by the eyes, giving us time to respond," as summarized by the Mercury News.
From the Archives: Swing and a Miss: Another baseball story. (The title is a pun.)
Related: Nolan Ryan's Pitcher's Bible. 4.3 stars on 19 reviews. Probably does not teach you how to throw a 90++ mile per hour fastball, though.