Sending a Hidey-Ho to the World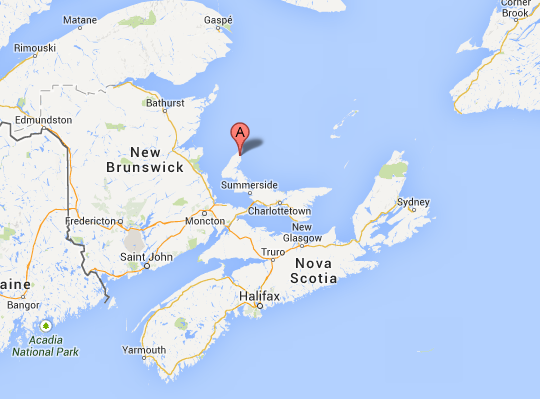 Prince Edward Island is tiny. It is the smallest, geographically, of Canada's ten provinces and three territories. Excluding the three subarctic, sparsely populated territories which make up Northern Canada, PEI (as it's often abbreviated) is also the smallest population-wise, with roughly 140,000 citizens. (For comparison's sake, if the entire province were a European municipality, it would barely be among the top 300 most populous.) In the northwest of the island is Tignish, flagged with the A in the map above. Tignish is a tiny fishing village of just under 800 people. One of those people is a man named Harold Hackett, who, over the last fifteen or so years, has amassed over 3,000 acquaintances throughout the world — all without leaving the immediate area.
Not via Facebook. Not via Twitter. And not by email. Just a lot of paper, a lot of black tape, and 4,800 or so bottles thrown into the sea.
Hackett, whose occupation (if any) seems to have gone unreported, picked up an interesting hobby in the summer of 1995, he was out fishing for tuna when he finished a bottle of Pepsi. He wrote a simple note — name, address, and a message asking the discoverer to write back — and tossed his the bottle into the sea. It ended up at the Magdalen Islands (here's a map), something which, according to the Guardian (PEI), Hackett found out that winter when he received a reply.
Now, Hackett sends off a few hundred each year, typically around his birthday or those of his late parents'.  If the wind is right — he needs it to blow westwardly, he told the BBC (there's a auto-playing video behind that link) — he'll toss as many as 200 bottles in one week into the water, each with a note photocopied on fluorescent paper. A few miles off-shore from his cast-off site, the bottles disperse into the Atlantic for points unknown.
The notes are identical except for a blank spot left where Hackett fills in the date just before sealing it in a bottle. Each note has his mailing address on it and asks that the ultimate recipient of the bottle write him back, with the emphasis on "write" — he intentionally omits his phone number or other contact information, as Hackett wants letters. And he's gotten plenty. Correspondents hail from across the North Atlantic — a few from PEI and other nearby Canadian provinces, sure, but also down the United States's eastern seaboard, the Bahamas, parts of South America, as well as eastward to Iceland, the Netherlands, Great Britain, France, Germany, Russia, and Northern Africa. Many of them find bottles which were launched five, ten, or even thirteen years ago, as evidenced by the replies Hackett has received.
And in some sense, he's also created life-long friends. Hackett replies back to anyone who replies to his bottles, starting a pen-pal relationships of sorts. He now claims to receive as many as 150 Christmas cards each year and even the occasional Christmas gift from one of his randomly-selected correspondents.
Bonus fact: If you watch the BBC video above, you'll note that Hackett has a very thick accent which is incredibly hard to place. That's because Tignish, despite its relatively small population, has an accent (and dialect) which is found only there — not even surrounding towns seem to have picked it up. Even the town's Twitter account has referenced the distinct language quirks. (The town's official message-in-a-bottle team, assuming it exists, hasn't.)
From the Archives: The Great Pacific Garbage Patch: Check out the bonus fact.
Related: "20 Plastic Bottles & Corks for Message in a Bottle Invitations." A very descriptive title for a product, to say the least. Will they travel the Atlantic? Your nautical mileage may vary