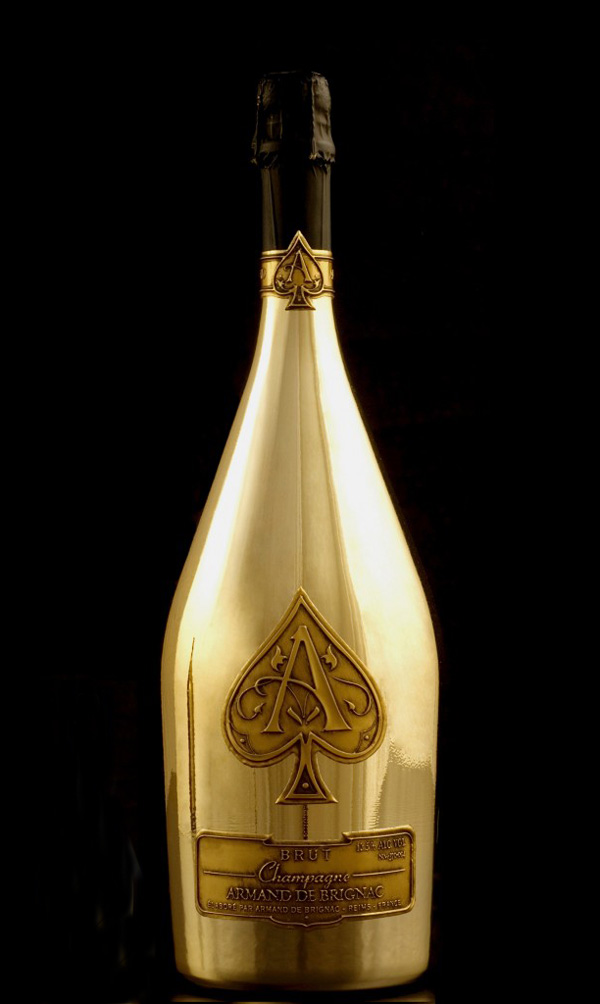 About a week ago, the NHL's Boston Bruins won the league's playoffs, taking home Lord Stanley's Cup.  As is customary, the team celebrated with a parade through the streets of Boston.  As is also customary, one assumes, they also celebrated by throwing a huge party.  What isn't so customary?  The $156,679.74 bar tab.
How do you spend that much money on alcohol (and 67 bottles of Fiji water) in one night?  Easy: Buy a $100,000 bottle of champagne.
In this case, the Bruins took to the Shrine club at Foxwoods, the hotel and casino in Connecticut, and partied — hard.  (A few photos, including the full bar tab, can be seenhere.)  They bought a lot of liquor, including a 30 liter bottle of Armand de Brignac champagne called the Ace of Spade "Midas" bottle, seen above. Weighing in at 100 pounds, there are only (or, were only) six in the world.  It is the size of 40 regular bottles of champagne, each of which is good for approximately six glasses full — or enough champagne for 240 people to toast the team.
After 6% tax and 18% gratuity, that came out to a bit over $515 per glass.
Other items on the bar tab?  136 Bud Lights; another $10,000 of champagne in various forms; 10 shots of Grey Goose Vodka at $12.00 each; and, before you think the owners of Shrine were ungrateful, one (yes, one) complimentary bottle of champagne for the NHL champs.  (Check out the complete receipthere.)
As for the Midas, the Bruins will be putting the empty bottle to good use.  The entire team signed it and, after it goes on display for a short while, the team will be auctioning it off to benefit the Boston Bruins Foundation, a charitable organization aimed at improving the lives of Boston-area children.
Bonus fact: In order for wine to be correctly called champagne, it has to originate from the Champagne region of France.  Section 5388 of Title 26 of the United States Code specifically requires that only wine from this region be given the "champagne" name.
Related: You can't buy a hockey player's dream champagne on Amazon, even if you had $100,000 — Amazon simply doesn't sell it.  But you can start building your own arena.  For $11,000 and change, you can get 10 rows of aluminum bleachers (worth checking out, if only for the reviews).