The city of Atlanta, Georgia, is the state's largest municipality and capital. It was incorporated in 1847 at the site of a railroad terminus which dates back another decade or so, and for about a century and a half after, Atlanta did nothing but grow — as did the neighboring communities. In an effort to keep Atlanta and its suburbs under one municipal government, the city (empowered by the state government) annexed many of those surrounding areas over that time period. For example, here's a map from 1952, showing the areas Atlanta planned to expand into (and, in fact, did):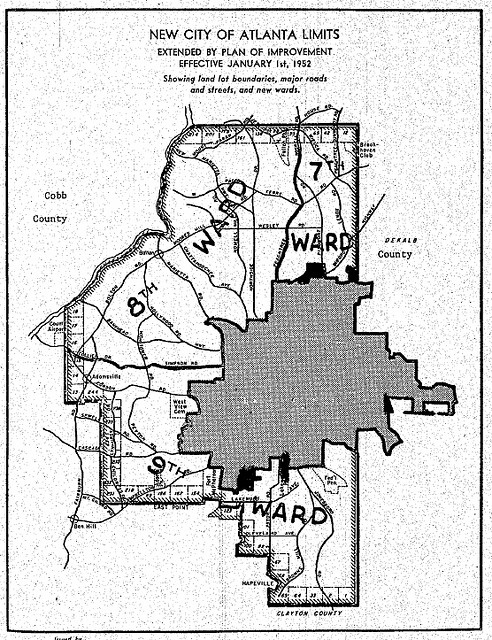 It was an aggressive growth plan — and it scared many of Atlanta's neighbors. In particular, it concerned the citizens of Cobb County.
As the 1950s gave way to the 1960s, the population of African-Americans in Atlanta grew, and the civil rights movement picked up steam. Many of the white families in Atlanta moved across the Chattahoochee River and into Cobb County, located northwest of Atlanta's expanded city limits — a practice now known as "white flight." But where Atlanta's now-former citizens went, Atlanta wished to grow as well. The city's plan to annex parts of Cobb County became clear, and the Cobb County's largest city, Marietta, was in its sights.
So Cobb County fought back — by creating a very tiny town.
The city of Chattahoochee Plantation — named after the river, but with a dose of old southern money tossed in — was founded in 1961 by an act of the county legislature, installing a mayor and a five-person city council. By 1968, the city of Chattahoochee Plantation annexed some land nearby. But unlike Atlanta, Chattahoochee Plantation didn't grow to be very large. In fact, at its peak, it only consisted of the thirty-mile long stretch of Cobb County which ran along the Chattahoochee River — and barely at that. As Atlanta's NPR station, WABE, notes, "for much of that length, the city was just 10 feet wide." Yes, ten feet.
But those were an important ten feet. No one lived in Chattahoochee Plantation, of course — a ten-foot wide house would be pretty small — but having actual residents was hardly the point. By design, Chattahoochee Plantation sat on the border of Cobb County and Atlanta. And by 1968, Chattahoochee Plantation was an invisible wall between the two; its entire reason for existing was so that the rest of Cobb County couldn't become part of Atlanta. According to a website run by Kennesaw State University (which is in Cobb County), the people of Cobb "were taking advantage of a state law that no city could cross another city in an annexation move." That, plus the symbolic value of the maneuver, sent a message to Atlanta's government to stay out of Cobb.
And as WABE further reported, that message was received loud and clear: "Atlanta never tried to annex any part of the county. In fact, Atlanta pretty much stopped expanding altogether."
Its purpose fulfilled, Chattahoochee Plantation slowly slipped even further into obscurity. Over the subsequent twenty-five or so years, the rest of the world basically forgot about Chattahoochee Plantation — its population of zero failed to elect a new government or provide any municipal services. And today, it no longer exists. The state legislature disincorporated it in 1995.
Bonus fact: "Gone With the Wind" takes place in various parts of Georgia, including Atlanta, and the film debuted at an Atlanta theater in December of 1939. Those in the audience were treated to a movie which would end up winning eight Academy Awards. Included in that eight was the one for Best Supporting Actress, which went to Hattie McDaniel. McDaniel became the first African-American ever to win an Academy Award, but if moviegoers at the premiere wanted to interview her about being in the film, they couldn't — she wasn't there. As Wikipedia explains, "she and the other black actors from the film were prevented from attending the premiere due to Georgia's Jim Crow laws, which would have kept them from sitting with the white members of the cast."
From the Archives: A City Fit For a King: When Martin Luther King, Jr. won the Nobel Peace Prize, many in Atlanta weren't happy. But then an unlikely hero stepped in.
Take the Quiz: Pick the cities that can be reached from Atlanta in under 5 hours driving, according to Google Maps.
Related: "Gone With the Wind," the novel.