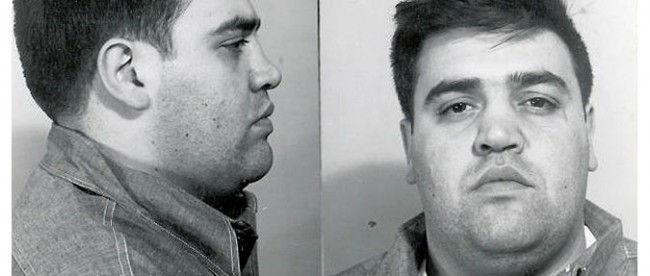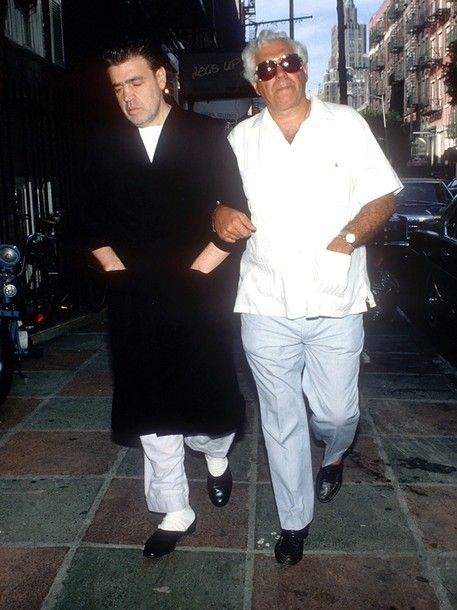 For the latter part of the 20th century, Vincent Gigante, pictured above left, was a household name in his Greenwich Village neighborhood. On any given day, starting when he was in his mid-to-late-30s, Gigante would walk around the community talking to himself under his breath, incoherently, to either no one whatsoever or only to figments that he could see. Sometimes he was wearing old, frayed and patched pants, paired with a light jacket that had seen many better days. But such formal attire was rare. Gigante was typically seen as above, wearing a bathrobe, pajamas, and slippers, seemingly unaware that it was entire inappropriate to wear such attire out on the street. The New York Times described his behavior as that of "a disturbed but harmless person" who was obviously out of place.
But that's not why he was famous. He was best known for being a mob boss — the head of the Genovese crime family — despite the details above.
Gigante was born in Manhattan in 1928 and, after a stint as a boxer, joined an organized crime syndicate as an enforcer. Before his 30th birthday had become a trusted associate of Vito Genovese, a major player in the mafia scene in the late 1950s. Gigante and Genovese were both convicted of heroin trafficking in 1959 and ended up serving their prison sentences together, and when Gigante was released on parole five years later, he became a captain of the Genovese's syndicate, running operations in Greenwich Village.
Around the same time, his odd behavior began to roost, earning him the nickname "the Oddfather." When Gigante was arrested in 1969 for attempting to bribe a small New Jersey police force, his attorneys argued that he was mentally unfit for trial. A team of government-hired experts agreed. Gigante's diagnoses ran the gamut: schizophrenia, delusions, dementia, etc. Gigante's attorneys, per the Times article linked to above, noted that their client's IQ sat in the 69 to 72 range, further supporting the finding that he was mentally disabled. As a result, Gigante avoided prosecution for decades. Even when the authorities decided to charge Gigante with racketeering and murder in 1990, he remained out of further legal trouble for seven more years due to the mountains of evidence of his mental limitations.
But in 1996, that changed. Prosecutors, per the New York Times, argued that Gigante was faking it, and that he was, mentally, perfectly healthy. The judge in the case allowed the trial to move forward and a few high-level mafia operatives (most notably Sammy "The Bull" Gravano) testified that Gigante was the man in charge — and echoed the prosecution's assertion that Gigante was, indeed, of sound mind. And the jury agreed, finding him guilty. He was sentenced to 12 years in prison.
On April 7, 2003, Gigante finally gave up the act, nearly forty years after first walking the streets in his bedroom attire. Then age 75, Gigante admitted that his bathrobe and pajamas attire, his mindless muttering, and the tests and witnesses attesting to his lack of mental acuity were all part of fraud against the court, aimed at keeping him out of prison. Gigante pled guilty to one count of obstruction of justice for these lies, adding three more years to his prison term. In exchange, his son avoided a 20-year prison term (receiving a two-year term instead) and his wife and other relatives avoided prison altogether.
Bonus Fact: Wearing pajamas in public kept Gigante out of prison for years, but it probably wouldn't have helped had he been in Shanghai in 1980s and beyond. According to the New York Times, wearing pajamas in public was so common that, for the 2010 World Expo, the government engaged in a public relations campaign to shame PJ wearers into going inside. The campaign included signage, celebrity-laden public service announcements, and "volunteer 'pajama policemen' patrol the neighborhoods, telling pajama wearers to go home and change."
From the Archives: Cold Water War: The story isn't really about this tidbit, but it suggests that Chairman Mao liked his bathrobe, too.
Take the Quiz: How well do you know the mafia world?
Related: "Underboss: Sammy the Bull Gravano's Story of Life in the Mafia" by Peter Maas. 4.4 stars on 188 reviews.