The Bright Orange Man Behind the Plate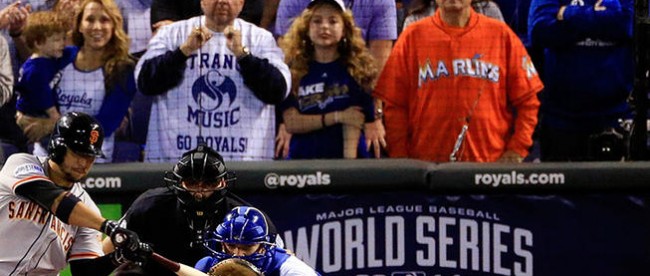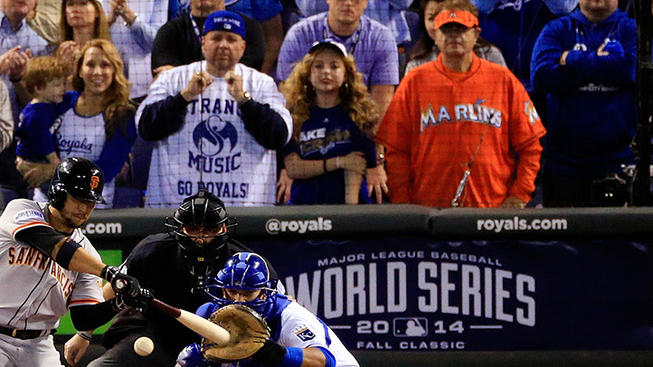 The image above comes from Major League Baseball's 2014 World Series, as made evident by the words on the backdrop. The teams playing are the San Francisco Giants and the host team, the Kansas City Royals. But the man behind the plate — not the umpire, but the one in orange in the stands — is wearing a jersey and hat for another team, the Marlins. That's an expensive seat for a man whose preferred team plays in Miami, about 1,500 miles from Kansas City.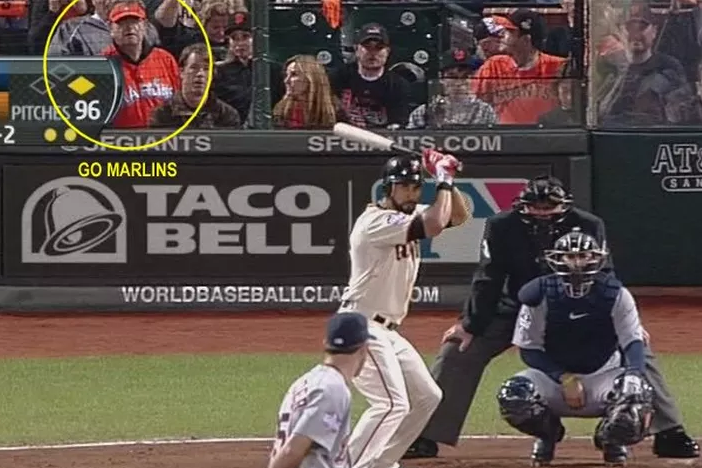 There he is again (via SB Nation), but this time it's the 2012 World Series — the Giants (again) versus the Detroit Tigers. He's even further from home — about 3,000 miles — but again, he's wearing Marlins garb, even though the Marlins aren't there. And no, he's not a Giants fan who donned orange but with the wrong word on it. Here is, again, at a recent playoff game between the St. Louis Cardinals and the host Chicago Cubs: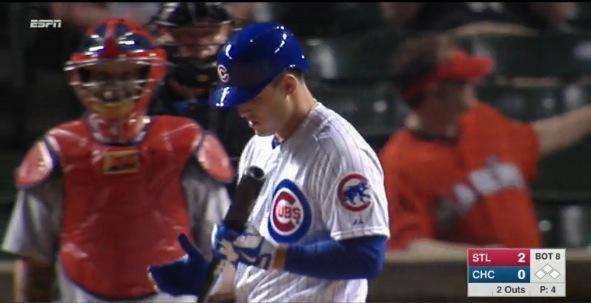 Last minute air fare, prime seats to playoff games — that's a pricey thing to do if you don't even have a rooting interest in the game's outcome. So, who is the man with the very expensive hobby?
The man's name is Laurence Leavy, a Miami-area attorney. But you can call him Marlins Man.
According to a 2012 profile in the Sun-Sentinel, Leavy is a partner at a small law firm in Broward County, Florida. He's apparently done quite well for himself and — as part of the wining and dining of firm clients — had tickets to most Miami-area sporting events. That went on for years, but things changed a few years ago. A health scare — "kidney stones and an enlarged blood mass on his liver" which were misdiagnosed as liver cancer, per the Sun-Sentinel — caused him to think about how he was spending his life. And he decided to spend more time — and a lot more money — on going to games. He doesn't disclose how much he spends on this hobby, but tickets like any pictured above can easily run into the thousands of dollars.
Leavy hasn't limited himself to baseball, either. According to Mashable, "he's been to 27 Super Bowls, 200 NBA playoff games, 85 World Series games and 'an unknown number' of Triple Crown horse races." And of course, he has season tickets to the Marlins. But despite the fact that he looks and acts like a walking billboard, both he and the team state that he's just a fan. That said, he owns eight sets of orange Marlins apparel, so he's always very noticeable.
Want to see where Marlins Man will end up next? You can follow him on Twitter or on Facebook. You won't see him behind the plate at every big game, though — but that's in part because he's a good guy. During the 2014 World Series, a U.S. Navy Petty Officer sang "God Bless America" before the third game, but technical difficulties made it impossible for most to hear him. Leavy stepped in and honored the sailor in another way, giving up his seat to the serviceman. This is just one of many ways that Leavy has found ways to tie his hobby into charitable giving, too; recently, he donated $10,000 to the families of Kansas City firefighters who died in the line of duty. He was in town anyway — there was a baseball game to see.
Bonus Fact: You probably won't find Marlins Man at an Arizona Diamondbacks game. In April of 2015, a Los Angeles Dodgers fan (as evidenced by his hat and shirt) had behind-the-plate seats at a Dodgers-at-Diamondbacks game — and, as seen in this video — was made to change into D-Backs gear part of the way through. (And it wasn't the first time this happened.) According the NBC Sports, the wardrobe change was instigated by the Diamondbacks, who "ask that those fans sitting in the home plate box, which is visible on TV, [to] wear either neutral colors or D-backs attire which the team will provide." Marlins Man was available for comment, and he's not a fan of the policy at all.
From the Archives: Numbers Racket: The market for uniform numbers among professional athletes.
Take the Quiz: Name all of the Miami Marlins (nee Florida Marlins) Opening Day lineups. Or, if you're not a baseball fan and wouldn't know your Giancarlo Stanton from your Jeff Conine, name the cities (worldwide) with the most 10,000+ seat stadiums.
Related: A bright orange Marlins jersey.