The Crime-Busting Pizza Topping
If you have a smartphone, you probably have a lot of apps on it. Many of them aren't all that important — the web browsing app can find most information you'll need and if you need to communicate with another person, a smartphone is still, ultimately, a phone. But many companies encourage us to download and use their apps anyway, as it helps them build a stronger relationship with you, their customer. So it shouldn't surprise you that most ever major American retailer has an app — and that they'll incentivize you to use it.
Typically, those incentives come in the form of loyalty points or coupons. Take, for example, fast-food chain Pizza Hut.
Their app, as seen above, promises that it is the "fastest way" to order their product and has two ways to save money on it. If you're a fan of their food, it may be a good idea to litter your home screen with their logo.
And as an added bonus, it can save your life. Just ask Floridian Cheryl Treadway.
On May 4, 2015, Treadway was with her boyfriend, a guy named Ethan Nickerson. According to CBS News, they were arguing throughout most of the day, and, as the afternoon approached, the fight turned violent as Nickerson pulled out a knife. Treadway's kids were getting out of school but Nickerson wasn't willing to let her leave the house, at least not alone. Instead, he insisted on going with her and, in the process, took her phone — her best way to get help — away from her. The couple picked up the kids from school together, Nickerson threatening Treadway the entire time, and they returned to his place. She, and by extension her children, were hostages.
Nickerson was unrelenting but, in a moment of perhaps pragmatism, he gave in to one of Treadway's request: she wanted to make sure her family had something to eat. She asked if she could order a pizza and Nickerson agreed, giving her back her phone momentarily. Through the Pizza Hut app, she ordered a large pepperoni pie, as seen in the receipt below (via the Tampa NBC affiliate), and then Nickerson immediately took the phone away again.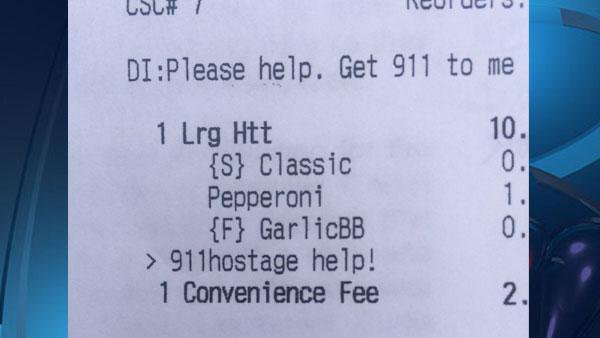 But if you look carefully, there's a bit more to the order, and no, I'm not talking about whatever "GarlicBB" is. At the top of the ticket are some special instructions: "Please help. Get 911 to me." The plea is reiterated in the comments on the large pizza order — "911hostage help!" — which, suffice it to say, isn't a typical way to customize one's meal. Treadway's pizza order was a secret message, begging for someone to send the police with that pizza.
Pizza Hut obliged.
The store's manager, Candy Hamilton, told ABC News, that she had worked there for 28 years and she had never seen anything like that appear on an order ticket. Per Hamilton, the staff "didn't even question it, we immediately called 911." The local police department dispatched a pair of officers, one of whom happened to be trained in crisis negotiations. Nickerson, as a police spokesperson told CNN, "never knew about [Treadway's secret pizza message] until he saw us coming around the corner."
The police were able to get Treadway and the kids out safely. Nickerson was arrested and charged with a litany of crimes, including kidnapping. It is unclear if the pizza was ever delivered.
Bonus fact: Pizza Hut's app is probably nothing special, at least relative to other pizza chain apps. But they've found more creative ways to serve up pizzas through the Internet. In 2005, the chain partnered with Sony Online, enabling users of the video game Everquest II to order up a pizza without leaving their game. All users ad to do was type in the command "/pizza" and a browser window would pop up to take their pizza order. The pizza was real, not virtual, too, but that came with a downside. As CNet joked, "you'll still have to get out of your chair when the pizza arrives, however, and you'll need to pay in real money instead of in-game 'platinum pieces.'"
From the Archives: Thirty Minutes or Less: More life-saving pizza.