The Dating Site That Saved a Species?
In our modern, digital world, online dating has become a major industry. According to a 2022 study conducted by the Pew Research Center, approximately 30% of Americans — and more than half of those under the age of 30 — have tried an online dating service like Tinder or Match. And many have found success using these apps and websites; per Pew, of all of the couples that are, in their words, "living with a partner or in a committed romantic relationship," about 10% met their significant other online. If you're looking for love, online dating may be a good option.
And if you're looking to save your species? Yeah, it may be good for that, too. Just ask Romeo and Juliet, pictured below.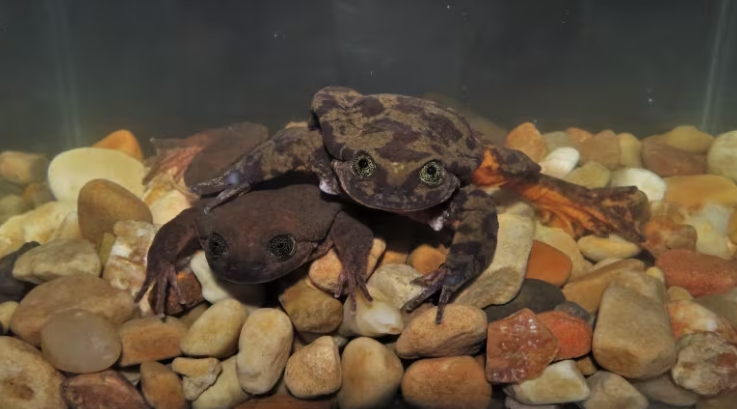 Yep, they're frogs. And not just any frogs — Romeo and Juliet are Sehuencas water frogs, and that alone makes them rather special. Or, at least, rare.
Sehuenca water frogs are a critically endangered species endemic to Bolivia. From 2009 through 2018, not a single one was encountered in the wild, and the herpetology community was increasingly convinced that the species was on its way to extinction. Romeo, a male Sehuenca water frog, was discovered in 2009 and housed at the Cochabamba Natural History Museum in Bolivia, was the last, best chance at keeping the species alive. But nearly a decade later, time was running out. These types of frogs only live for about 15 years, and by then, Romeo was already 10. Zero mates in ten years, five years to go… that's not great math if you're a frog.
So conservationists at the museum got creative — they went digital. As the BBC reported, "as part of a campaign to raise $15,000 (£10,800) before Valentine's Day, the dating website Match created a profile for Romeo complete with a picture and essential information." The profile is no longer online but the BBC grabbed a screenshot, reproduced (sorry) below: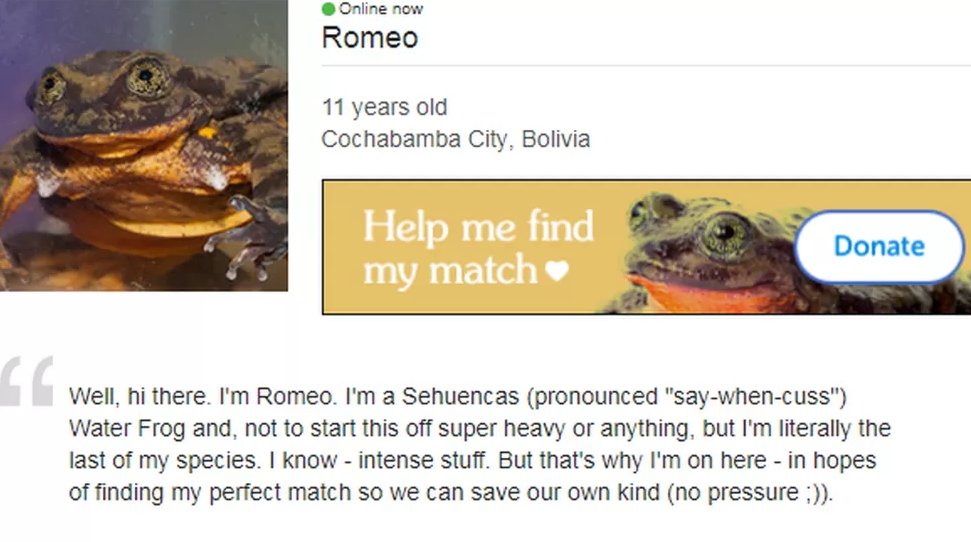 There's no WiFi in most of the Bolivian cloud forests in which Sehuecan water frogs typically live (and the cell phone service is spotty, too), so it wasn't likely that Romeo was going to find an actual match on Match. But, of course, that wasn't the point — awareness and funding was. And it worked. Not only did the fundraising campaign exceed its goals, raising $25,000, but in January 2019, Smithsonian reported that the publicity and the funds resulted in the discovery of more frogs: "researchers in Bolivia have found five more Sehuencas frogs, including an adult female croaker, which they hope will be a love match with Romeo."
In April 2019, CBC Radio sat down with Sophia Barron, the head of conservation breeding at the museum, who shared her hopes that the Match campaign would help save the species. The team saw that the largest of the frogs was producing eggs, so they dubbed her Juliet and introduced her to Romeo. It took a few weeks — Juliet needed to be treated for a fungal disease first — but the arranged couple seemed to have taken to one another. The news trail goes cold after that but researchers are hopeful that something will yield success; even if Romeo and Juliet, like their namesakes, don't quite pan out, the discovery of other frogs — and the potential for in vitro fertilization — makes it likely that Sehuecan water frogs will persist, albeit likely in captivity.
Bonus fact: There's an online dating site that caters to married men who are looking for a mistress; I'll not name it here because doing so will likely get this email stuck in your spam filter. And, as you can imagine, there aren't a lot of women who are looking to sign up for such a service — so it appears that the company, for a time, hired people to make fake profiles. And that led to an injury, apparently. According to the Independent, in 2013, a former employee of the service sued the company "claim[ing] she had incurred Repetitive Strain Injury after being made to input as many as 1,000 fake female members." The case settled out of court.
From the Archives: Refrigerators that Ribbit?: How frogs can keep milk from spoiling, maybe.