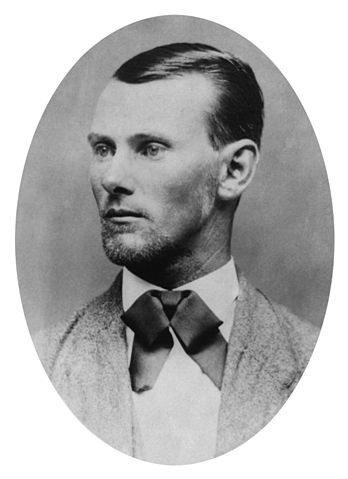 On April 3, 1882, notorious American outlaw Jesse James was shot in the back of the head by Robert Ford, one of his few trusted (oops!) accomplices. Ford and his brother were seeking the $5,000 bounty on James' capture, dead or alive, an amount (well over $100,000 in today's dollars) which underscores how badly law enforcement wanted the 34 year-old James. (The amount was so high that Thomas G. Crittenden, the governor of Missouri at the time and the man who set the bounty, had to appeal to railway owners and express shippers to fund most of the amount, as it was beyond the limits allowed by state law.) And the extraordinary bounty was well-deserved. Since the age of 18, James had been involved in numerous bank heists, train robberies, and ultimately, murders. While his later legacy became one of a modern-day, real-life Robin Hood, that's mostly undeserved. By almost all accounts, James was a sociopath.
There may be one exception, though.
There are many myths surrounding James' life, but the generally reputable "Bartlett's Book of Anecdotes" (from the same group that bring us "Bartlett's Book of Quotations") tells the story of a time that James, on the run after a successful heist, came to a farmhouse. The lady of the house, a widow, graciously took him in, but wasn't much of a host. It turns out that she was deeply in debt and unable to provide for herself, let alone an unexpected guest. To make matters worse, the debt collector was on his way, expecting to collect $1,400 (approximately $30,000 nowadays). She didn't have that kind of money, but James, contrary to his deserved reputation for not caring about the plight of others, solved her problem. He gave her the cash she needed to pay off the debt collector, who accepted the payment and went on his way.
But that was the extent of his kind-heartedness. As Bartlett's further notes, soon after James left the farmhouse, he circled back with his gang — and they held up the debt collector, retaking the $1,400.
Bonus fact: When Robert Ford and his brother Charles attempted to collect on the $5,000 bounty for killing James, they instead found themselves facing jail time. The state charged the pair with first degree murder, and, following a guilty plea that same day, sentenced them to death by hanging. Crittenden, though, granted them pardons just hours later. Each were able to collect (a much less) $500.
From the Archives: South Korea's Reverse Gold Rush: An interesting way to tackle public debt. Also, the image there is actually of a chocolate bar wrapped in gold foil, but as it regularly shows up in image searches for "gold bar," I'm unwilling to change it — seeing tweets linking to it makes me laugh every time.
Related: "Bartlett's Book of Anecdotes," as noted above.