The Easter Egg Hunt That Caught a Bad Egg
On Good Friday, 2016, about a half-dozen children in the small English village of Capel, Surrey, were in a field, doing what kids tend to do that weekend: they were on an Easter Egg hunt. How they fared in their day's planned adventure is unclear — like most of the thousands of Easter egg hunts that happened that year, the final tally of eggs found went unreported. However, we do know the results of the unplanned hunt: kids 2, bad eggs, zero.
That's because this happened.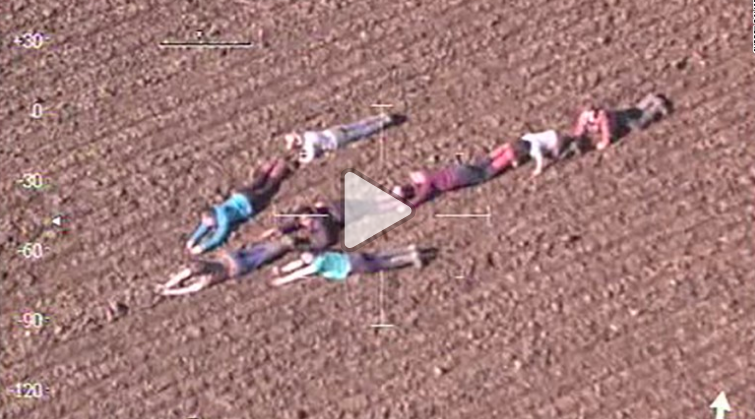 Pictured above is a screenshot of the eight Easter egg hunters taking a break from the day's festivities. (Don't click the play button — it doesn't actually play a video.) And while the kids are lying down, they're not being lazy. They are, rather clearly, forming an arrow, pointing to about 8 o'clock, at least from the vantage point of the person who captured video footage of the arrow. And that was very helpful — because the video footage was created by a local police helicopter.
While the kids were hunting eggs, a pair of guys in their late twenties were in a nearby building, allegedly up to no good. According to authorities, the guys had broken into the building to burglarize it, and unfortunately for them, their getaway route included running through the field occupied by the egg-hunting kids. The police dispatched a team of officers to apprehend the suspects, including the helicopter crew, but by the time the helicopter arrived on the scene, the suspects had fled unnoticed by the police. The kids, though, saw which way the bad guys went. So, as the Telegraph explained, they stopped looking for eggs and instead aided the police in their search — by pointing the helicopter in the right direction.
Their assistance saved the day, according to Sgt. Paul Sochon of the National Police Air Service. He told CNN, "I'm sure the last thing the group of daring Capel residents expected when they set out on Friday afternoon was to abandon their Easter egg hunt to assist us in a police search but the initiative they demonstrated proved to be invaluable." The helicopter crew radioed down to officers on the ground and, using the information provided by the children, the police were able to apprehend the fleeing suspects.
The two men were arrested on suspicion of burglary, and the kids were hailed as heroes.
Bonus fact: Pope Benedict XVI was Pope during the 21st century, but like many popes before him who lived in an era before cars, Benedict never learned to drive. He did, however, have a way of getting around — he could fly. According to ABC News, Pope Benedict XVI, "Benedict holds a helicopter pilot's license, and even [liked] to fly the papal helicopter."
From the Archives: A Concrete Solution: More sky-visible arrows.