The Gas Station Where You Can Fill Your Belly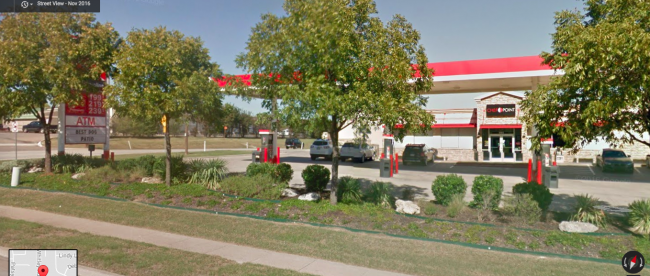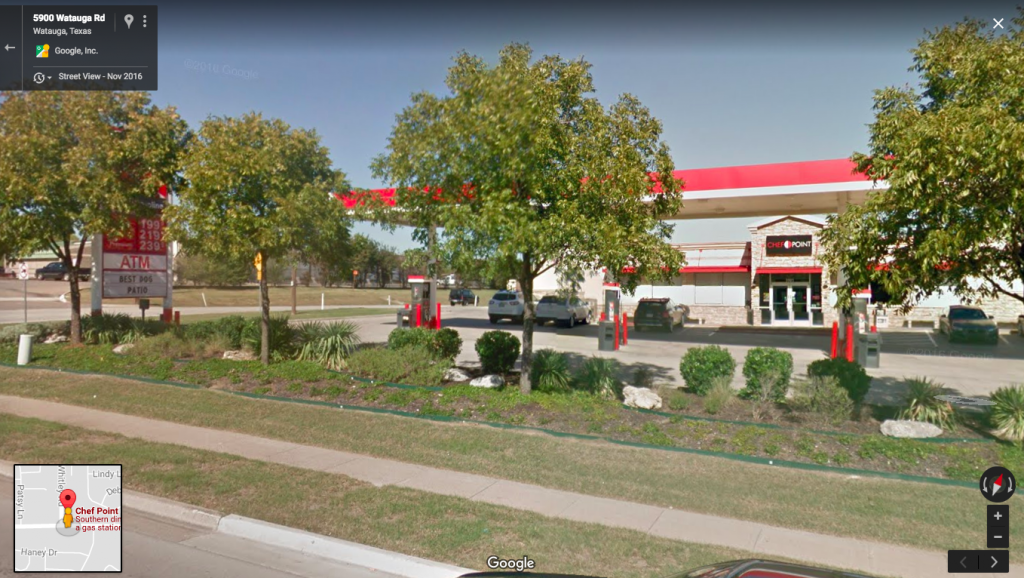 Pictured above is the Conoco gas station at 5901 Watauga Road in Watauga, Texas, via Google Maps. In case you can't see it clearly, let's zoom in on the sign in the left, hidden a bit in the trees.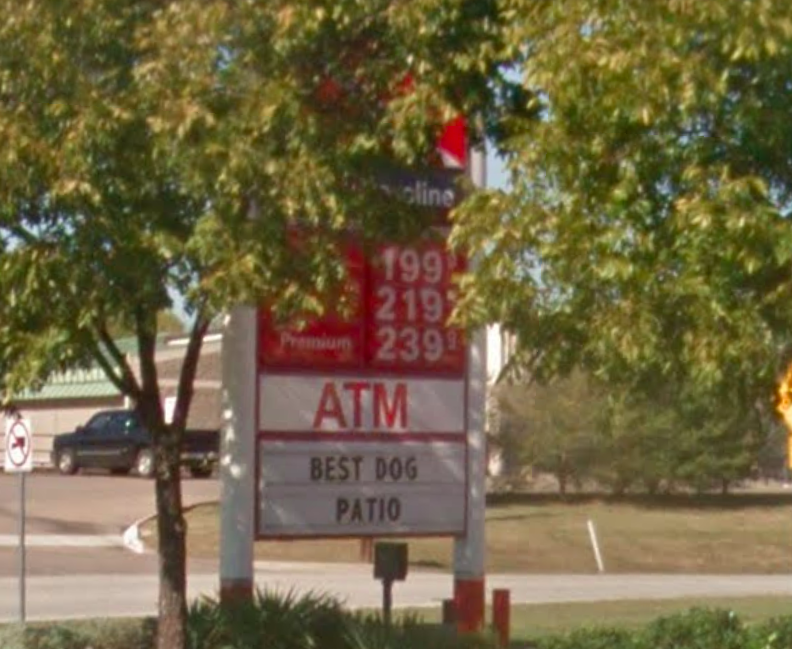 See? It's a gas station. (If you can't make out the word "gasoline" behind the leaves — there's an "oline" sticking out — the fractional 9th of a cent on the prices should give it away.) The sign does, however, have something curious about it — it claims to have the "best dog patio." What's a dog patio, and why is there one at a gas station?
Let's begin in 1981. That's when Franson Nwaeze, now the co-owner of the gas station, moved from Nigeria to the United States. He came to the U.S. to get a commercial pilot's license but never became much of a pilot. Nwaeze, instead, landed some work at a restaurant as a dishwasher. A friend bet him that he'd not last two weeks in the often fast-paced, hectic kitchen environment, but Nwaeze won — and found a passion for the restaurant business. He advanced in the kitchen and over a twenty-year period, rose to become the head chef at a Macaroni Grill, even though he had no formal training.
In 2001, Nwaeze and his wife, Paula Merrell, decided to go into the restaurant business for themselves. Doing so required a loan — opening a restaurant is a pricey endeavor — and that proved to be a problem. They couldn't find a lender to give them a loan due to their lack of collateral combined with their inexperience in managing a restaurant — with one exception. One of the banks was willing to float them the money to open a gas station.
So they came up with a plan: Take out a loan, open a gas station, and run a restaurant out of it. Okay, maybe that's borderline fraud. But it worked.
In January of 2003, the two were able to buy the gas station pictured above. They ran it like one would any other gas station, but instead of putting a mini-mart in the small retail space, they installed a kitchen. As their daughter would later recount on reddit, at first, they ran a catering business out of the gas station, but the smells proved enticing and customers wanted to eat before they drove off. Nwaeze and Merrell installed a few tables, then a few more, etc. Within a decade, the little restaurant named grew. Today, "Chef Point Café" (Nwaeze's tongue-in-cheek way to make the point that he could be a chef) can accommodate about 150 diners at a time.
Don't expect to get some warmed-over fried chicken or two-day-old tuna salad, though. Chef Point Café has a high-end menu, featuring rib eye steaks, roasted duck in an orange sauce, chicken scallopini, and Jamaican seafood étouffée. The reviews are positive, too; the café was featured on celeb chef Guy Fieri's Diners, Drive-Ins and Dives (watch it here) and received praise from the New York Times, and the café's bread pudding — served in a cognac sauce — is widely praised as tops in the area. Despite the restaurant's outdoor ambiance of gas pumps and squeeges, it's quite the fancy option if you're in the Fort Worth suburbs.
Oh, the dog patio? Chef Point Café is dog-friendly — they even have a menu for the dogs in their customers' lives and a special part of the restaurant for you and your dog to eat. And, they claim, it's the best around.


Bonus fact: Guy Fieri is probably best known for his flamboyant attitude and his silver hair. But the Food Network runs deeper than the veneer. Every time he tapes a show, he has some special guests with him — he invites a Make-a-Wish child and his or her family. (Fieri's late sister was diagnosed with childhood cancer, making the issue close to his heart.) Through the spring of 2017, per Country Living, Fieri has hosted more than 350 such families on set.
From the Archives: Why gas stations charge nine-tenths of a cent.