It's October, which in America at least, means pumpkins. Everywhere. Jack'o'lanters, pumpkin pie, pumpkin spice lattes, even pumpkin peanut butter cups (which thankfully are only shaped as pumpkins, because pumpkin-flavored peanut butter cups would be gross). The Halloween season has this odd effect on us Americans. Oh, and Canadians, too. Because in October, some of them do this.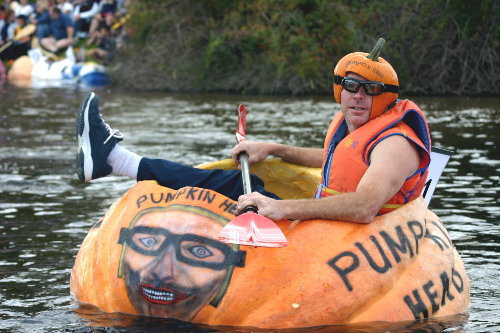 Yes, that's a guy, in an orange life vest and pumpkin-shaped helmet, in a pumpkin rowboat. To be clear, that's not a pumpkin-shaped rowboat. It's an actual pumpkin. A hollowed-out, giant pumpkin. And if you look carefully at the picture, he's not alone. There are people on the shore, watching him — and a lot of others — in a once-a-year pumpkin boat race.
The Windsor Pumpkin Regatta, as it's known, is an October tradition in the Avon River near Windsor, Nova Scotia. (Here's a map.) Each year, competitors take giant pumpkins — which can weigh more than a ton — and scoop out the insides, leaving behind what race organizers call a "PVC," or "personal vegetable craft." Founded in 1999 by a giant pumpkin breeder named Danny Dill, the competition often draws dozens of racers from around Canada and the United States. The competitors — some of whom decorate their pumpkin boats to their liking — try to paddle their way down the half-mile (800m) course faster than their gourd-traveling competitors.
The race, while hardly the Super Bowl, attracts a lot of fans — and even some celebrities. About 10,000 spectators make their way to Windsor to watch and join in the post-race festivities in most years. And in 2005, Martha Stewart — who almost certainly knows her way around a pumpkin — was supposed to compete. Unfortunately, as she was out of prison and subject to home confinement at the time, she was unable to get permission to travel to Canada to train. She couldn't even attend as a spectator as poor weather prevent her from getting a flight. But as the CBC reported, "Stewart's film crew was already on hand, having decorated Stewart's 300 kg gourd in pastels of blue, orange, yellow and green. One of her producers took the helm in her absence."
Unfortunately for pumpkin boat racing fans, the last two years haven't been kind to the regatta. Bad weather ("a hot, dry summer — topped with damage from Hurricane Dorian" per the CBC) meant a weak growing season for giant pumpkins in 2019, and there simply weren't enough for a full field of competitors; organizers provided pumpkins to five lucky racers, selected by lottery. And the 2020 event was canceled altogether due to the coronavirus pandemic.
So you can't see it in person — at least not until 2021. But if you want to look at people in pumpkin boats, the internet can deliver; you can see a gallery of photos from some previous races here.
Bonus fact: If you click this New York Times link — and you should! — you'll see little sculptures of Frankenstein's Monster's head that look kind of pumpkin-y. That's because they actually are pumpkins. In 2010, a California farmer named Tony Dighera began developing a plastic mold that could shape a growing pumpkin to look like everyone's favorite Halloween pseudohuman. Per the Times, "it took Mr. Dighera 27 varieties of pumpkin — and roughly $400,000 — before he found the right one to take the monster shape." But the result, that you'll find at that link, is fantastic: a pumpkin that's the spitting image of the beast often (but wrongly) called Frankenstein.
From the Archives: Floating Away on a Raft of Disappointment: It's… a boat… kind of…