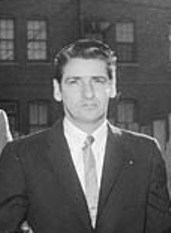 In February of 2011, U.S. President Barack Obama bestowed the Medal of Freedom to Hall of Fame baseball player Stan Musial. Such honors are commonplace in American government, at both the state and federal levels. In general, they're a nice way to honor those who have served their nation. In Musial's case, he was honored for his work after his baseball career as much as he was for his 475 homers and 3,630 career hits. But those are details — details that are often glossed over. When these resolutions are passed by legislative branches, the minutiae aren't always very important to the voting representatives. One case from the early 1970s made that clear.
On April 1, 1971, Tom Moore, Jr. of the Texas House of Representatives brought a resolution to honor a man named Albert DeSalvo (pictured), born forty years earlier in Chelsea, Massachusetts. DeSalvo, Moore posited, was a leader in his community back home and deserved recognition even though he had tenuous at best ties to Texas. (In fact, there's no evidence DeSalvo had ever stepped foot in the Lone Star state.) The proposed resolution read, in part:
This compassionate gentleman's dedication and devotion to his work has enabled the weak and the lonely throughout the nation to achieve and maintain a new degree of concern for their future. He has been officially recognized by the state of Massachusetts for his noted activities and unconventional techniques involving population control and applied psychology.
By unanimous acclamation, the 150 members of the Texas House approved the resolution, officially adding DeSalvo to the roll of those to be honored by the state. Had the state's Senate also agreed, DeSalvo would have gotten a nice little certificate or something.
But that never happened. DeSalvo wasn't worthy of Texas' honor — or, for that matter, the honor of any of the 50 states. DeSalvo's fame was, actually, infamy. He was better known as the Boston Strangler, a serial killer believed to be responsible for the murder of 13 women in the early-to-mid 1960s. (Later DNA evidence demonstrated that DeSalvo was responsible for at least one of the murders, but not all of them. Nevertheless, he confessed to all thirteen in the 1960s.) Moore's goal, according to Texas Monthly, was simply to pull an April Fool's Day joke (check the date of the stunt), but at least one other legislator used the joke as evidence that representatives didn't pay attention to what they were voting on. Others attribute that goal to Moore (and his co-sponsor, Lane Denton), himself.
The Strangler, of course, was never honored by Texas. Not because the state Senate caught wind of the joke, though. Moore pulled the legislation before it reached that points, admitting that it was all a ruse.
Bonus Fact: Moore's decision to embarrass his colleagues (even if it were just an idle prank) runs counter to an informal policy in many states, including for example New York, where state legislators keep quiet instead of cause each other bad press. As a New York magazine article in 2007 recounted, that state's legislature had something called the Bear Mountain Compact — an agreement among lawmakers to keep scandals quiet. The Compact has crumbled in recent years.
From the Archives: Easier Than Pi: How a state legislature came very close to embarrassing itself, no pranks or scandals required.
Related: "Search for the Strangler: My Hunt for Boston's Most Notorious Killer" by Casey Sherman, a memoir by the nephew of a victim of the Strangler. 4.4 stars on 8 reviews.