On January 19, 1946, Robert Lee Parton and Avie Lee Parton (yes, they had the same middle names) welcomed Dolly, their fourth child to the world. Robert — a sharecropper who farmed mostly tobacco — didn't earn a lot, and Avie didn't have a job beyond caring for the children and the house. The rather poor family could barely compensate the doctor that helped deliver baby Dolly; he was paid not in cash but with a sack of grain. For Robert, who never learned to read, this was simply all he could muster.
And the world is better off for it — in more ways than one. Today, because Robert Lee Parton couldn't read, millions of children get free books.
Dolly Parton, born 74 years today, grew up to be a legendary country music star and more. She's won ten Grammy Awards, has been nominated for at least one Emmy, Tony, and Oscar apiece, and probably should have been awarded a Presidential Medal of Freedom. But perhaps her most important work stems from a non-profit she started more than two decades ago. In 1995, Parton founded the Imagination Library, an organization that, in its own words, "mails free, high-quality books to children from birth until they begin school, no matter their family's income." And the books aren't some back-catalog also-rans; they really are books that generations of children love to read. Here's a photo of one such book, below, and you'll note that it's an immediately recognizable book title. (You can see the Imagination Library logo included on the bottom-left corner of the book as well.)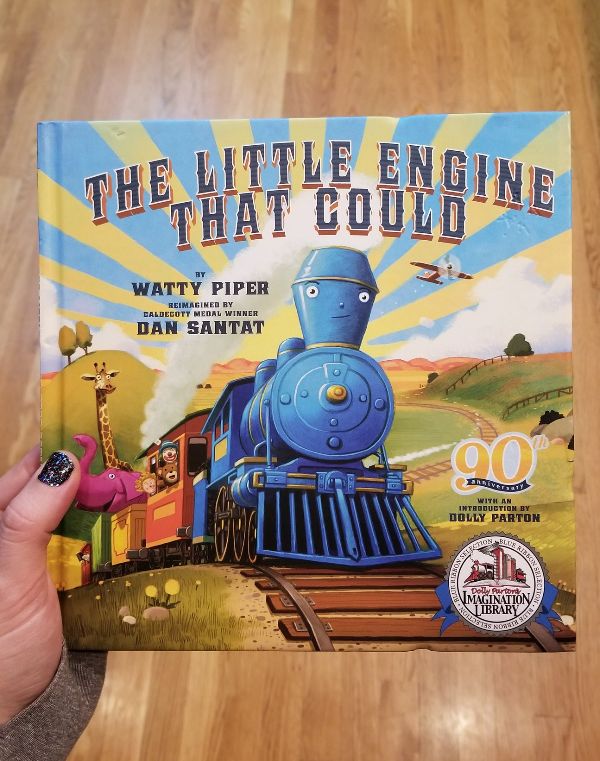 Parton's dedication to increasing children's literacy comes from her youth. As noted above, her father was illiterate, and Parton saw this project as a calling. In a letter from Dolly on the Library's website, she explains that she "created the Imagination Library as a tribute to my Daddy. He was the smartest man I have ever known but I know in my heart his inability to read probably kept him from fulfilling all of his dreams." Her hope? To get children reading early, and to instill in them a love of books at an early age, all in an attempt to increase literacy.
To distribute the books — and to raise the money to afford such an endeavor — the Library partners with local non-profits to solicit both signups and donations to cover about $2 per child per month in procurement and shipping fees, Children (or their families) can sign up on the LIbrary's website, here, so long as there's a local organization participating. (If not, and if you want to get a local organization on-board, there's information about that at the bottom of this page.)
To date, the Library has been a smashing success — as of this writing, Parton and team have sent more than 150 million books to just over 1.7 million kids.
Bonus fact: Parton's won a lot of awards over her career, but not all of them. At one point in Parton's career, as Women's World notes, she "decided to enter a drag queen celebrity impersonator contest years ago in Los Angeles without revealing her identity." And: she lost. She explained her surprising defeat to ABC News: "They had a bunch of Chers and Dollys that year, so I just over-exaggerated — made my beauty mark bigger, the eyes bigger, the hair bigger, everything, All these beautiful drag queens had worked for weeks and months getting their clothes. So I just got in the line and I just walked across, and they just thought I was some little short gay guy, but I got the least applause."
From the Archives: Brown Bear, Banned Bear: A children's book that got banned — but shouldn't have been.