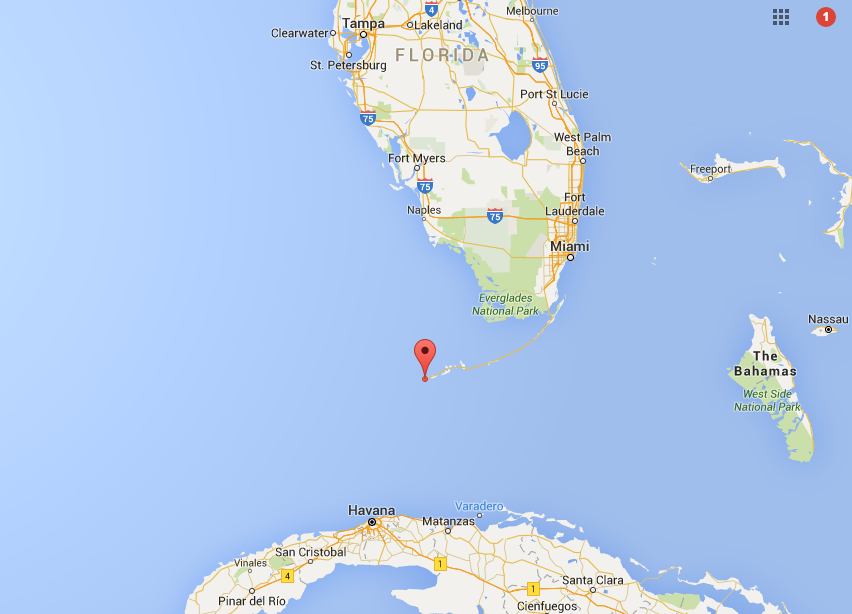 The southernmost municipality in the continental United States is Key West, Florida, flagged in the map above. The city of about 25,000 people is spread across a few islands (the largest one, confusingly, is also named Key West) and, as the crow flies, is roughly the same distance to Havana, Cuba, as it is to Miami. If you want to drive there (from Miami, at least), you can, courtesy of a bunch of bridges which run through the Florida Keys. But to do so, you're limited to one of two roads — County Road 905A and U.S. Route 1. That's typically not a problem (tolls notwithstanding), but in 1982, the federal government had other ideas.
In April of that year, the U.S. Border Patrol set up a roadblock just north of the interchange where 905A and U.S. 1 meet. In order to pass, motorists needed first to stop and submit to a search for drugs and illegal immigrants — the Border Patrol believed that the Keys location made it a prime landing spot for both. Putting aside the political implications of such an effort, for Key West, this was a big problem. The island relies on tourism and is a vacation destination; having your trip south delayed by a narcotics checkpoint isn't really a great way to unwind. And this wasn't a brief wait. Per one account, "the delays often lasted several hours, causing traffic to back up for up to 19 miles."
The city of Key West was not amused. The city asked a federal court for an injunction, preventing the Border Patrol from maintaining the checkpoint, but on April 22nd, that motion was denied by a District Court judge in Miami. So the next day, Key West decided that if it was going to be treated like it was on the other side of the border, it was going to insist on the benefits of such an arrangement. On April 23, 1982, Key West seceded. They even had a flag.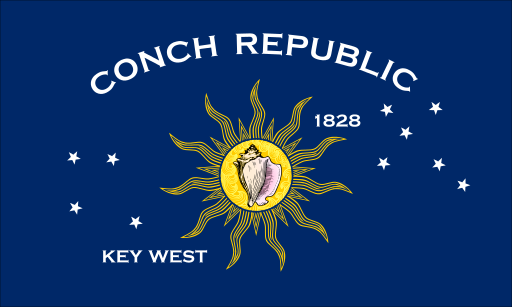 And immediately after, the city's mayor-turned-Prime Minister, Dennis Wardlow, announced that the new nation was declaring war on the United States. (Wardlow issued the declaration of war was done in a unique way: "by breaking a loaf of stale Cuban bread over the head of a man dressed in a U.S. Navy uniform" per ConchRepublic.com.) But don't worry — no one was hurt during the hostilities, as the "war" was short-lived. A minute after "Conch Republic" declared war on its former master, it surrendered to the same — and applied for $1 billion in foreign aid from the United States.
The U.S. didn't pay but that's okay — Key West was only joke-seceding anyway. The entire ploy was a PR stunt, in hopes that the rest of the country would take notice and sympathize with their plight. It worked — and better than the Key West populace ever imagined. Not only did the government remove the roadblock shortly after the ploy, but Key West's tourism industry got a boost. The city became a destination for those who wanted to visit the "Conch Republic" and its new, punny motto: "We Seceded Where Others Failed."
Bonus fact: It's hard to drive to Key West, but it's even harder to drive to Juneau, Alaska. In fact, you can't drive there at all — because there are no roads leading in or out of the city. The terrain is too difficult to navigate over land, so the powers-that-be decided that, if you want to visit the state's capital, you need to board a boat or plane. Once in Juneau though, there are roads. (You can have a car shipped in.) That's a good thing because Juneau is pretty big — at about 2,700 square miles, it's larger than both Rhode Island (about 1,200 square miles) and Delaware (approximately 2,500).
From the Archives: Fore for Five: The town that seceded over golf.
Take the Quiz: Can you name the locations mentioned in the Beach Boys' song "Kokomo"? (Key West is not one of them — well, not precisely. And Juneau, not even close.)
Related: A novelty Conch Republic passport wallet (about $9). You can apply for a "real" Conch Republic passport — also a novelty — but that'll run you about $100.