The Macroeconomic Madness Behind Extra Cheesy Pizza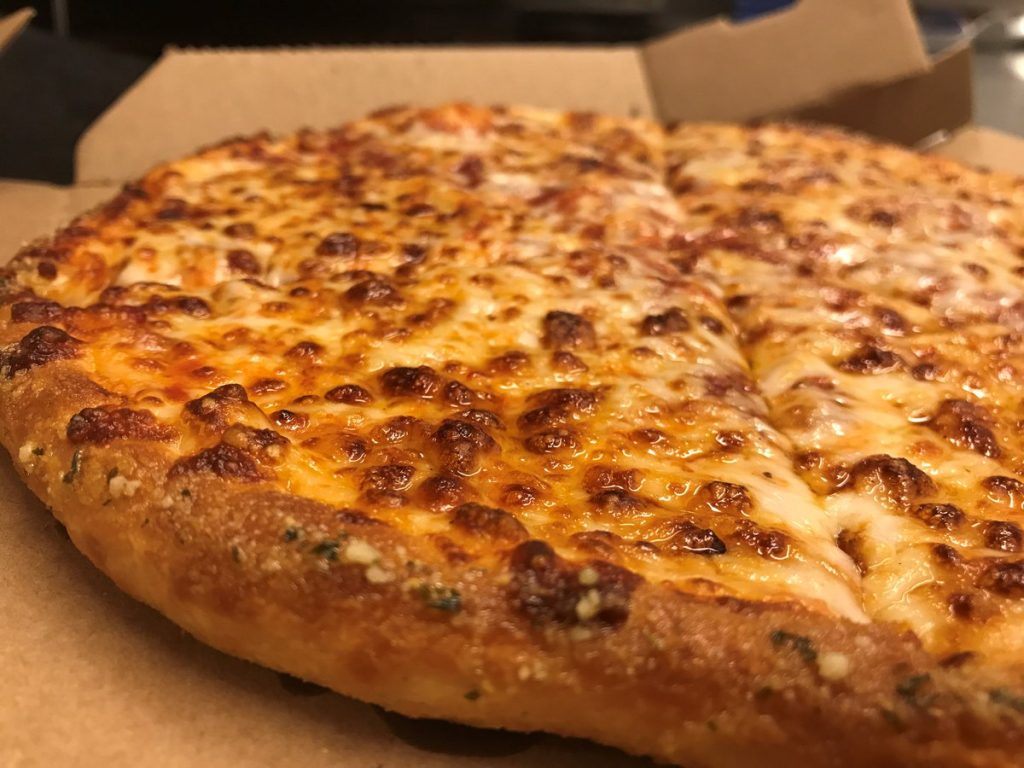 Domino's Pizza is one of the world's best-known fast food chains, despite the fact that during its early heyday, its claim to fame wasn't its pizza. Starting in 1973, the company guaranteed delivery in a timely fashion — the chain famously promised that your pie would come in 30 minutes or less, or it was free or discounted.
But that promotion went by the wayside when it became clear that it was incentivizing delivery people to drive recklessly. Without the gimmick, Domino's was stuck competing against the local mom and pop shop, and many customers preferred the latter's product over the more cakey thing that came in the Domino's box. Without fast delivery, Domino's was left with a cheap product that tasted like it. It tried some other marketing efforts but ultimately, better pizza triumphed over the franchise. As the 21st century dawned, it was clear that Domino's needed to change direction.
The direction they settled on was "add more cheese." As HuffPo reported, Domino's "reformulated its pizzas to contain nearly twice as much cheese" and then bought a lot of ads to get that point across; the campaign "took the bold step of acknowledging just how awful its old pizzas were, while gushing about the 'cheese, cheese, CHEESE!!!' that distinguishes the new recipe from the old one." Their reboot efforts, from new product development to marketing, cost at least $12 million. But it didn't cost Domino's a dime.
Domino's company-saving move toward extra cheesy was funded by an organization named Dairy Management. And we know how much was spent on that effort because Dairy Management made that number public. It had to — because it is part of the U.S. government.
You typically don't think of pizza chains as being recipients of government bailouts, but in a sense, that's what happened here. But rest assured, that wasn't the intent of the investment. Dairy Management is part of the United States Department of Agriculture (USDA) and among other things, the USDA is charged with helping keep dairy farmers financially afloat. An easy-ish way to do that it is to increase the number of dairy products that people buy. To accomplish this, dairy farmers pay the USDA a very small amount of money (about 15 cents per 100 pounds of milk) which the USDA, via Dairy Management, uses to promote products that use a lot of dairy. (Dairy Management's budget is supplemented by tax dollars, too.) The USDA heralds this program as a successful one; per the Washington Post, "for every $1 that the agency spends on increasing cheese demand, it estimates that farmers get $4.43 in additional revenue."
And few campaigns have been more successful than Domino's extra cheesy turnaround. The pizza chain was flailing until Dairy Management stepped in, offering to develop new products with the company — products which needed more dairy products, and, therefore, would be eligible for government marketing dollars. Together, per the New York Times, the pair came up with "a new line of pizzas with 40 percent more cheese" which, boosted by that $12 million marketing campaign, resulted in "sales [which] soared by double digits." More pizza meant more cheese, which meant more money flowing to farmers.
But don't think that the USDA is playing favorites here. When it comes to cheesifying (to coin a word) menus, Domino's isn't alone. Dairy Management has worked with and funded new offerings across the fast food spectrum, from Taco Bell and Pizza Hut to Wendy's and Burger King. And across the board, Dairy Management has claimed success in their efforts. When it comes to promoting cheese, the government is there, helping behind the scenes.
Of course, this success comes at a cost which goes beyond money. Most of the products developed in conjunction with Dairy Management contain a lot more calories and saturated fat than typical. In other words, these aren't foods you should reasonably eat on a regular basis according to the USDA's own healthy eating efforts and guidelines.
Bonus fact: Jelly Belly-brand jelly beans come in a ton of different flavors — sour cherry, green apple, and licorice, sure, but also uncommon flavors such as cantaloupe, chocolate pudding, and cotton candy. There are even a few gross flavors, used in their BeanBoozled game (a Russian roulette-like game, but with jellybeans attacking tastebuds) and in their Harry Potter-inspired Every Flavor Beans. In those two sets, you'll find "barf" and "vomit" flavored beans, respectively. What's that have to do with pizza? When the flavor engineers tried to come up with a pizza bean, they failed and instead "managed to empty a whole mixing room with its noxious smell," per The Atlantic. But not all was lost, the Atlantic continued, because the failed pizza-flavored beans, "with a few tweaks, became barf."
From the Archives: A Noid, Annoyed: Domino's mascot for the latter half of the 1980s was a cartoon character called the Noid. Here's the surprising story why Domino's dropped the character.